I've been noticing a trend lately. Driving down the road, listening to the radio, I can help but hear a lot of Top 40 (when Morgan is in the car with me). Listening to this, I've realized that there are several songs out right now by female artists talking about not caring what other people think them. Think about it for a second…. Can you name them?
OK, whether you tried to name them or not, here's the ones I've noticed:
All About That Bass- Meghan Trainor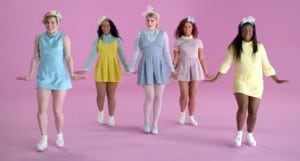 Here's the number one song on the charts. "All About That Bass" is sung by a basically unknown artist but reached number one. It has a catchy tune, but if you listen to the words, it's talking about not caring if you are a girl that is viewed by society as a little bigger. Trainor mentions that her mother told her not to worry about her size, "because boys like a little more booty to hold at night." It's a great spin on how she, and other girls like her, should think about it. Don't let someone talk down about you, especially "skinny b!tches [that] think they're fat" but really aren't.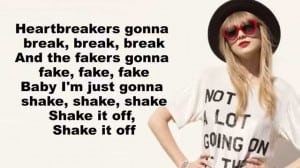 Taylor is notoriously hounded by the media for her love life. The media loves to rip on any new boyfriend that she breaks up with or gets dumped by, saying that she can't hold a man. Then, when she writes a song about it, the media laughs it up. Well, now she writes a song about shaking all that negative stuff off. She could obviously let all that stuff get to her, but doesn't. She just shakes it off and keeps going, and her message is to everyone else to do the same thing. Don't let people talk about you and let it get to you, just move on and be the bigger person. Haters are gonna hate, hate, hate and there's nothing you can do about it. Besides, in Taylor's case, I don't think she needs to worry about anything that anyone says about her.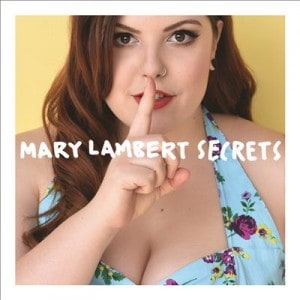 Another girl I've never heard of, but this song is the most straight to the point. Lambert literally lists off things that are her "secrets" that she's been told her whole life to keep bottled up so no one finds out. In her own words, these are things wrong with her- bi-polar disorder, her life's not in order, she's overweight, she's always late, she wears cat earrings and mom jeans, she scared of the dark and the dentist, and much more. Then she follows it up with the main chorus which says, "I don't care if the world knows what my secrets are. So what?" Lambert is using a mainstream song as a platform to reach out to people and say that it doesn't matter what people think of you, just be yourself.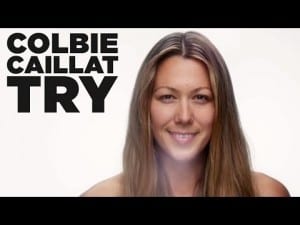 I heard this song first, and it hasn't reached the popularity of the other three songs on this list, but it's got the same meaning. Colbie Caillat doesn't wear makeup in the song and lists off a lot of things that are in mainstream society as stereotypical ways for girls to be liked by guys and other girls. Her chorus repeatedly exclaims that "you don't have to try so hard" and is another great message for girls not trying so hard to fit in and conform to what they think society says they have to.
I was pretty sure when I was writing this post that I had heard another song that speaks this message as well, but I can't think of it anymore (so please let me know in the comments). I just have heard these songs over and over and noticed this trend. I think it is interesting that so many of the Top 40 songs are speaking a message about being yourself and not caring what the world thinks.
What do you think of these songs?