I am obsessed with the show Revenge. Have been for years. I love all thing Emily Thorne. Shes such a BA and even though she's slightly evil, I think that she's girl power to the max. Not only is she cool, and fashionable, and a billionaire, but her house in the Hamptons has some swagger, too. Though it rolls slightly more "beach house" than I'd like my own home to, I'm still beyond obsessed with her look.
Like this look? See my Fixer Upper Beach House inspiration here!
(Source)
Let's examine further.
(Source)
One thing that I love in her home is the balance between the white trim and accessories and the natural wood, like in the banisters, floors, and beams on the ceilings. It keeps it from looking too rustic or too cottage-y.
(Source)
The color pallet tends towards light blues, greens, greys, white, and wood. She uses loads of beadboard, stripes, florals, and linen slipcovers. It's so refreshing!
(Source)
There aren't many bright colors in her home (or her wardrobe, save for a strategically worn blood red dress), but she does have certain pops, like the bright yellow vase of pink flowers, above.
(Source)
From this angle, there looks to be tons and tons of wood. It really makes it feel less stark to me. Also, can you please check out the linen shade on the light over the kitchen bar? Get in my kitchen.
(Source)
Her bedroom is simply perfection. Light light blue and grey bedding, birdcage inspired lights, a white iron bed, more bead boarding, and candles on candles on candles.
(Source)
(Source)
I like her use of a littttle chrome, like the lampshade (2 above) and the big mirror (directly above). It's unexpected.
(Source)
On another, but no less nautical note, how about the Grayson's pool house? More, but shorter, bead boarding, more masculine navy, leather chairs, darker wood, and sailboats on sailboats take her soft beachy look to Daniel's level.
(Source)
I am just too obsessed. Anyone who coordinates their outfit to their poolhouse is a dream man in my book.
(Source)
And of course, we can't forget Grayson manor. Staircase of my dreams. Could there be a more spectacular entryway? More white on wood with intricate paneling.
(Source)Linen couches, toile pillows, and white-washed everything. I don't think its a coincidence that everything in the (evil) Grasyon household is white- it's truly fantastic contrast.
(Source)
I couldn't be more obsessed with the windows in this room, the glass topped table, and the white on white on white kitchen. Wow, oh wow.
(Source)
Can you get over this grid-style paneling in the master bedroom? And more molded built ins. It is truly divine.
(Source)
Finally, these light fixtures! They are remarkable, unbelievable, and I seriously need them in my life, ASAP.
Want the look?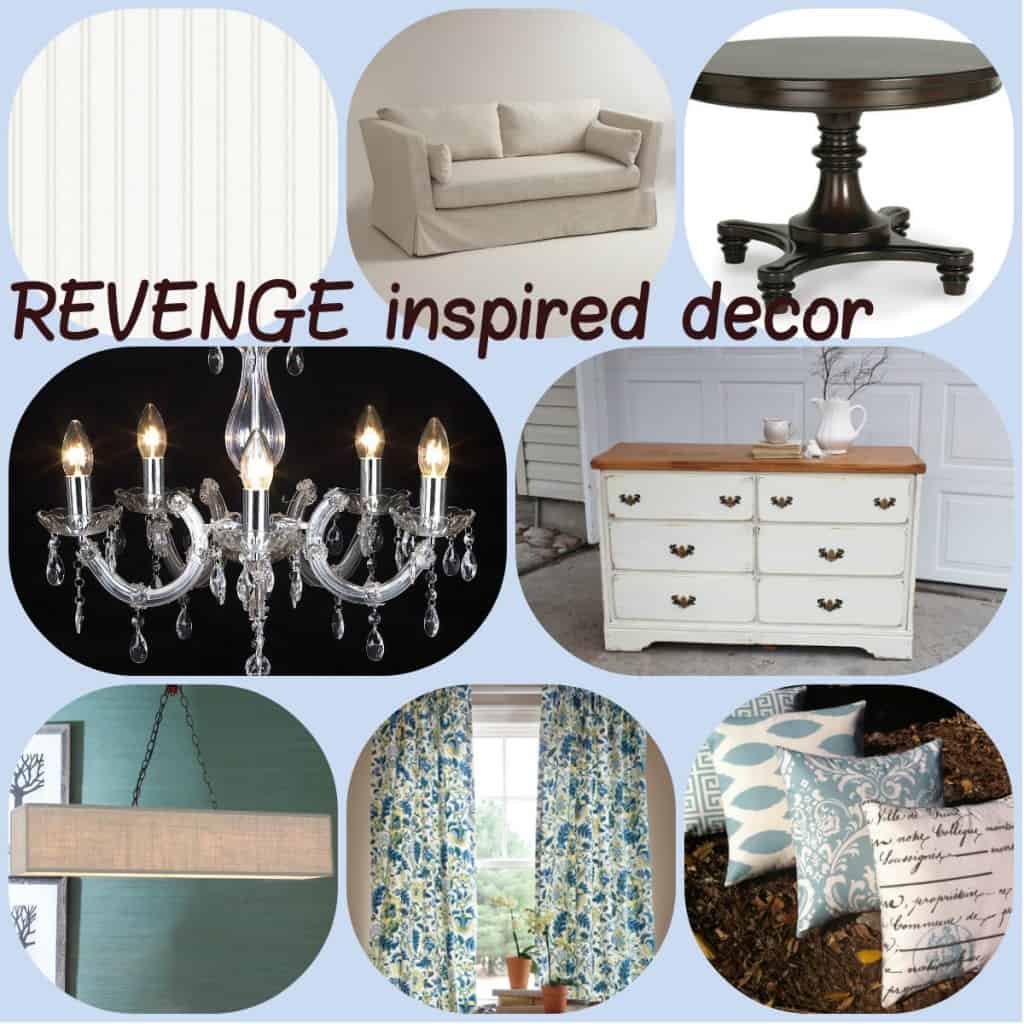 Do you watch Revenge? What's your favorite room?!?