I have an AMAZING girlfriend. She had the great idea that even though my birthday was on a Sunday, we celebrate by going out to dinner the next day at Trattoria Lucca for their family style Mondays. Lucca is an Italian restaurant that has a regular menu most of the week, but on Mondays, they do "family style" where they have a set menu decided and you get to try a four-course meal of amazing quality. We went here last year for Morgan's birthday and loved the selection of food. We agreed that they gave us things that we never would have ordered off a menu, but loved it since it was "forced" upon us.
On this trip, we were started out with a variety of appetizers. The first was roasted yellow beets with smoked ricotta and walnuts with a vinegar sauce. Case in point- we never would have ordered that off a menu, but it was really good. It's one of those items that has hidden flavors because everything is authentic and made in house. Morgan asked if there was any bacon or prosciutto but our waiter just said that it was probably the smoked ricotta we were tasting.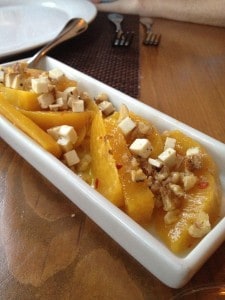 The waiter then brought out thick stalks of asparagus with shaved parmesan flacks and croutons. He quickly followed that with buffalo mozzarella with peppers and pesto. Both of these were outstanding dishes. We might would have considered ordering the asparagus off the menu, but never would have just ordered slabs of cheese, but that was my favorite appetizer.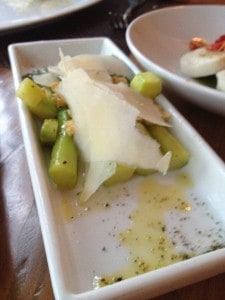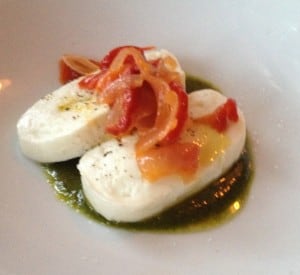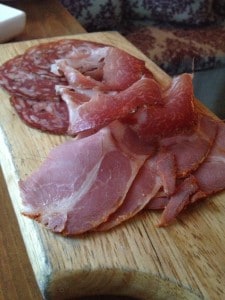 After our appetizers, we were brought course number two- the pasta. I have to say that this was my favorite part. I love pasta in general, so it's not hard to please me here. This was homemade fusilli with melted gorgonzola sauce with English peas, cheddar and dried prosciutto flakes on top. This dish was absolutely incredible and I would have been happy to have just eaten this the entire night.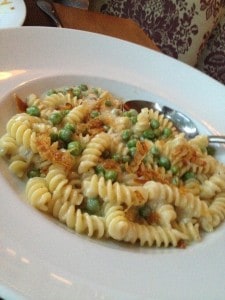 Our meat course came next and was another example of something that I would never have ordered off a menu, but was very glad it went in my mouth. It was a flat iron steak with spinach, roasted potatoes, pesto and an onion creme sauce. The steak was so succulent that it seemed to melt in our mouths. The potatoes were easy to cut with a fork and the spinach was cooked just right. All the flavors complemented each other quite well and made for a delicious meal.
Last, but definitely not least, we were treated to a homemade tiramisu with a cookie crumble crust. The perfect amount of soft and crunchy while remaining completely sweet. It was a great way to end the night.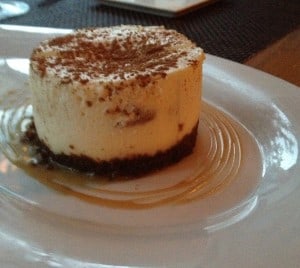 This was yet again one of my favorite meals in Charleston. Lucca is definitely my favorite Italian restaurant in town and is a MUST GO if you are a local. Go on Monday and get the family style. Don't be scared- you won't be disappointed.