One of the hardest parts of transitioning from college life to the real world is the loss of all of that vacation time. There's nothing like spring break, the month off for Christmas, or a ten-week summer to relieve the stress of a semester. As professionals, Sean & I like to be sure to take a few breaks for ourselves, as well. We usually try to take spring & fall trips (as well as traveling home to North Carolina for the winter holidays.)
For our "Spring Break" this year, we spent last week at Wrightsville Beach, North Carolina, just outside of Wilmington. It's kind of funny because, even though we live fifteen minutes from Folly Beach, this trip marked our first swimsuit-laying-out-beach trip of the 2013 calendar year.
Wrightsville might seem like an odd choice, since we usually look to go somewhere a bit more different than home. However, you might not know that Sean graduated from the University of  North Carolina Wilmington in 2009. So, he actually arranged to rent a house right on the beach for a sort of reunion.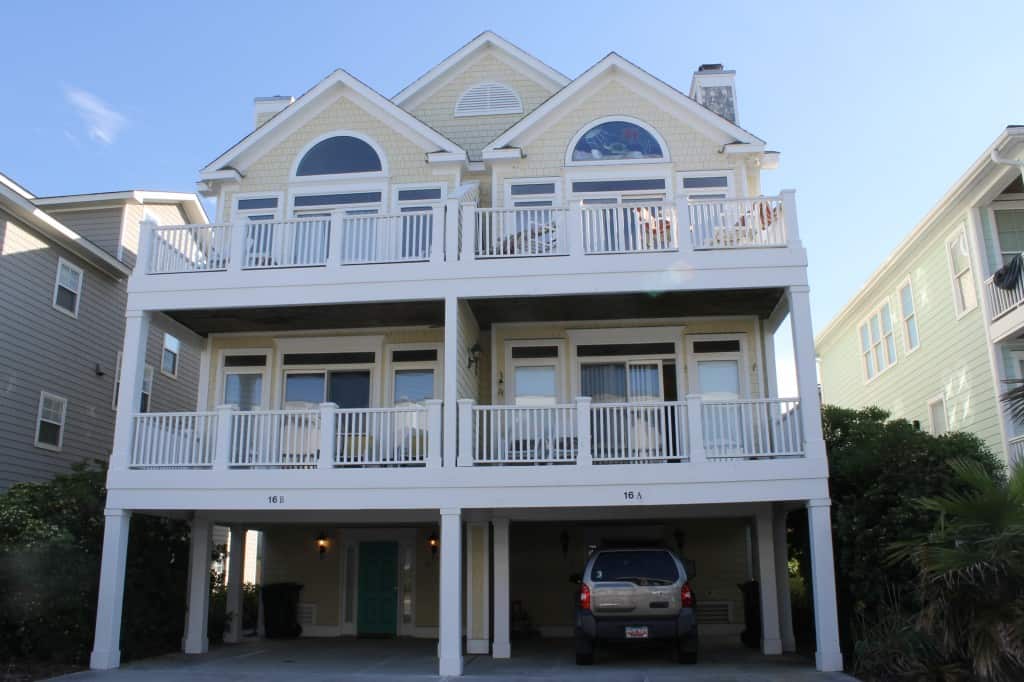 The house that we rented was a duplex. It was 4 stories tall with 4 bedrooms and 4 bathrooms. It also had a (creepy) elevator and a great view of the beach from the porches.
Because we went early May (two of the girls in our group are in Grad school and we wanted to go on their break between spring & summer semesters) we had a few cloudy days. However, we were easily able to fill them by going shopping at Mayfaire (really great inexpensive boutiques), touring the UNCW campus, seeing a movie (the boys were beyond thrilled to see Iron Man III opening weekend) and walking "The Loop"- a lot.
We also had several beach days. Our house's location was amazing- we were one street over from Johnnie Mercer's fishing pier and two houses down from the beach- not two streets, two houses. The streets in Wrightsville actually un perpendicular to the beach, unlike in Charleston where they run parallel and being 2 houses away means you are actually 2 blocks away. We were able to walk over in our bathing suits without even flip flops and easily run in to grab more stuff of use the bathroom.
Ultimately, this vacation was amazingly relaxing. I barely looked at my phone at all. I never logged onto my computer(though the house did have wifi- which was great for those in our group who had to check their work emails). We didn't cook except for breakfast or sandwiches for the beach. And we were able to bring our dogs. We walked, explored, sunned, drank beer, read books, and didn't have a care in the world.
I would recommend Wrightsville beach to anyone in the Carolinas looking for a relaxing time. There are plenty of restaurants and bars on the main strip, but calm and serene beaches as well (especially on the far ends of the island.) It's also ten minutes from Wilmington where there are even more restaurants and attractions.
I'm so thankful for the peace, relaxation, and happiness that this trip brought to our lives. We were truly refreshed!
Are you heading on any vacations soon?