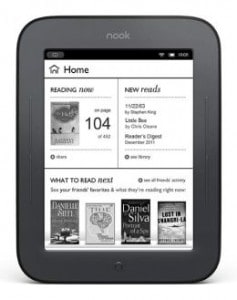 I never thought I would like the Barnes and Noble Nook or the Amazon Kindle because I like the feel of a book and turning pages in my hands. So I said I would probably never buy one; and I didn't, but I have one. My dad gave me the basic Nook for Christmas. He said, "I know this present is a bit of a gamble, so you can return it for a gift card if you want." I didn't know what I wanted to do, so I contemplated. I had like seven hardcopy books on my shelf that I still needed to get through before I did anything. So I took all those books and the Nook with me when I went to Maryland for training. Once I finished all the books, I decided, what the heck, let's do this thing.
I didn't have easy access to Wi-Fi up there and had to go to Chick-fil-A and then a friend's place to get started. You have to be connected to Wi-Fi to get set up on a Nook and to download any books, so make sure you do that first. I registered and entered my credit card (for them to charge directly when I purchase a book) and then made my first purchase, The Kite Runner, as I had been hearing about it for quite some time. I read it for the first time that night in bed and I didn't really get any excitement out of it. But the next day, I went to the gym and saw a big difference.
I was able to set the Nook on the monitor in front of me while I was doing the exercise bike and I didn't have to hold the book with my sweaty hands. I just reached up when I got to the end of a page and tapped the screen and it went to the next page. It was awesome. I noticed another huge difference when we went to Wilmington for a beach trip and I was reading on the sand. The wind was blowing and the sun was out and I didn't have to worry about holding the pages down or positioning the book. Again, just set it there and tap the screen. It was awesome. And I was skeptical at first about how visible the screen would be in the sun, but it literally had zero effect on it.
Other than that, I've just noticed a couple of things. The battery life is REALLY good. I've been using it every day for three months and I've only charged it once. Also, if you are going on trips, the Nook really makes it convenient for not having to take a bunch of books with you. You know how it is, especially if you go on a beach vacation and you know you'll be reading several books, you don't have to take an entire stack with you. It's all there in one device. And if you finish your books, you can just search and download another one.
A negative is that I don't really feel like I'm reading a book. I'm reading, but I don't get the sensation I always got of flipping pages and watching my progress throughout the book. Also, there's no way to display to yourself or the world the books you've read. I mean, I guess I could set my Nook on the bookshelf with a sticky note bragging about how many books I've read on there, but I can't see the covers. Oh well.
All in all, I give the Barnes and Noble Nook a positive review and would recommend it.
What are your feelings on eReaders?