We love Riverdogs baseball games for a lot of reasons, but one of the top ones will always be the food. They don't just serve ballpark basics – they go over the top! We've shared our favorite foods in the past as well as Sean's favorite homewrecker hot dog combinations, but today we are back to share our favorite new items to their 2016 menu.
The Grilled Cheese Station
The Scoops ice cream station has been expanded to include 4 types of grilled cheese (one of them a rotating special). Since I don't eat much meat, I love this hearty veggie option. They're all only $4 which is a great price for a ballpark meal! I really suggest that you try the brie and blueberry – it's made with fresh berries and ooey gooey delicious cheese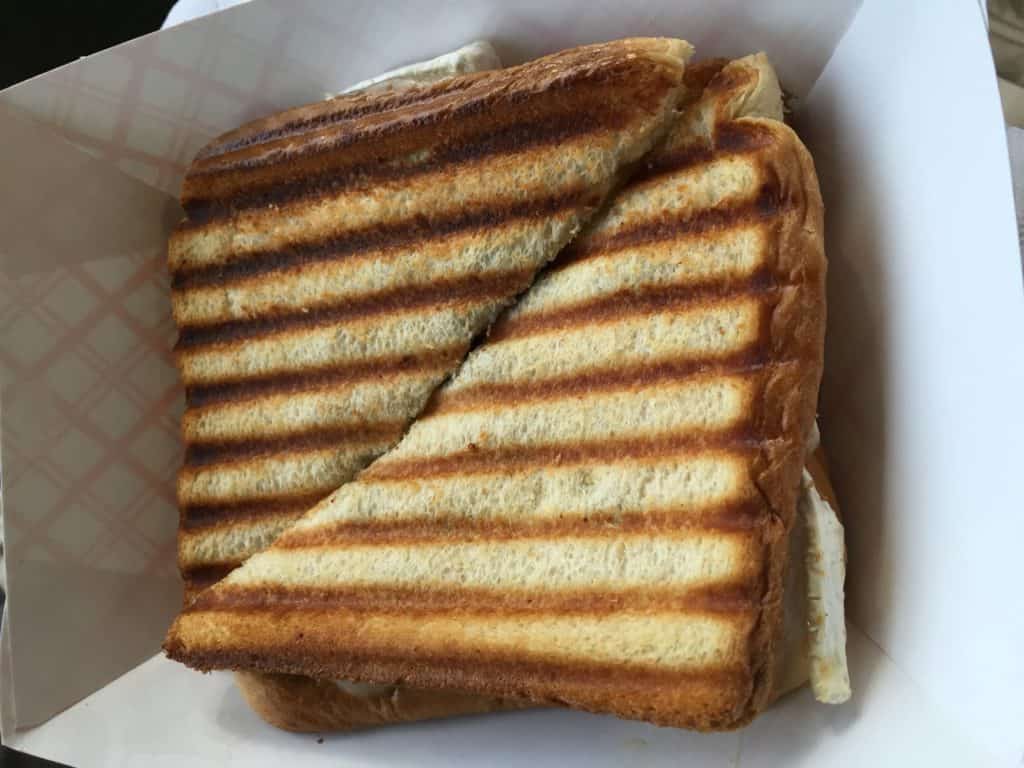 Chelsea's Cantina
There are several bowls featured at the Cantina this year. They offer a hearty option, basically a burrito without the shell. We were really impressed with the flavor packed into the bowl, and that they were way more food than we thought they would be! The spicy chicken option comes with rice, beans, corn, lettuce and sauce drizzled over the spicy chicken. For $6, they really do give you quite a bit of food.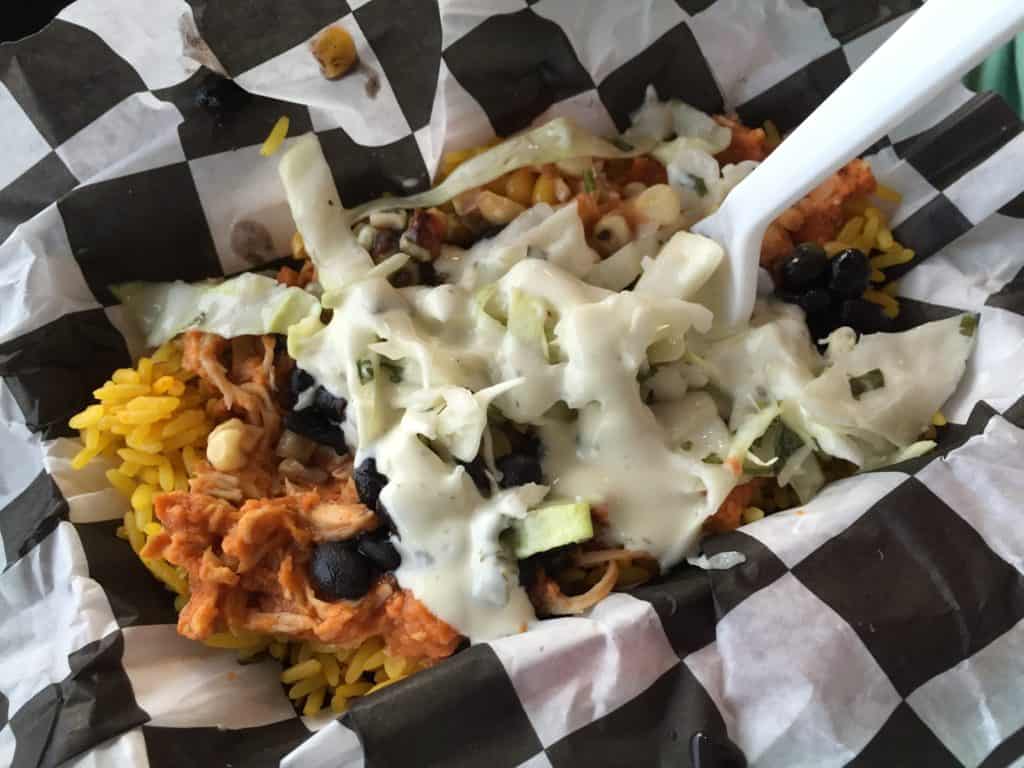 Pie House
The Pie House is now where you get pizza and beer shakes for $7. This year, there's a new beer shake called the Palmetto Biscotti. It features Palmetto Espresso Porter and a cookie dough biscotti blended with vanilla ice cream and caramel syrup. It's delicious and tastes like liquid cookie dough with a very slight coffee finish. The RiverDogs are also featuring a new beer shake with each home stand and on the last time we went, they were featuring a Peppermint Porter, which mixed peppermint ice cream with Palmetto Espresso Porter and was so good. There was a big peppermint flavor when you first took a sip and then left you with a delightful coffee taste.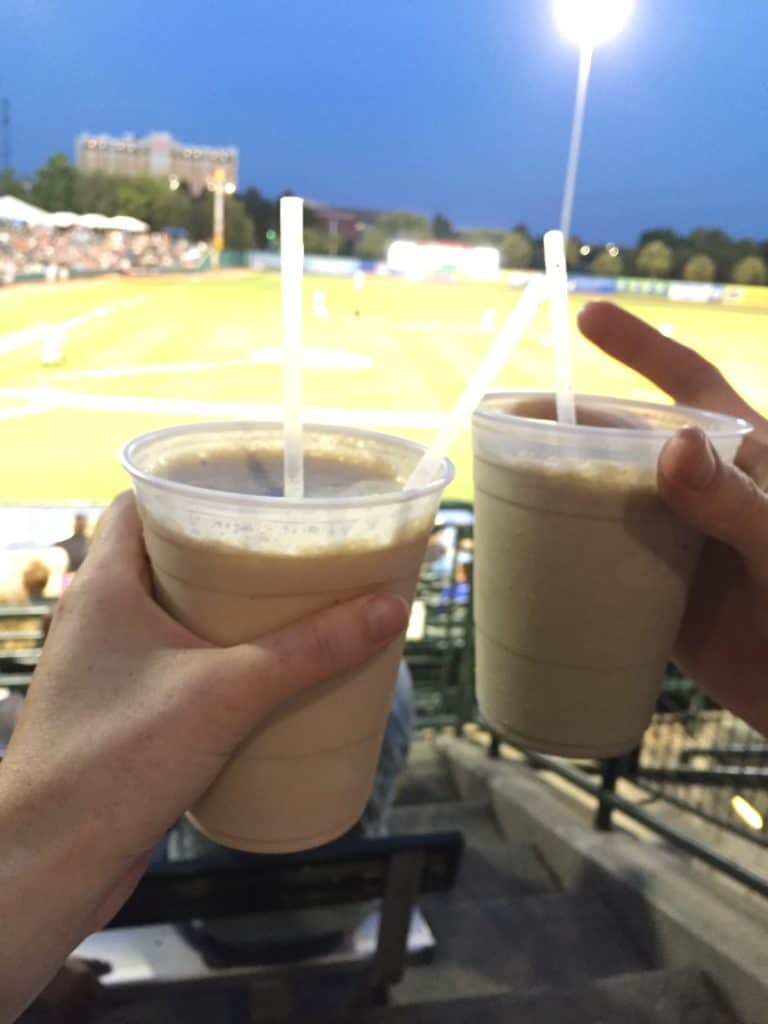 Smokin' Joe's
Smokin' Joe's is where the RiverDogs are smoking meats like brisket and BBQ to pair them with interesting flavors. The new Sween-n-Sour Duck Wing Bowl ($9) features two duck wings served on top of their ramen and sautéed vegetables. We weren't really into this concoction as the duck wings were overdone and are served on the bone, which means you have to pick the meat off if you want to eat it with your ramen. Plus, it didn't have the spicy teriyaki sauce that the regular ramen bowl has, so we didn't really like it.
We've also sampled the Burnt End Sandwich ($8), which is slow-cooked brisket chopped up and served on a thick roll that has a pepperoni baked into the bun. It was tasty, but there were A LOT of pure fat chunks in there that kind of made me not really dig it, but the pepperoni roll was awesome and they serve a bratwurst on that same roll with beer cheese in one of the other stations, so we'll have to try that later.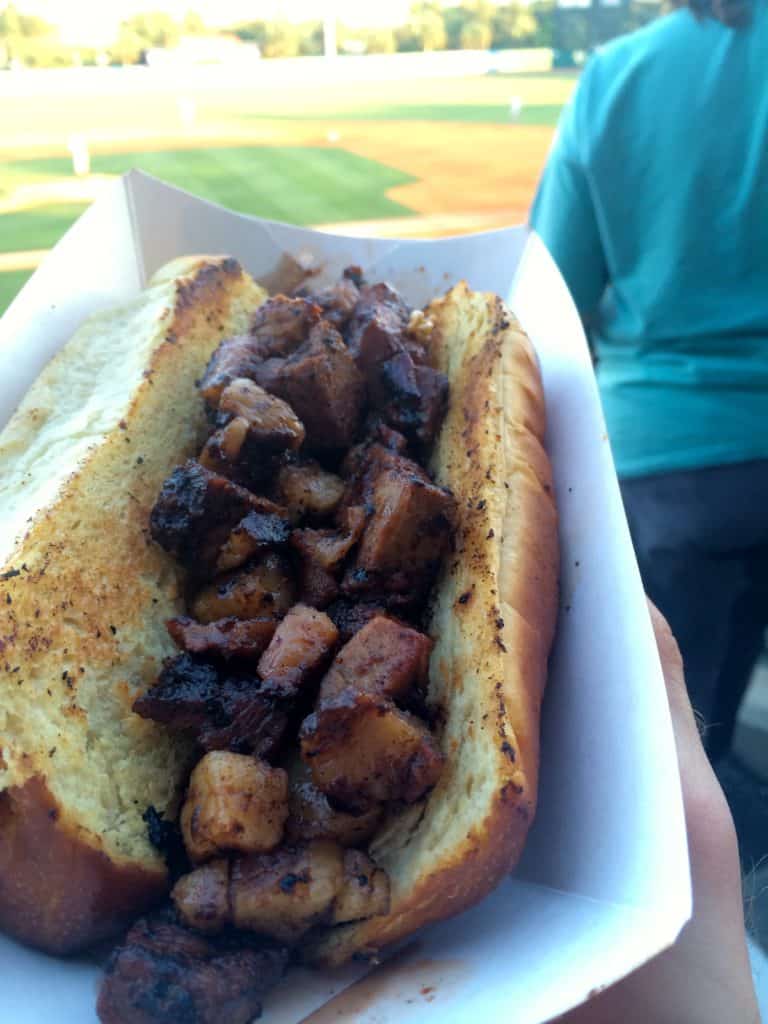 State Fair
New to the front of the stadium this year are a couple of smaller booths, including the State Fair. There are a few new foods being sold here, but they are cash only at this stand. We sampled the Rolled Up RiverDog, which is a hot dog with coleslaw and pickled okra, wrapped in an egg roll wrapper, deep fried and drizzled with BBQ sauce. Needless to say, it was pretty delicious and only $5.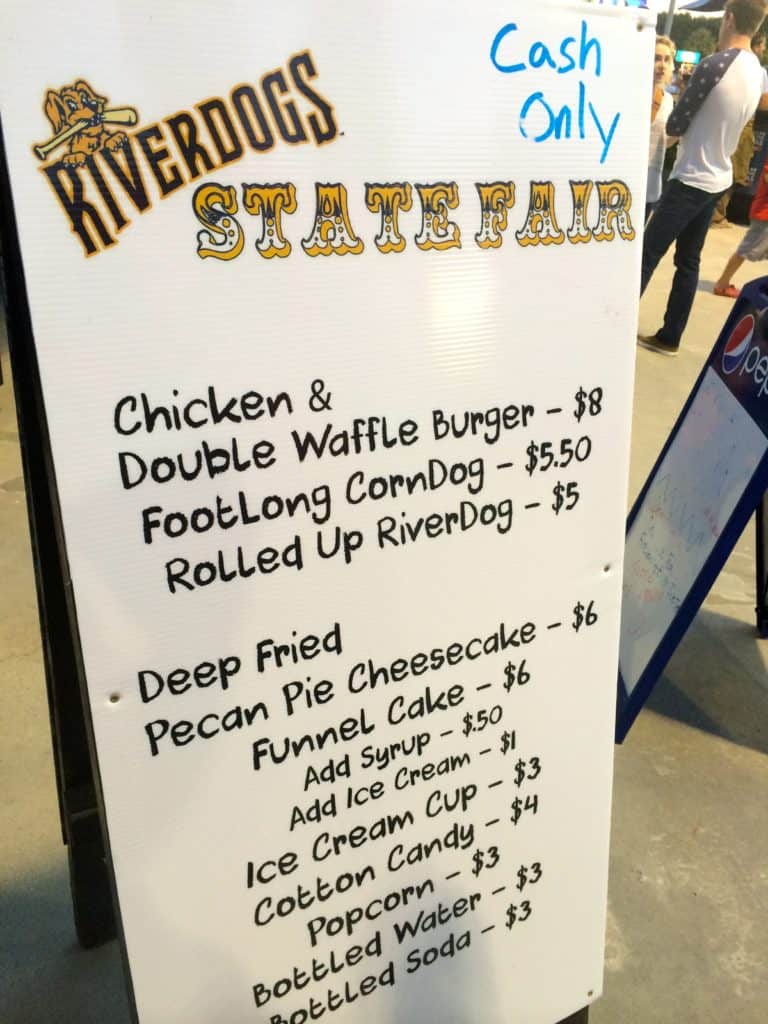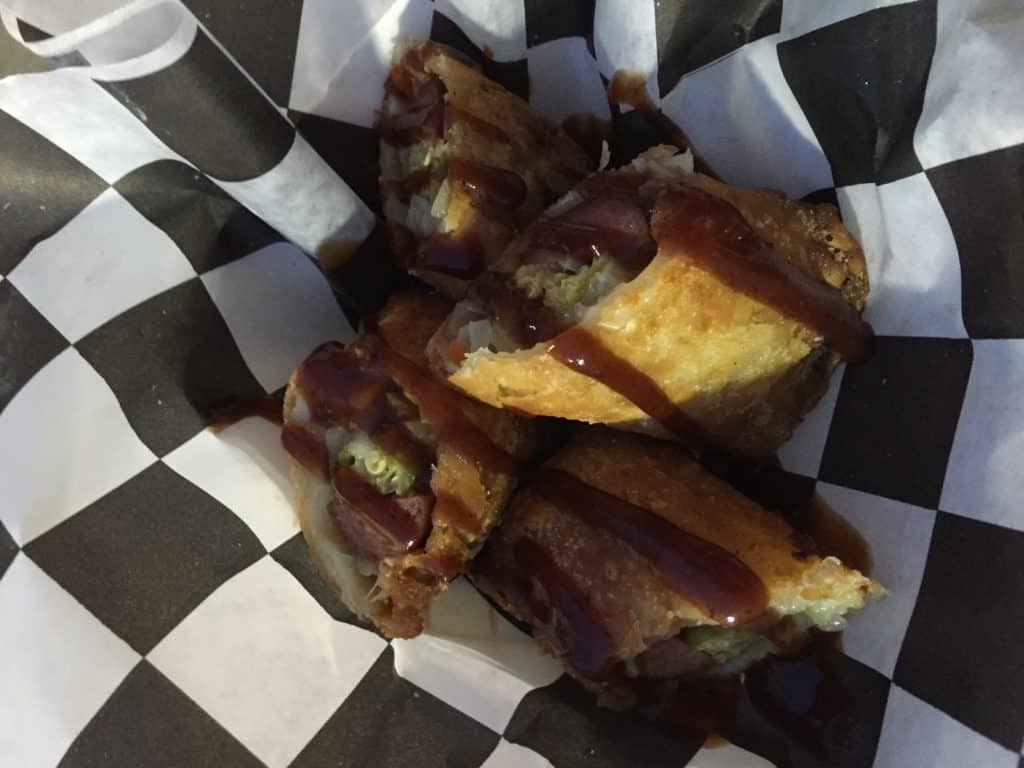 There are a lot more new options at the RiverDogs this season, but these are some of the ones we've gotten to so far. You definitely need to head out to The Joe soon and try some of these awesome new flavor explosions!