I love having Sean around, but sometimes I miss having an ultra-girlie room. Pink has been my favorite color since birth and I really miss having it around. So, I thought that I'd build a "fantasy" pink bedroom for you today! Lots of people think that pink means juvenile, but here's a "grown up" pink bedroom: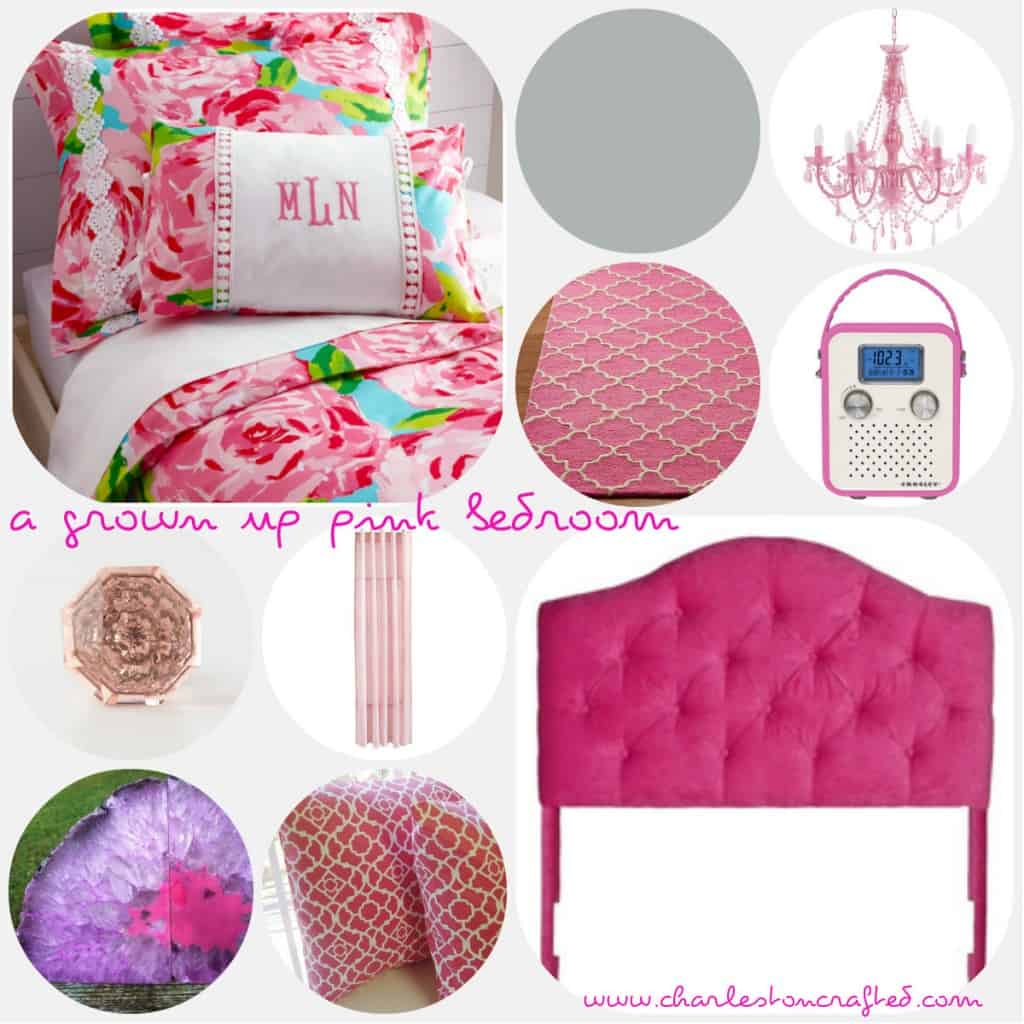 Pink rocks, but pink walls really limits the amount and shades of pink you can add in with your accessories. Instead, start with neutral walls. Might I recommend Benjamin Moore's Marina Gray– the perfect, cozy backdrop to the rest of your goodies!
Bedding is an excuse to be bold. You can't go wrong with Lilly Pulitzer and Garnet Hill's Hotty Toddy comforter is super sassy! I love how the roses feature several shades of pink- it really gives you a lot to work with.
Go ultra girlie-glam with a pimped out pink chandelier. This one comes in small or large, so it can be scaled to the size of your room. Or, check out your local thrift store and pimp out a vintage version with Krylon spray paint in Mambo pink, using this tutorial.
How cool is this leather trimmed clock radio? Sit it on your side table for an alarm clock, and still carry it to another room by the sweet little handle if you want some jams while you shower!
No matter if you have hardwoods or carpet, you've gotta pimp out your floors. I'd recommend the Addison rug from pottery barn– the geometric pattern is very "now", as well as clean neat & not too distracting. The pink is the perfect medium shade, too!
Re-doing your room doesn't mean you have to throw out all your furniture. Keep the dresser that you already have, maybe give it a fresh coat of paint, and replace the knobs with these glass octagon beauties!
You only live once, so splurge on this tufted velvet headboard. It's a glorious shade of pink & just brings on the wow factor!
Go light & bright with your curtains – and nothing says light like these amazing eyelet panels!
Bling your bookends with these super agate bookends, of course in hot pink. They really add some drama, don't you think?
Bring the geometry of the rug up into the bedding with these awesome throw pillows. You can never have too many pillows!
Ya dig? Make sure you follow our pink & grey board on pinterest!