Hello all! Thanks for hanging in with us as we shared the first two legs of our summer vacation – Jackson Hole, Teton National Park, and Yellowstone National Park! Today we will share the final leg of our trip.
We woke up Wednesday morning at the tipi village in West Yellowstone. We lounged around a bit, reading books by the creek, then hit the road. Our first stop was a quick foray into Idaho, you know, just to say we could. Unfortunately, we drove about 30 minutes into the state and saw very few signs of life. I wish we had had more time to see the populated areas of the state!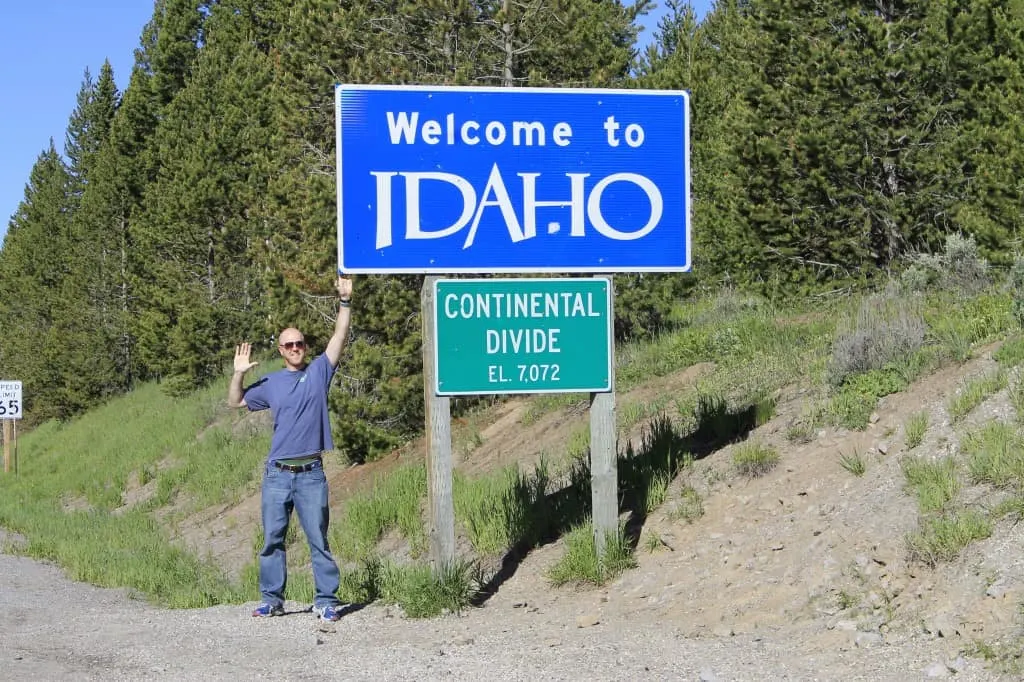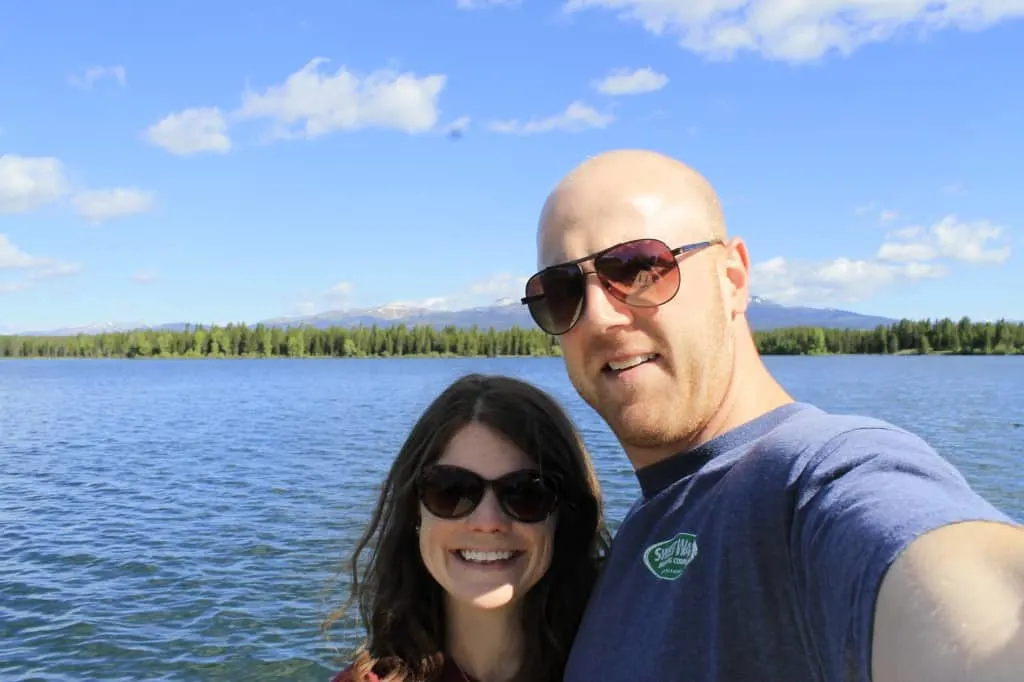 After our quick detour, we turned around and headed back to West Yellowstone, Montana. From there, we rode the highway north. We followed a lot of winding roads along the river before arriving at our destination – Montana Whitewater Company! We had lunch at the office (caprese sandwich and sausage off the grill, yum!) then suited up for an afternoon of rafting. We wore wet suits, booties, fleece jackets, and rain jackets!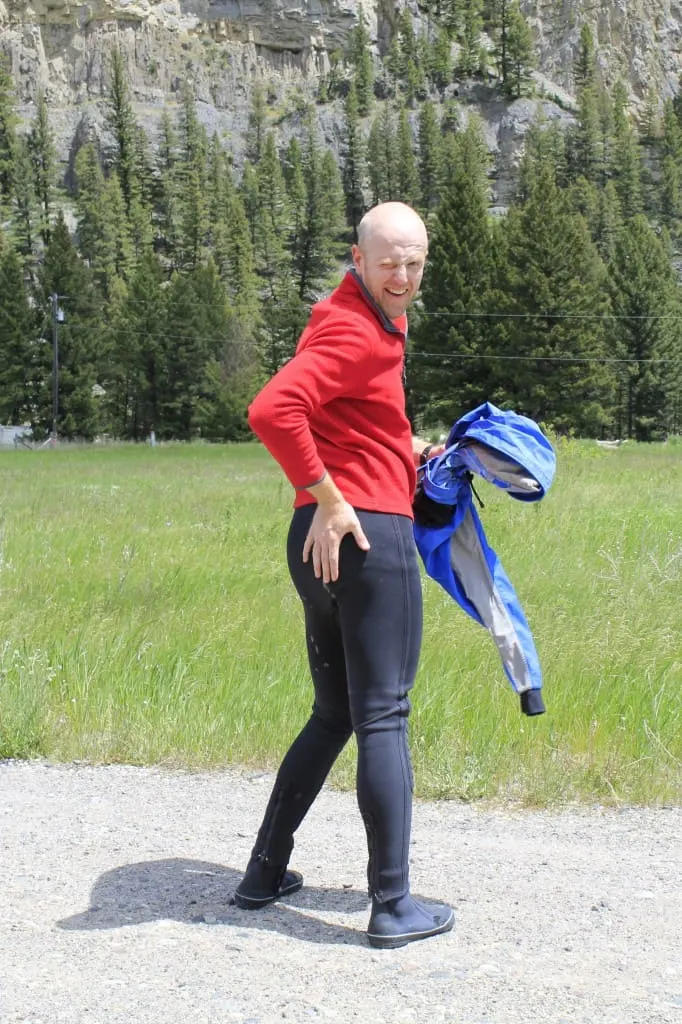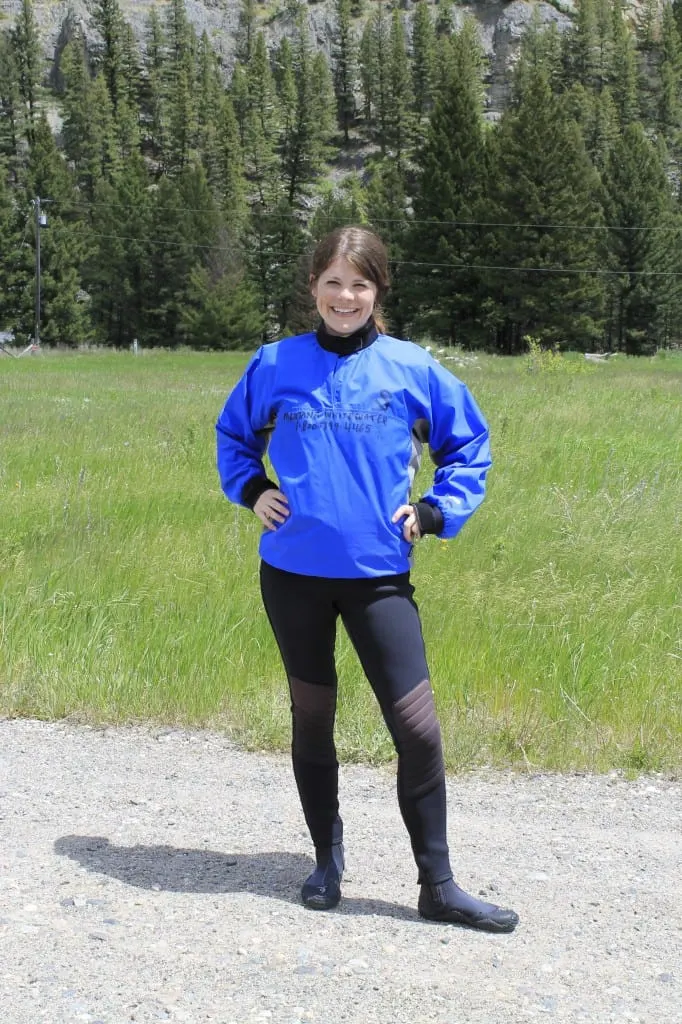 Our guide was Luke and he was awesome. He led us a few miles up river and we boarded the boat. Sean rode in the front (Mr. Muscles) and I was in the back (where Luke could grab the back of my life jacket when I went flying thru the air). It was a total blast. The water was basically at the year-long high while still being safe to ride. The entire river (the Gallatin River) is fed by snow melt and the water in the river was snow 12 hours earlier! It was ice ice cold (seriously numbing) but a total blast.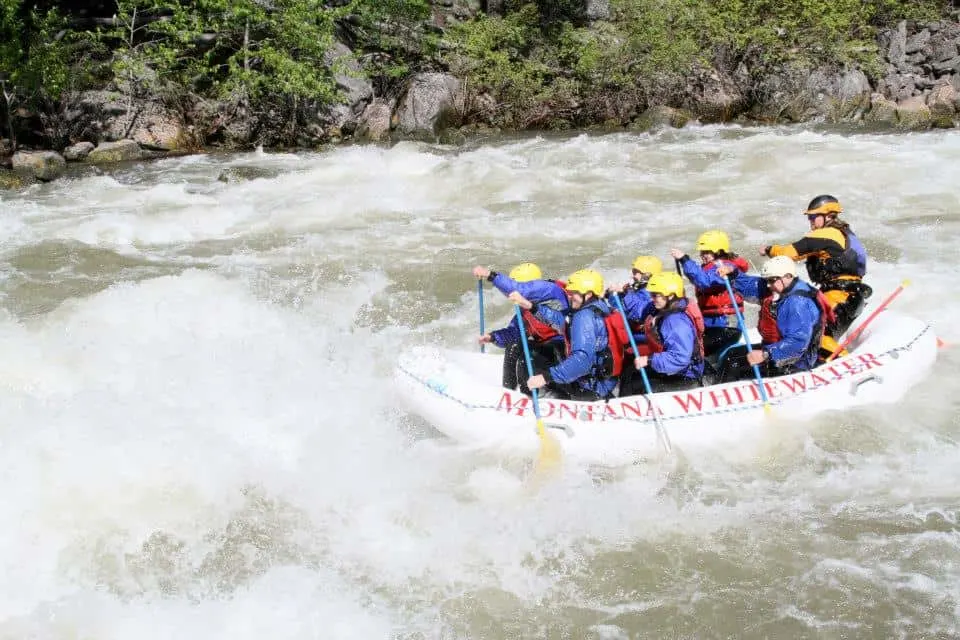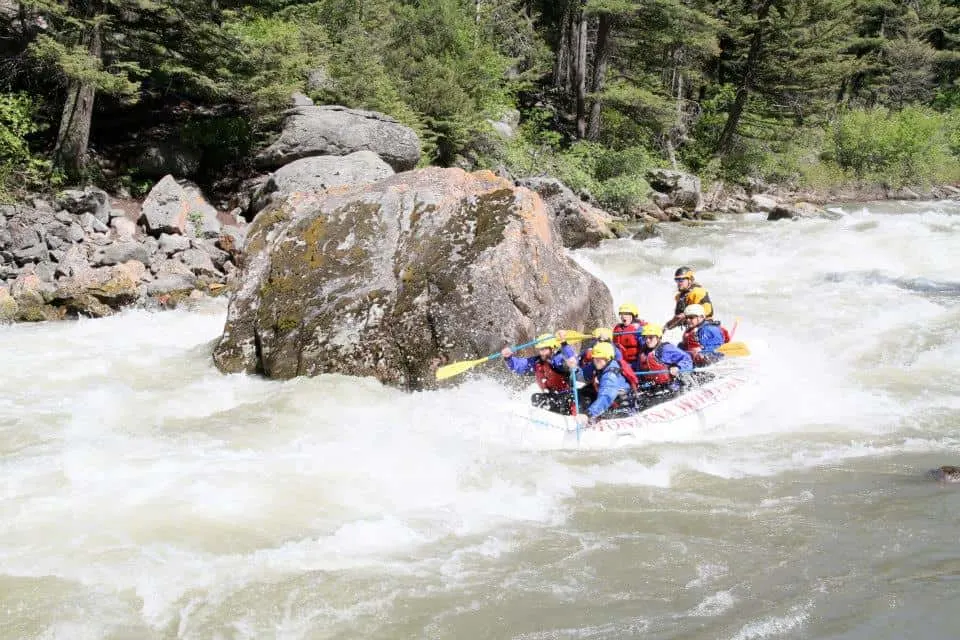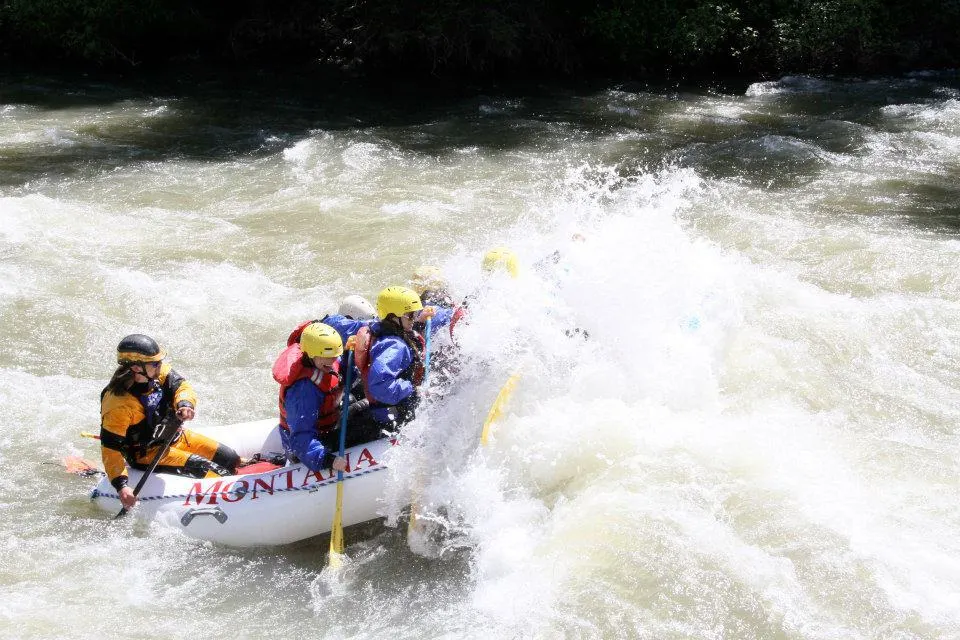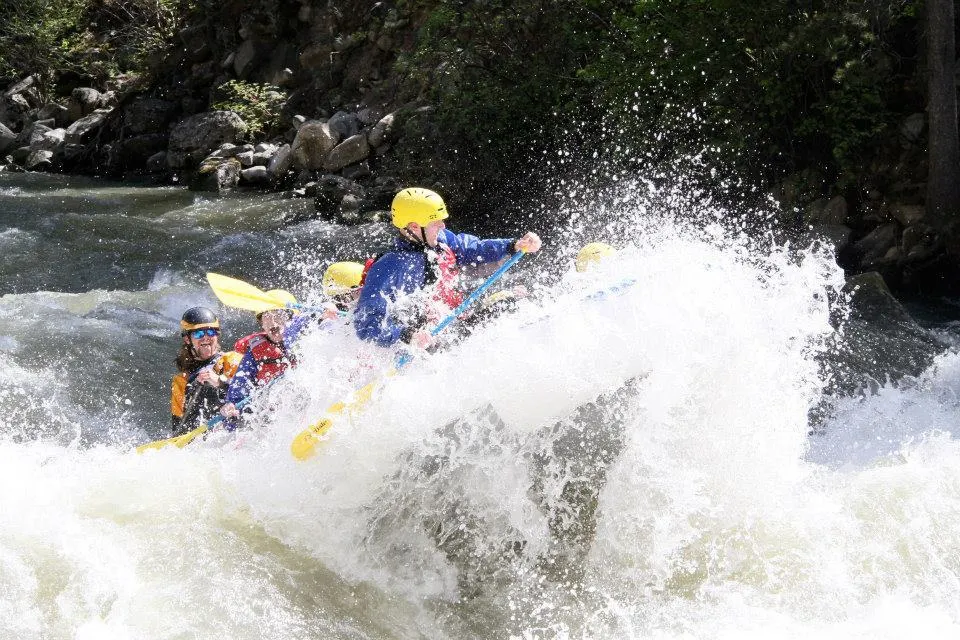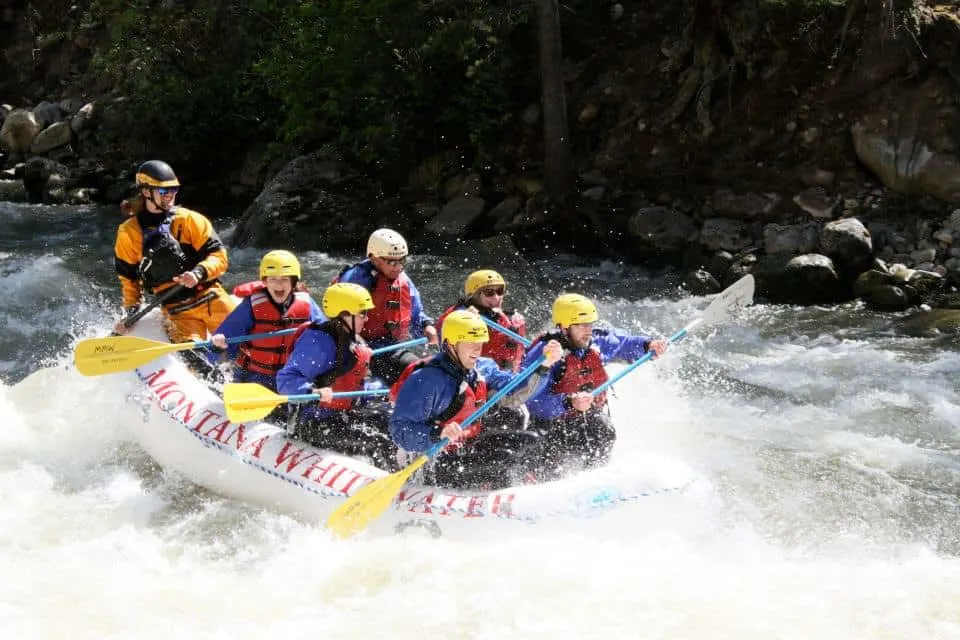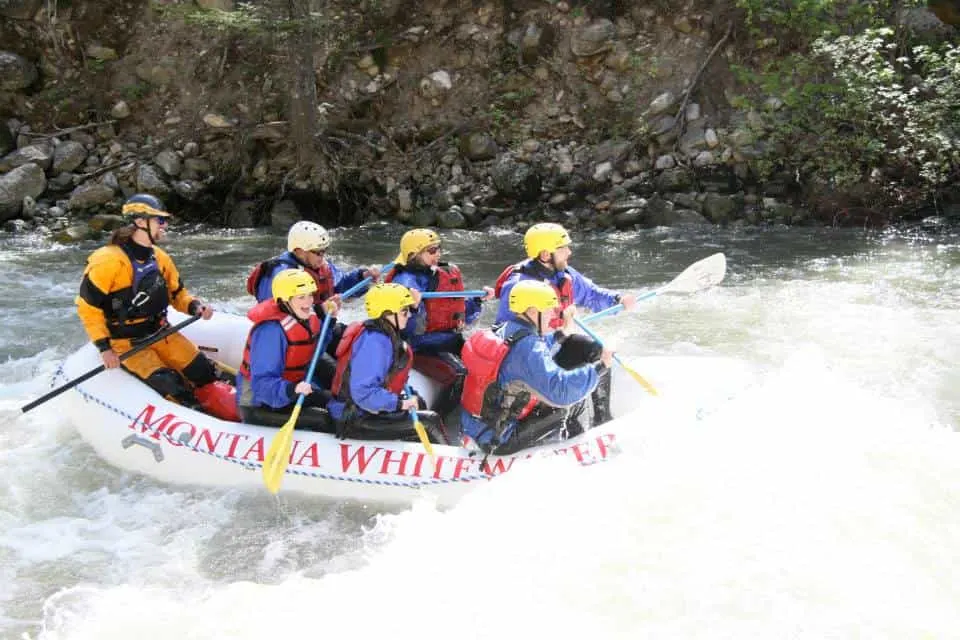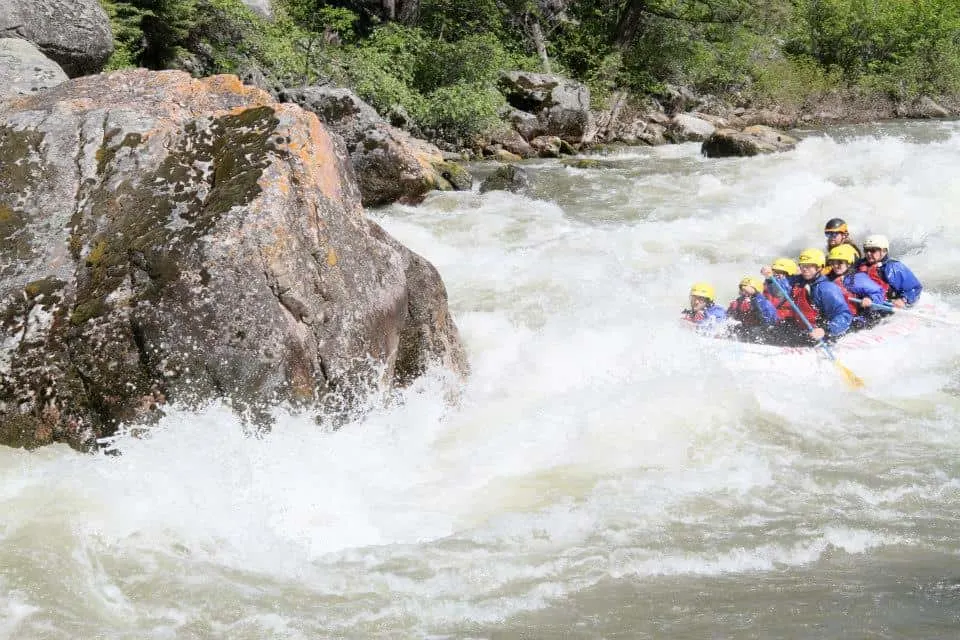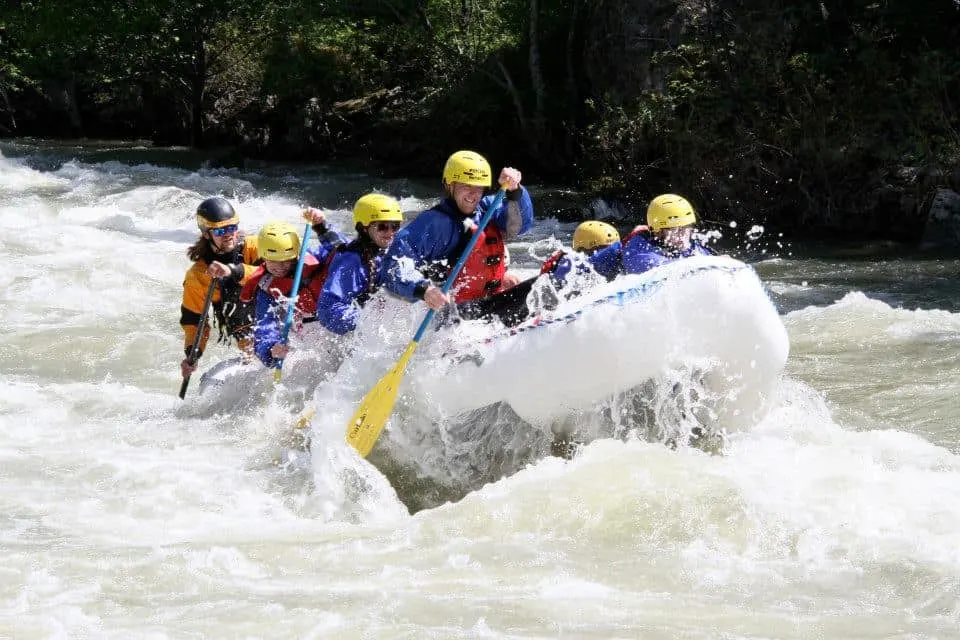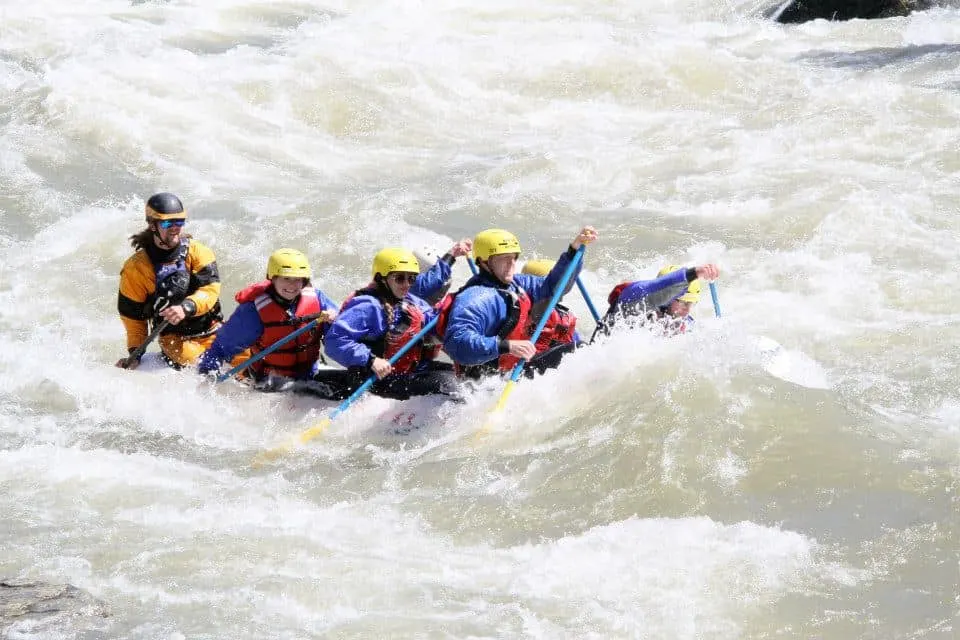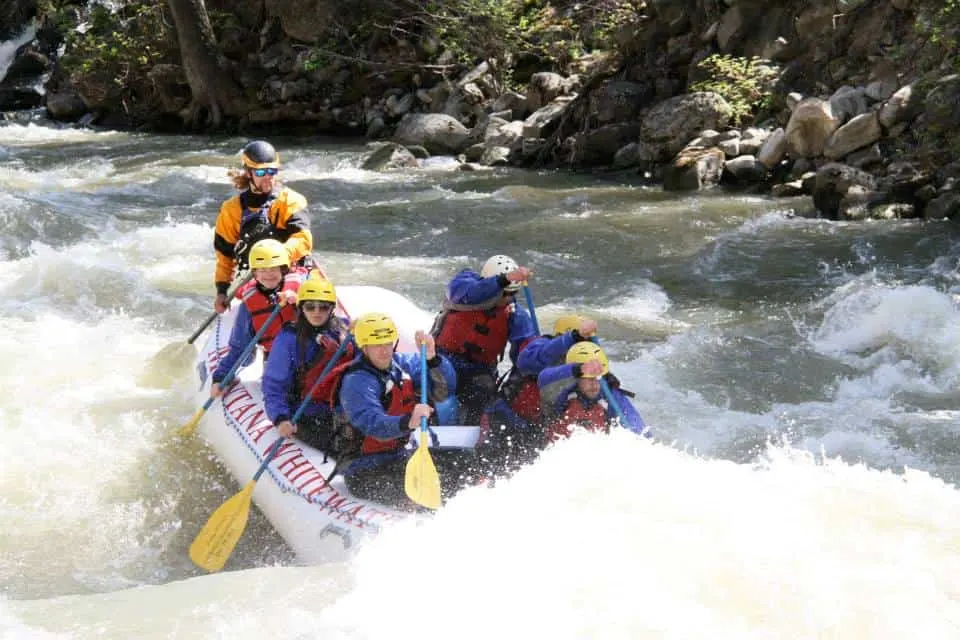 Sean rode the bull on the front of the raft thru several rapids!
Our raft was one of 8 in our group. At the end of the trip, all of the rafts except ours and one other one got off at the drop off point. We were deemed "good enough" to raft through the Mad Mile! It was a mile of straight class 4 rapids and we were actually the first public trip of the year to do it! Even that morning the water had been too high.
We had such a blast, Sean had to get a t-shirt and I bought the whole CD of photos. But come on, how could you choose just 2 of these shots?!
After rafting, we warmed up with fresh clothes and headed back on the road. We drove further north and stopped in Bozeman at Montana State University. It was a really cute little campus. Sean & I both went to college at the beach, so it's crazy for us to imagine being in school with snow on the ground most of the school year and having a school ski team!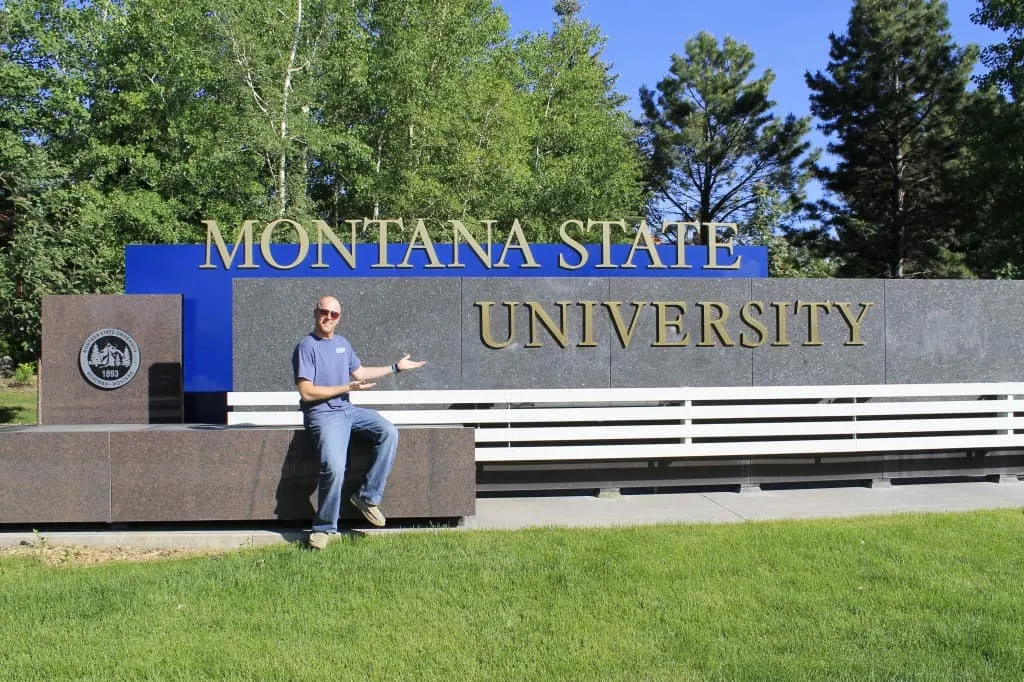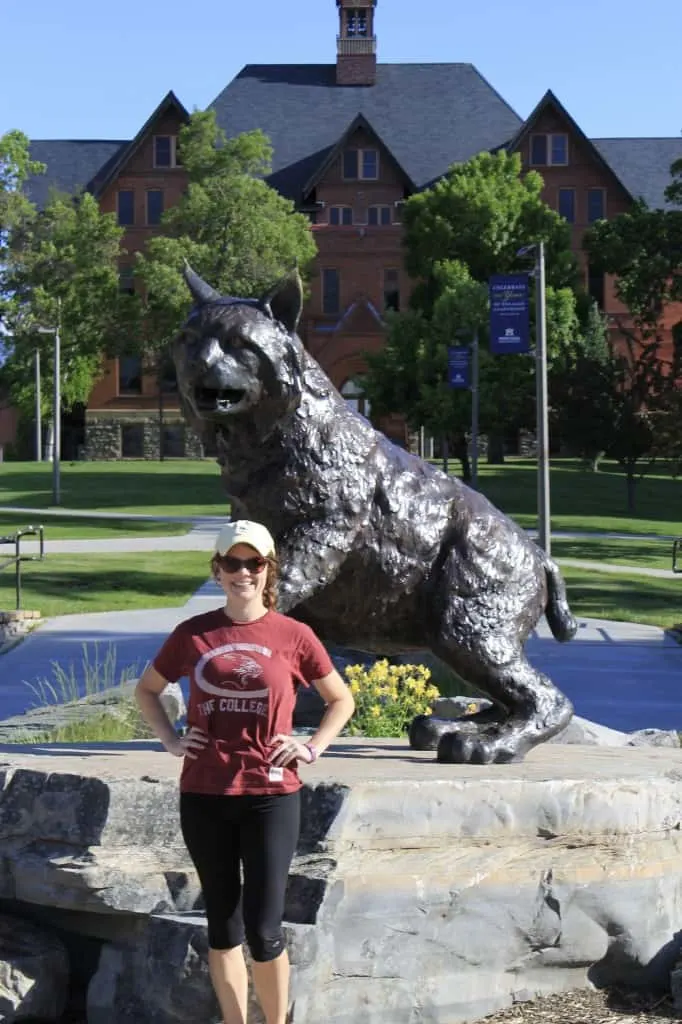 We continued our trek, east this time, until we got to Pray, Montana. We were really in the middle of farm land with nothing near us! We stopped at our hotel for the next two nights – Chico Hot Springs Resort.
Chico is in the middle of the mountains, surrounded by a valley. There is a main hotel with several restaurants, though we stayed in a "rustic cabin." It was small but totally fine for us and very private.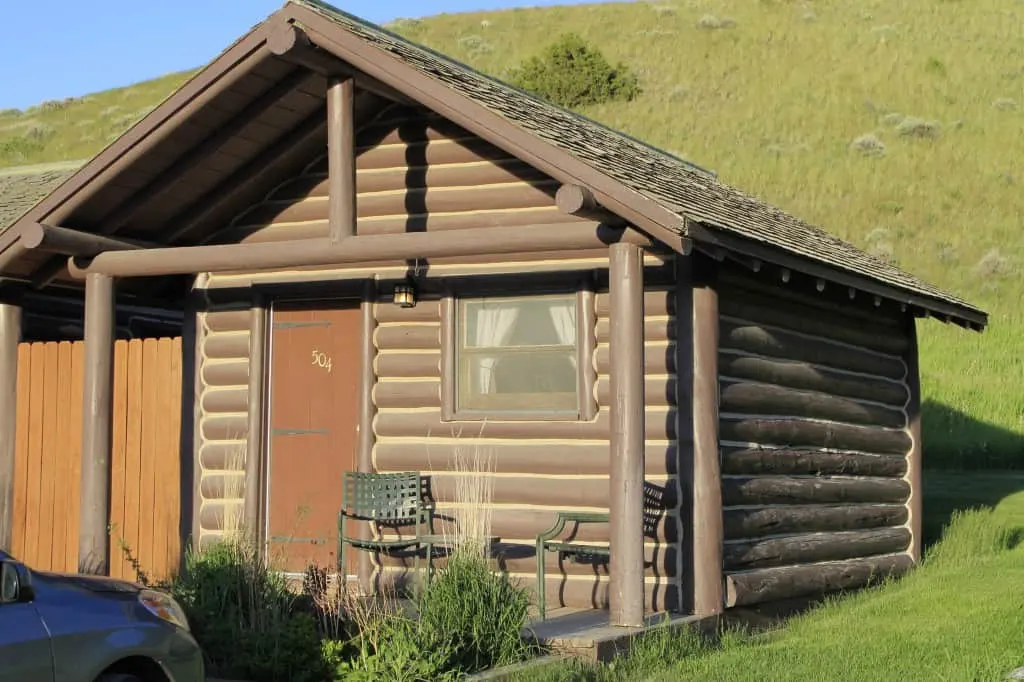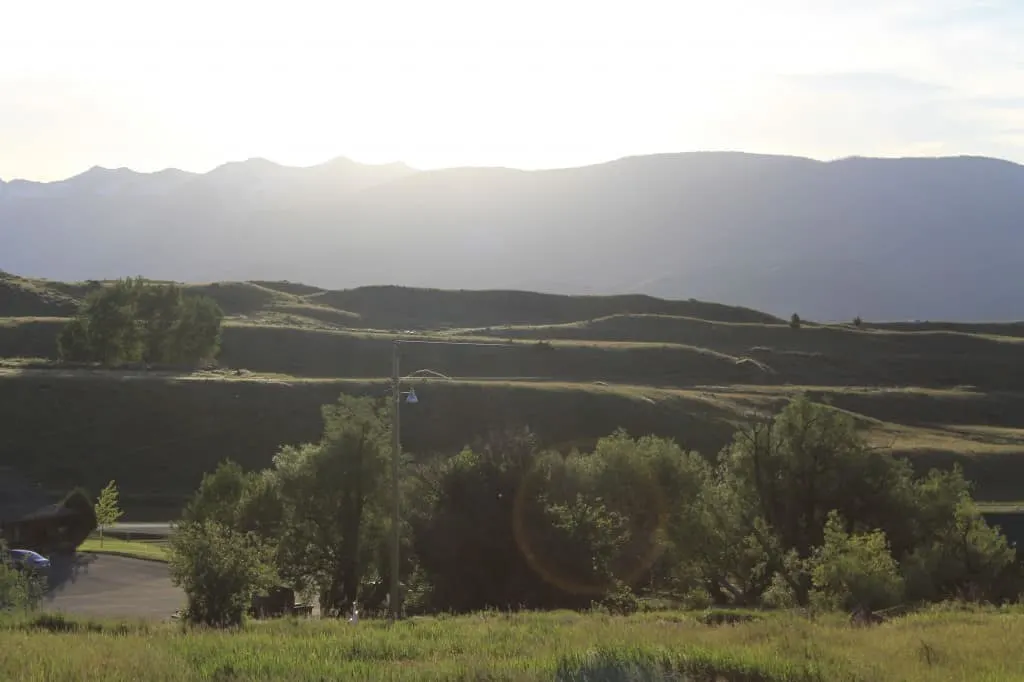 The center of the resort is the hot spring. There is seriously a river of hot water coming down the mountain! We found it! It goes into a little miniature house/shed where it is filtered (for twigs and leaves) but no chemicals are added. Then it dumps into the concrete-lined pools. There are 2 pools – a smaller, hotter one that stays at least 110 degrees, and a larger beach-style one that stays at least 95 degrees. They are in the open air (though surrounded by buildings) and were really cool. I mean fun, not cold!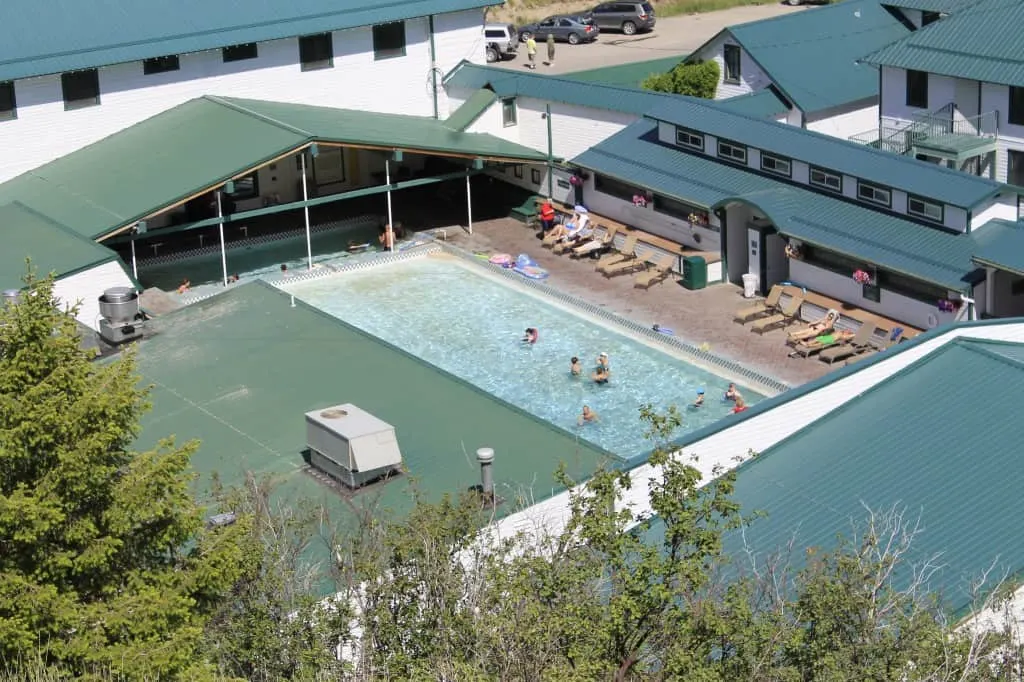 We lounged in the pool and ate at the saloon our first night. The pools are open to 11pm, and then they drain them each night.
The next morning we got up and went for a hike up the mountain and found a neat little fishing pond. It was very quiet and nice! We slipped and slid back down to our cabin and headed back to the pools for lunch. It was actually pretty warm that day, so we laid out in the sun, splashed in the cooler (but still warm) pool, and ate pizza from the grill!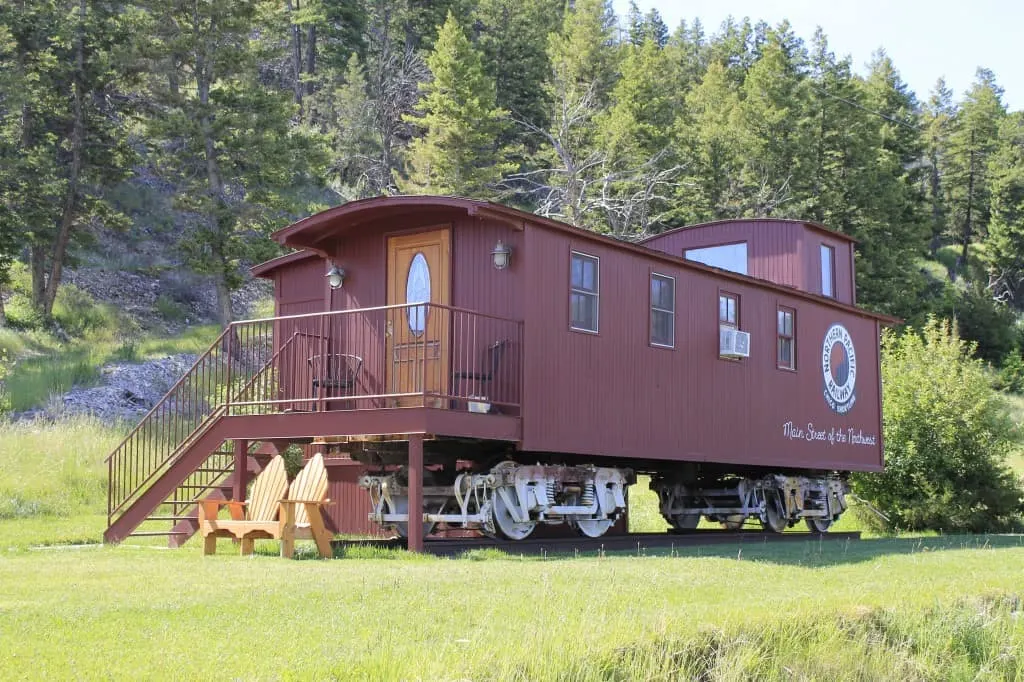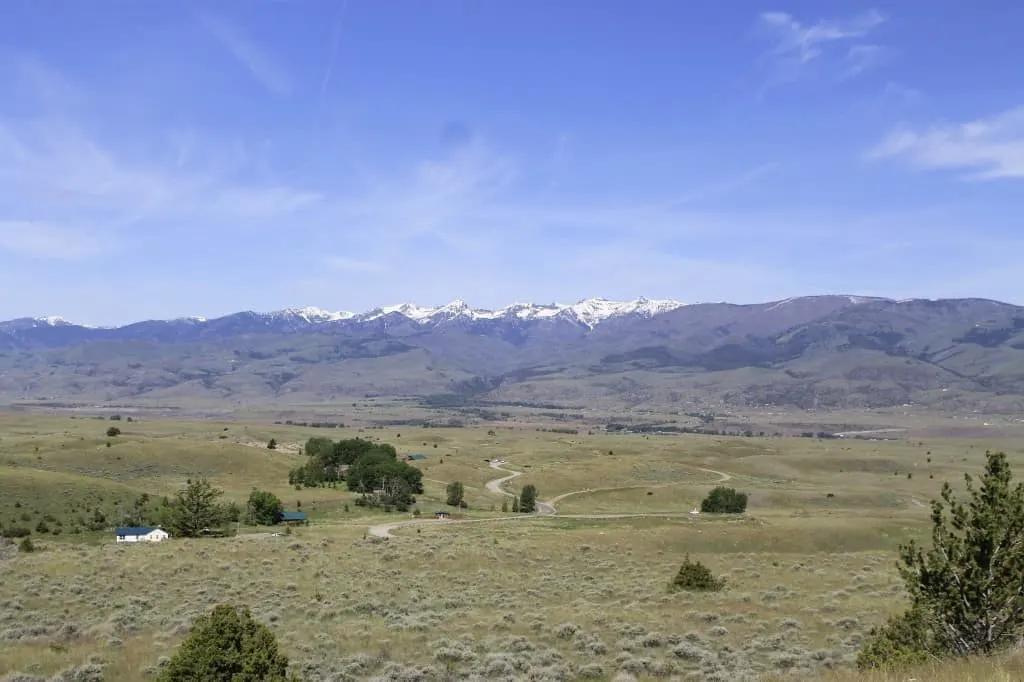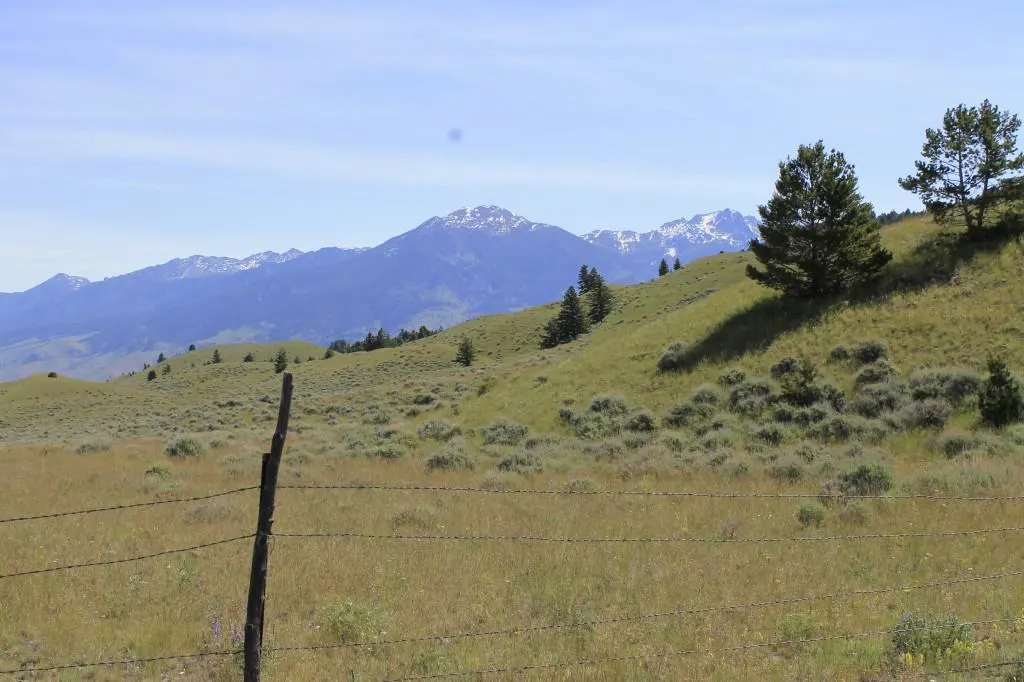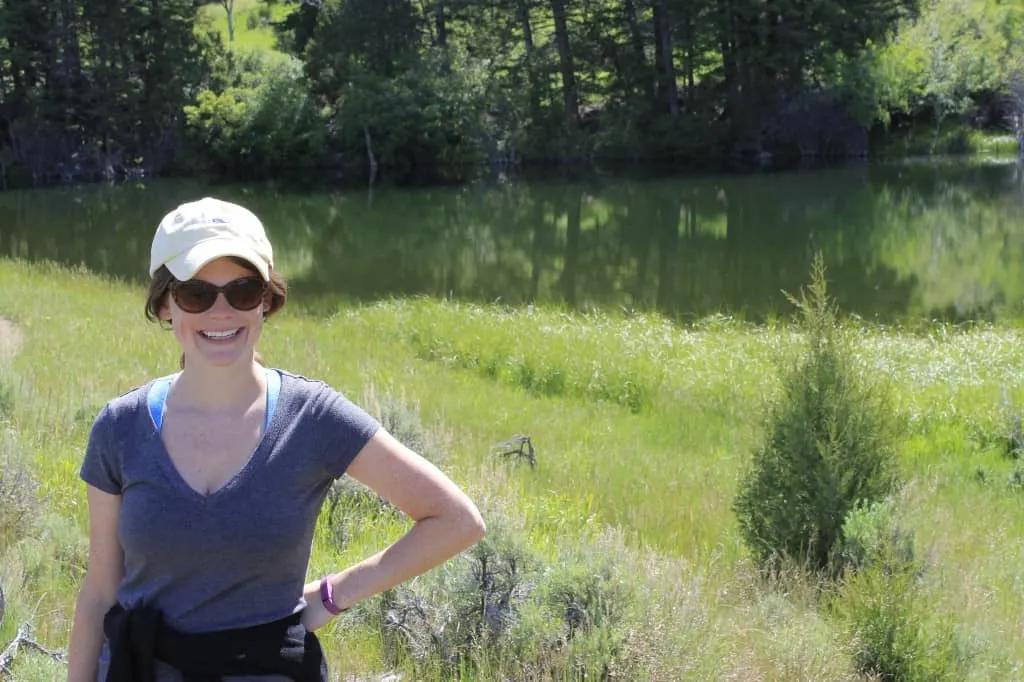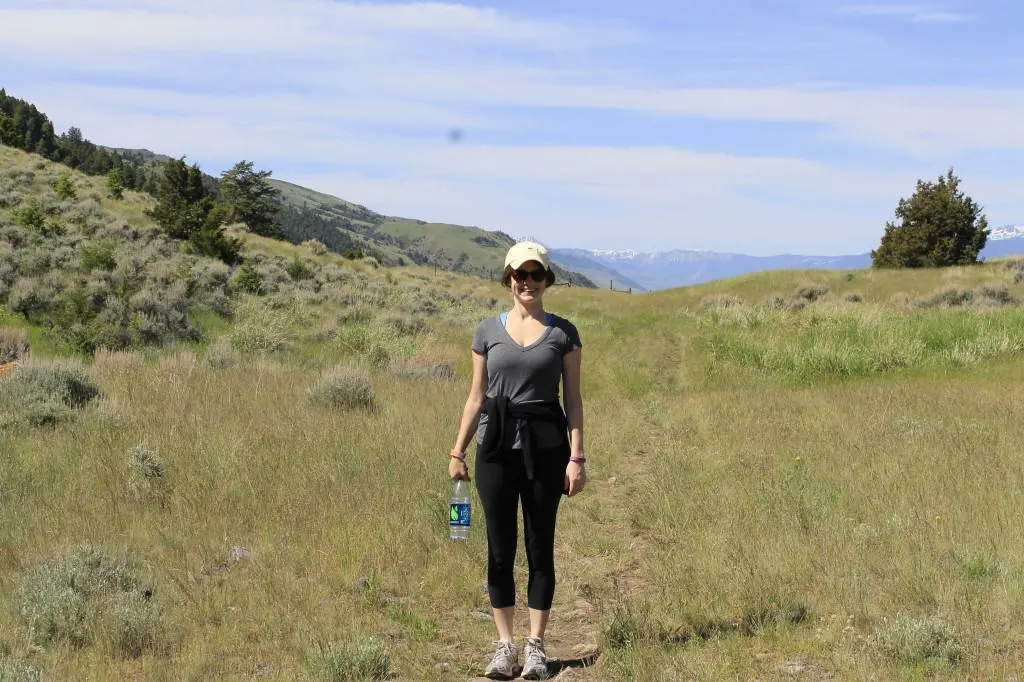 After our lunch time swim, we went on a 2 hour guided horseback riding tour of the valley. I hadn't ridden in a while, and it was excellent. My horse was Senorita and Sean rode Tank. The guide took us around the valley and we got to see some cool views from a different perspective!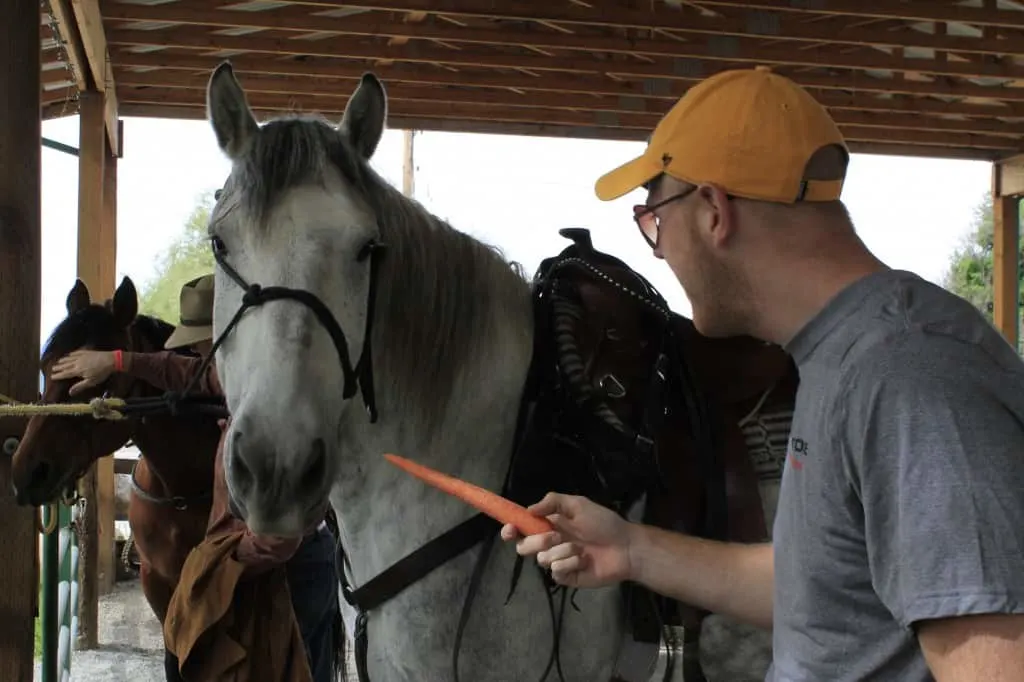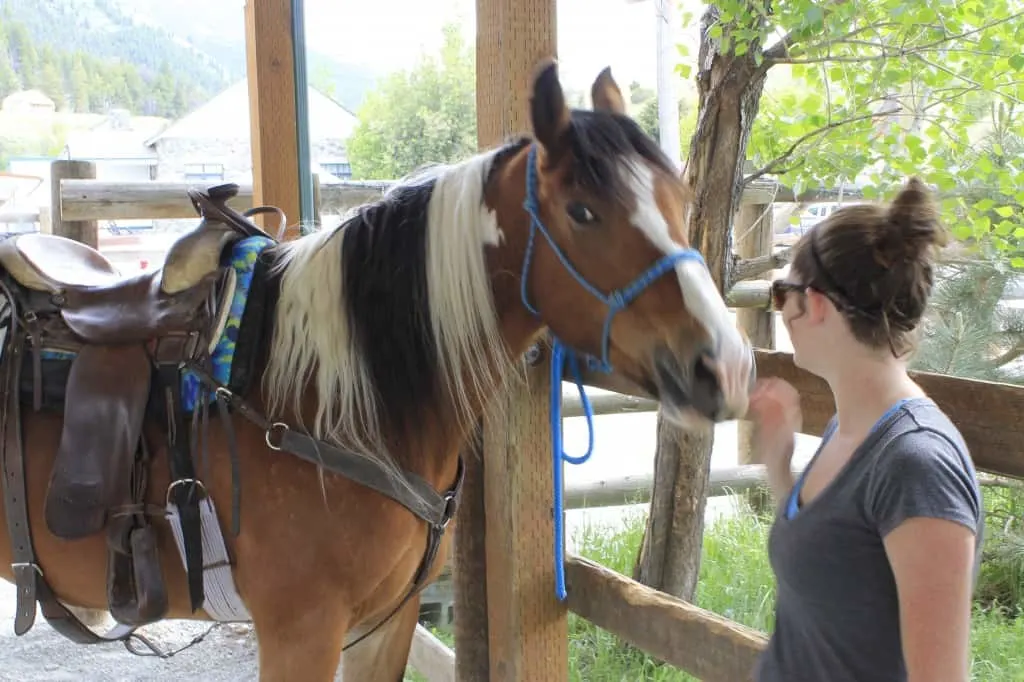 After our ride, we played horseshoes! I totally schooled Sean.
Then we showered and headed to dinner in the upscale restaurant. It was super fancy, I was totally surprised! We ended up spending a lot of time there and didn't get back to our room until almost 11, when the pool was closing anyways. We hit the sack to prepare for our long drive through Yellowstone on Friday.
This was an amazing trip. We had a fabulous time unplugging from technology and soaking in a totally new landscape. We were deciding between Montana and Hawaii for this summer and I am so glad that we chose Montana! It was amazing.
Now I am excitedly planning our next big trip – our Honeymoon! Any suggestions?!?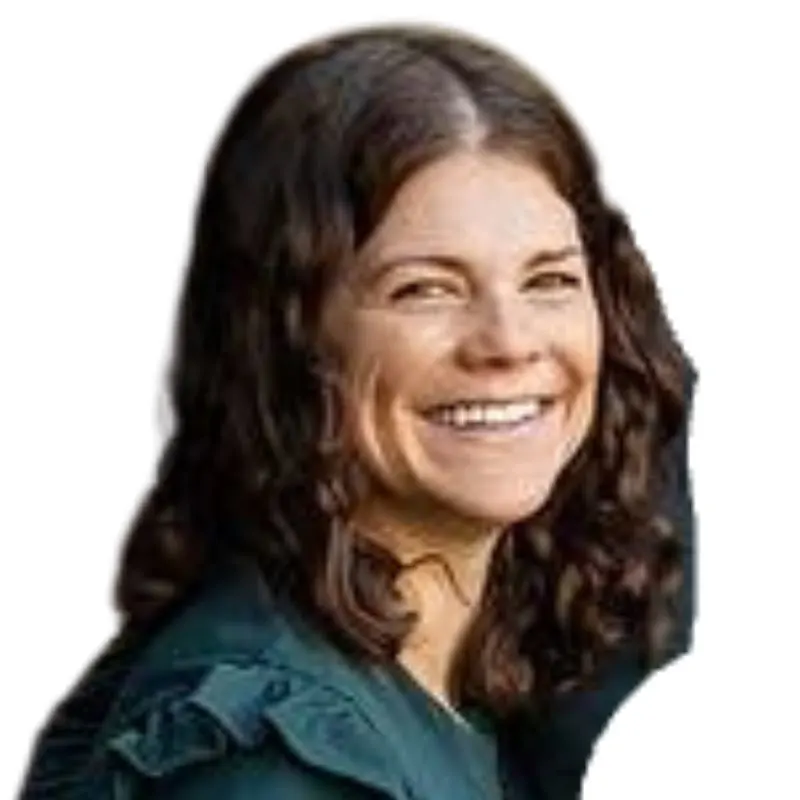 Hello, I'm Morgan, half of the creative force behind CharlestonCrafted.com! With a passion for DIY that dates back to 2012, I've transformed three homes and now I'm dedicated to helping others craft their dream spaces. Let's turn your house into a home together!