Do you love Groupon? We do. We buy a lot of Groupons and some are awesome and some are less awesome, but this week we had a GREAT experience. Sean got us a night at pARTy & paint in West Ashley. We chose to go to the night where they were painting the Ravenel Bridge, a Charleston landmark.
I have painted before, but by no means consider myself an artist. Sean claims this was his first time painting since the third grade. Both of our paintings turned out (in our opinions) good. I definitely recommend this style of class for anyone looking for a fun night. We brought a bottle of champagne and had a total blast! The instructor had an art degree and was really good at making it very easy to follow along.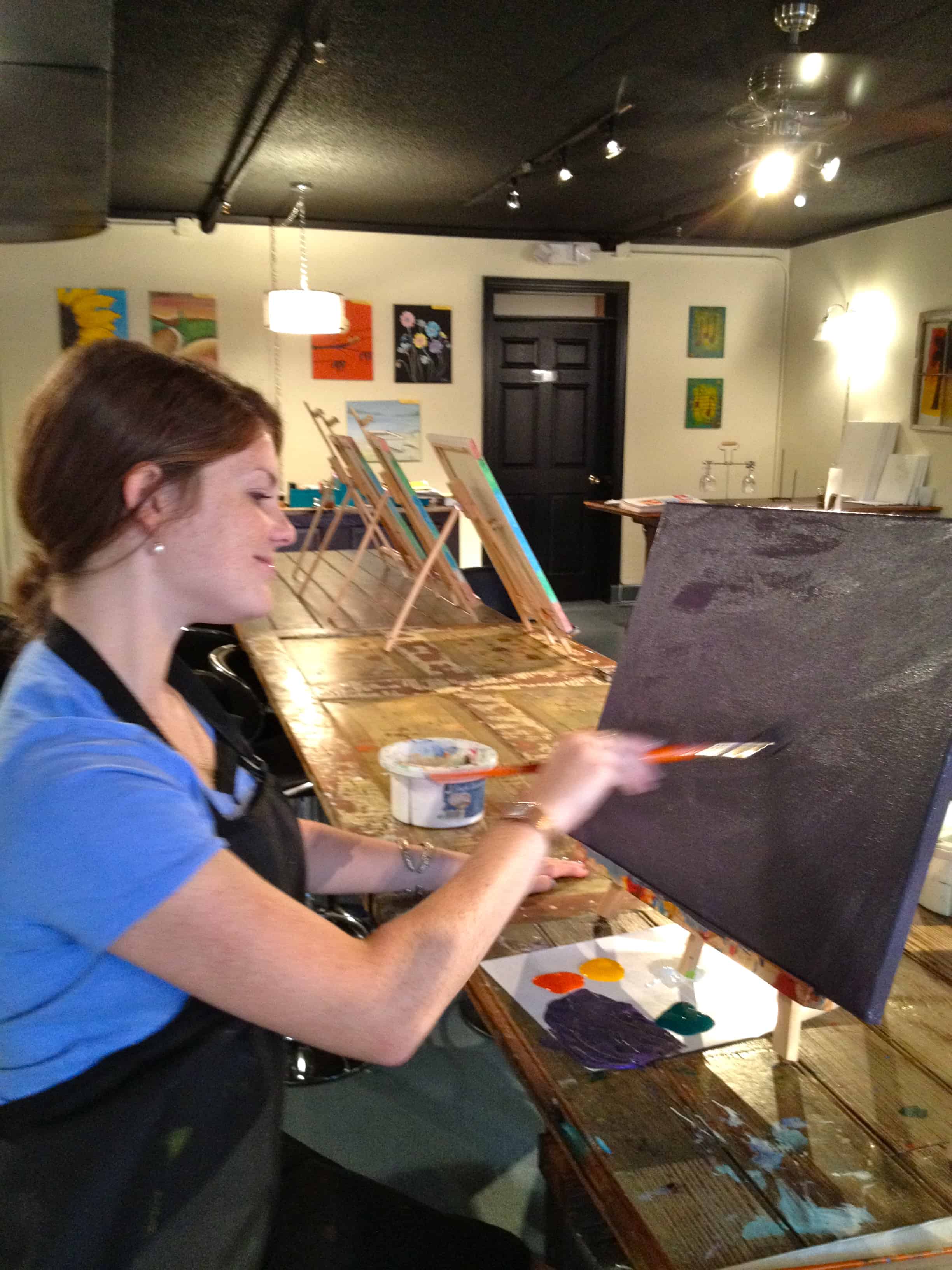 We started by painting the entire canvas (including the sides!) a dark purple color. This was the base color.
Since the class was only three hours, we used hair dryers to dry paint in between layers. If you put a second layer of acrylic paint on top of a wet layer, it will actually peel off the lower layer, so it was important to make sure each layer really dried well.
We then began on the water. We used a teal color. It is crucial with water and clouds that you paint with horizontal strokes. We made some areas darker blue and some lighter blue, trying to keep it more blue at the top and center. This started to add value to the painting.
We then added yellow highlights to the water. We focused where there was more blue. This ended up being the sun's reflection on the water.
Next we started on the sky. We started by painting half of the sky orange.
Next we added yellow to the sky using a palette knife. This was a really fun technique that I had never tried before. It gave a lot of texture that I tried to maintain throughout the project. Sean got really frustrated and ended up blending his back in with a brush. We added more light purple and orange in to make sure they were well blended together.
We then busted out our hair dryers again.
Now we finally got to start with the detail- the bridge! We went line by line to get it just right.
This part was really nerve-wracking. Flaws in the background could have been interpreted differently, but a wonky bridge would ruin the whole thing. For example, one guy in our class (who happened to be drinking a bit more than us) somehow ended up with two bridges…… oops.
Then we added cables to our bridges. More nervousness ensued.
Finally, we were done!
We think they turned out great and have been totally inspired to paint more. We also love how they accidentally ended up with the suns on opposing sides- it makes them look extra cool hanging together.
We would absolutely do this again- but maybe next time bring two bottles of wine to a three hour class 🙂
Have you ever done a painting class? What did you think?