One great thing about having a long engagement (ours is one year to the day!) is that we have plenty of time to plan things. On the other hand, I often find myself thinking "Let's just do it already!" We are about 6 months out from the wedding right now, and people are constantly asking us how the wedding planning is going. It's totally weird – I feel like we've hit a major lull.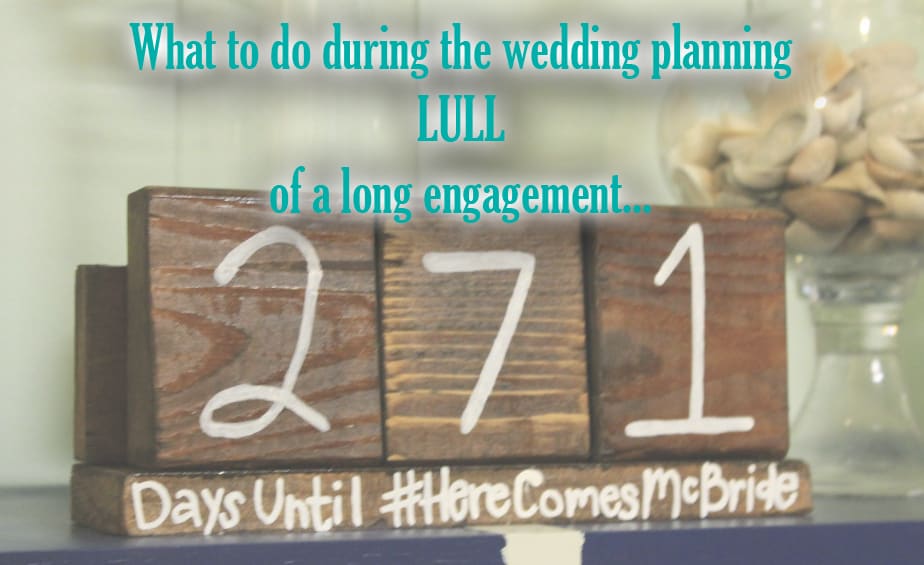 The first couple of months were filled with venue visits, budget discussions, and big picture planning. We went on tours, made spreadsheets, booked vendors, and paid deposits. However, at the moment, it feels like there's nothing to do. It's nice in that we haven't had any wedding bills come up, but it's very unnerving to feel like we should be working, but it's just too soon to do a lot of things.
After scraping our brains, here's what we've come up with and have been working on. We are hoping that getting certain things out of the way now will alleviate stress later.
Save, save, save money. As I said before, we don't really have a lot of wedding expenses right now. Deposits are paid and second payments don't start being due until December. But once one is due, they are going to all start rolling in. I've set up auto-transfers going from my checking account to a special wedding savings account, and at the end of every pay period I'm transferring anything left over to that account. Sean has a different way of saving, but this is what works best for me. Basically, I took the total amount that I wanted to have saved up by March 1st, divided it by the number of paychecks between now and then, and set up a transfer for that amount. It's meant that I've cut down on my student loan payments (clearly, still paying them, just not paying quite so much over the minimum each month). But I know enough about debt to know that I'm not willing to go into any more to pay for a wedding! Hopefully saving now will make the spring that much less stressful.
Buy the little things. Along the same lines as saving money, we've been trying to stock up on certain things that we know that we want to have for the wedding weekend now. I've made a lengthy amazon wishlist (not a registry – just a décor and supplies private wishlist) and I've been adding $10-$20 worth of items from the list to each transaction that I normally make. This doesn't have a big effect on my wallet now, but it adds up quickly and is saving me the pains of one major wedding purchase down the road. I know, I'm still paying the same amount (and we're still tracking it all on our budget spreadsheet (I am a CPA after all))  but it feels like I'm spending less if I spread it over time!
Make lots of lists. I've also got a running list of things to grab at certain stores. Michaels is a big one, for example. I made a note on my phone of things I want (hole punches, papers, favor jars, twine, etc, etc) and I just wait for a certain coupon to come out and pick them up on my way home from work. I even have the list divided into percent off your total purchase items (for inexpensive items not worth using a 50% off coupon) and single item coupons. Crazy, I know, but it makes my shopping much easier and more efficient. Having months and months to buy the items makes me feel much more relaxed about waiting for the best possible sales, as opposed to just running out and grabbing something because I need it now.
Save it for later. I've researched and found several items that I know that we want, but I know will go on sale. I set them up, create an account, add them to my cart, and wait for the sale email coupons. I have shutterfly albums, custom napkins, photo prints, bridal party gifts, and more goodies patiently tucked away. As soon as I get the sale email, all I have to do is check out and they're mine!
Craft away. Crafting and DIYing for your wedding can be a fun way to personalize things. But the problem with DIY is that it often goes wrong. It's crucial to give yourself time to create things, then troubleshoot and re-create them, and then come up with a plan B if it's just not going to work. So, we've started several wedding projects already. Our biggest limitation is space – we don't have a ton of room to store stuff prior to the wedding, so we are trying to stick to smaller things first. I can't wait to share some of the things that we are making!
So, even though I have months until my wedding and feel like there's not much to do, I really can work on some things now so that spring will be much less stressful.
How long was your engagement? Did you ever feel like you had nothing to do?!?