Since we got engaged in April, we've been lucky enough to celebrate with four other couples on their wedding days. We've each been to weddings in the past and have enjoyed them, but you notice different things at a wedding when you're planning your own. For instance, say that you notice that the wedding has gone with a photo album guest book to sign when you walk in. Before you're engaged, you just walk up and sign a page in the book. After you're engaged, you walk up and may say, "Hmm, not traditional, but a lot of people do this. I want to do something different."
Going to weddings now has become about determining what we like and don't like for our own wedding. But also, determining that you "don't like" something doesn't necessarily mean that you actually don't like it. It just may mean that it isn't your style or doesn't go with the theme that you were going for. Everyone's wedding is completely different and you have to determine your own style early in the process of planning your wedding and work around that. But you can take in your surroundings at weddings you attend and copy that idea, tweak it, or eliminate it.
Let's take a wedding we went to recently. It was in a beautiful location by a lake, much like our venue that will be on the water. It was more formal than our wedding will be as it was in a ballroom with chandeliers and a plated dinner. But that doesn't mean it wasn't beautiful, because it was.
We got a peek at their programs, and learned a lot from them. Basically, we learned that putting a lot of solid ink on one piece of paper will cause it to rub off a little bit on your fingers. But, we also learned that we want to keep our program short and sweet, just like these. It's important to have the order of events and the names of the people involved in the wedding, but that's about all you need. We had been thinking about an elaborate program that had the bios of our wedding party, a thank you note for attending, etc, but we realized at this wedding that people don't pay much attention to the program. The entire time they have the program, they are supposed to be watching your ceremony. Plus, everyone leaves the program at their seat when they go to the cocktail hour.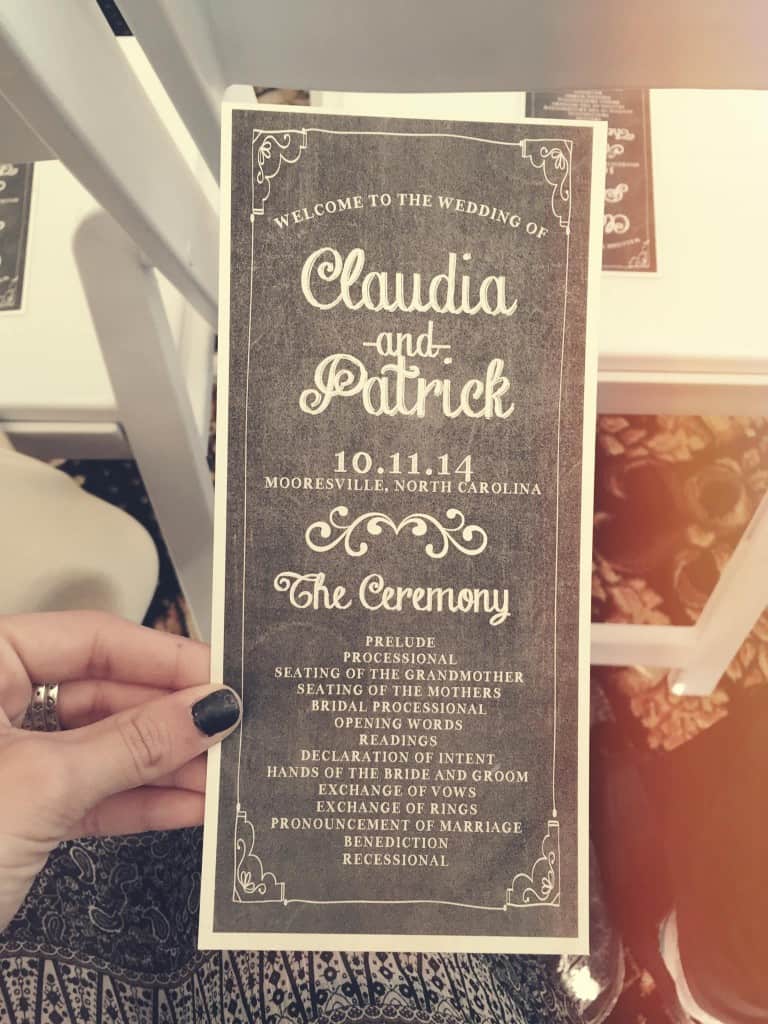 Another thing we saw at this wedding was a new way to do table numbers. That is, don't use numbers. Instead, name your tables based on your theme. This wedding was a wine themed wedding, so they named their tables with different kinds of wine. It fit their wedding theme perfectly!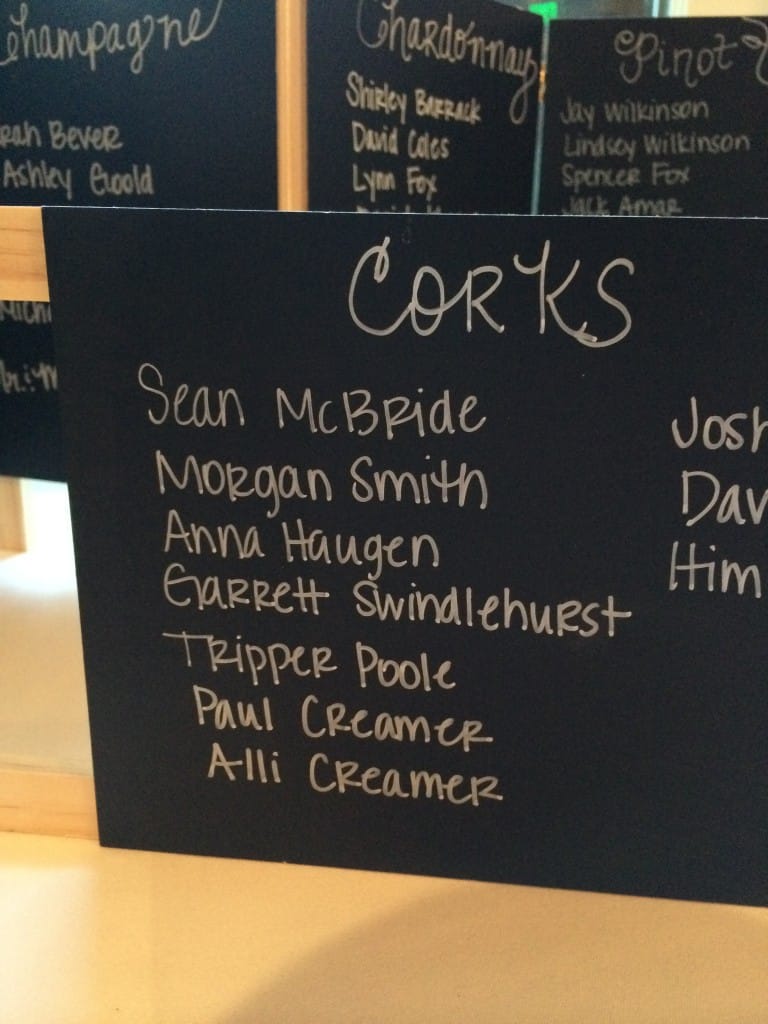 At all of these weddings, we learned a lot about an outside ceremony. At one of them, the gorgeous sunset was right in our eyes. At another, the sun was very hot. At another, we got to take incredible water pictures that we hope people will take at our wedding. Since our wedding is outside, we have to pay special attention to people's comfort levels. Unfortunately, we can't control where the sun will be setting at our ceremony, but we can do things to mitigate any uncomfortableness.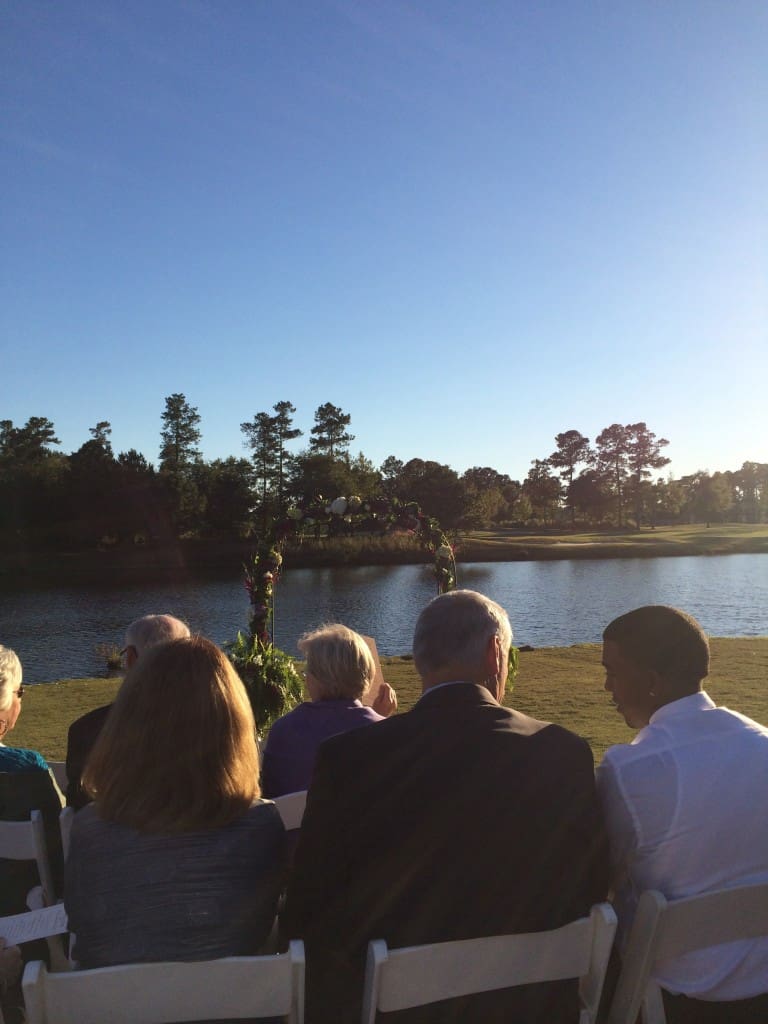 Another big thing that we really thought about at these weddings was FOOD! We suddenly noticed how many appetizers there were and whether they were passed or displayed, whether the dinner was plated or buffet or stations, and what was for dessert! We noticed that people love signature cocktails and that wedding with open liquor bar got really sloppy, really fast. All of these observations have been tucked away in our minds and will help us make the big decisions regarding our wedding day.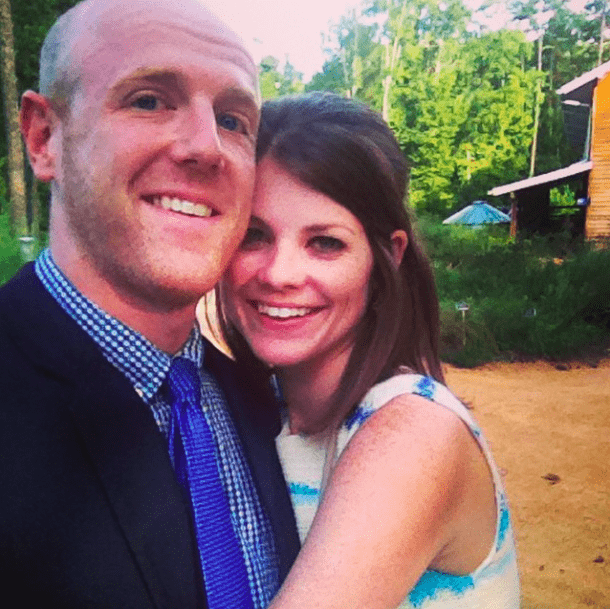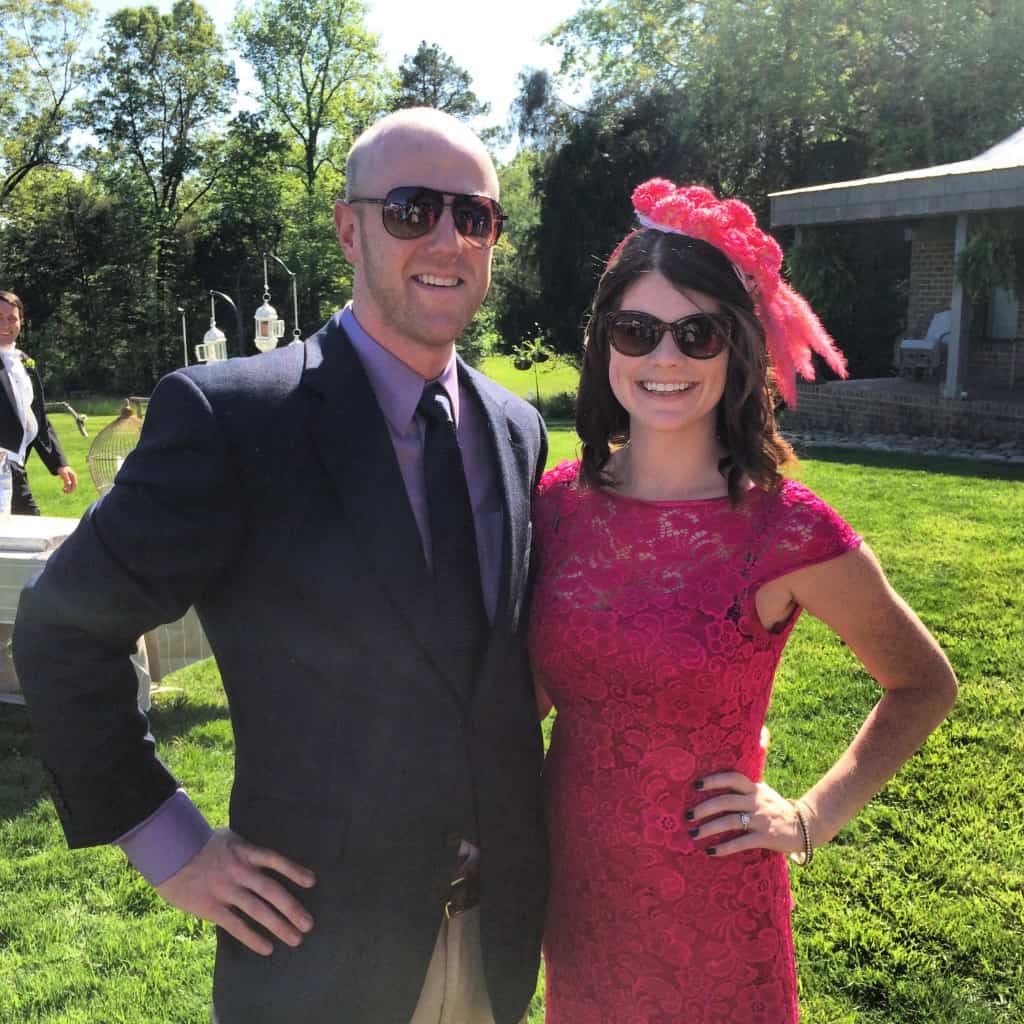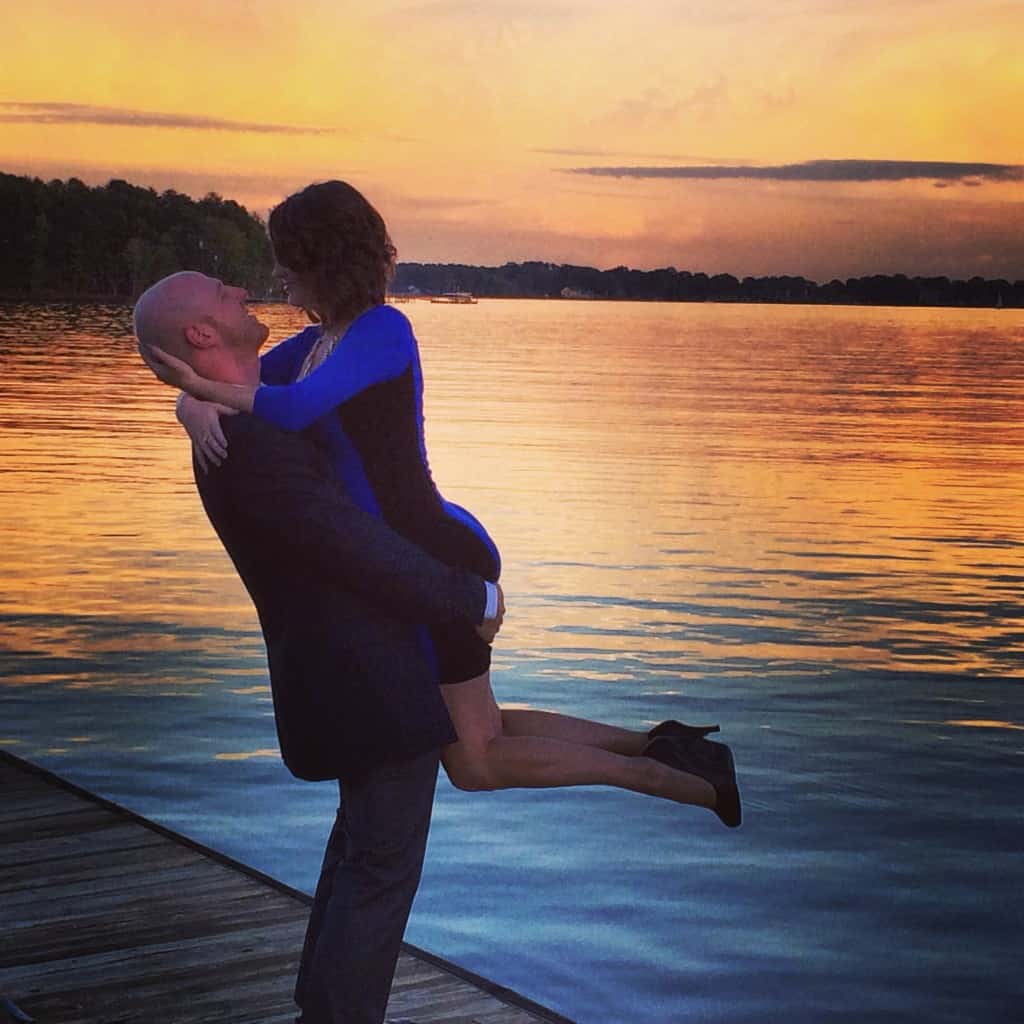 We learned and observed a lot about things like guest books, food, decor, favors, and much more, but we can't share all of it with you and give away what we're planning. Point is, if you're planning a wedding, hopefully you're going to a wedding before your own. When you do, pay very careful attention to what is around you. Other people's weddings are going to be you're best bet for ideas. You will find ideas and you will see ideas that you were planning and decide against them. And that's ok!
What were some things you learned at other people's weddings?
PS – sorry we don't have tons of pictures of, you know, these actual weddings. One of our collective #1 wedding pet peeves is people taking tons of cell phone pics (especially during the ceremony!) and we've both been making a significant effort to be more present in the moment in our whole lives (and on our phones less)!