Ever get that feeling where you just really need to get away? You just need some new scenery in your life and get out of town for a little bit? Morgan and I hadn't travelled anywhere in a few months so we decided Labor Day weekend would be the perfect opportunity for a little trip. We are taking a big vacation to San Francisco and Las Vegas in October (so excited! can't wait to share that experience with you!) so we didn't want to go anywhere major and spend a bunch of money since we are saving for the big vacation. So we looked around and decided to head down south to a quaint little town neither of us had ever been to before- Beaufort, SC.
Beaufort is just a little more than an hour away from Charleston and is a really simple drive down Highway 17. A little Google research brings up a list of things to do in Beaufort that turned out to be spot on.
We parked on the corner at the end of Bay Street which is the historic street with lots of shops. We started by first heading down to Waterfront Park for a stroll in the morning sun. Waterfront Park was absolutely beautiful and had an amazing view of the Beaufort River. I really like Waterfront Park in Charleston, but the one in Beaufort really gives it a run for the money. The park had a long sidewalk stroll lined with swinging benches (Morgan's favorite) and was very well maintained.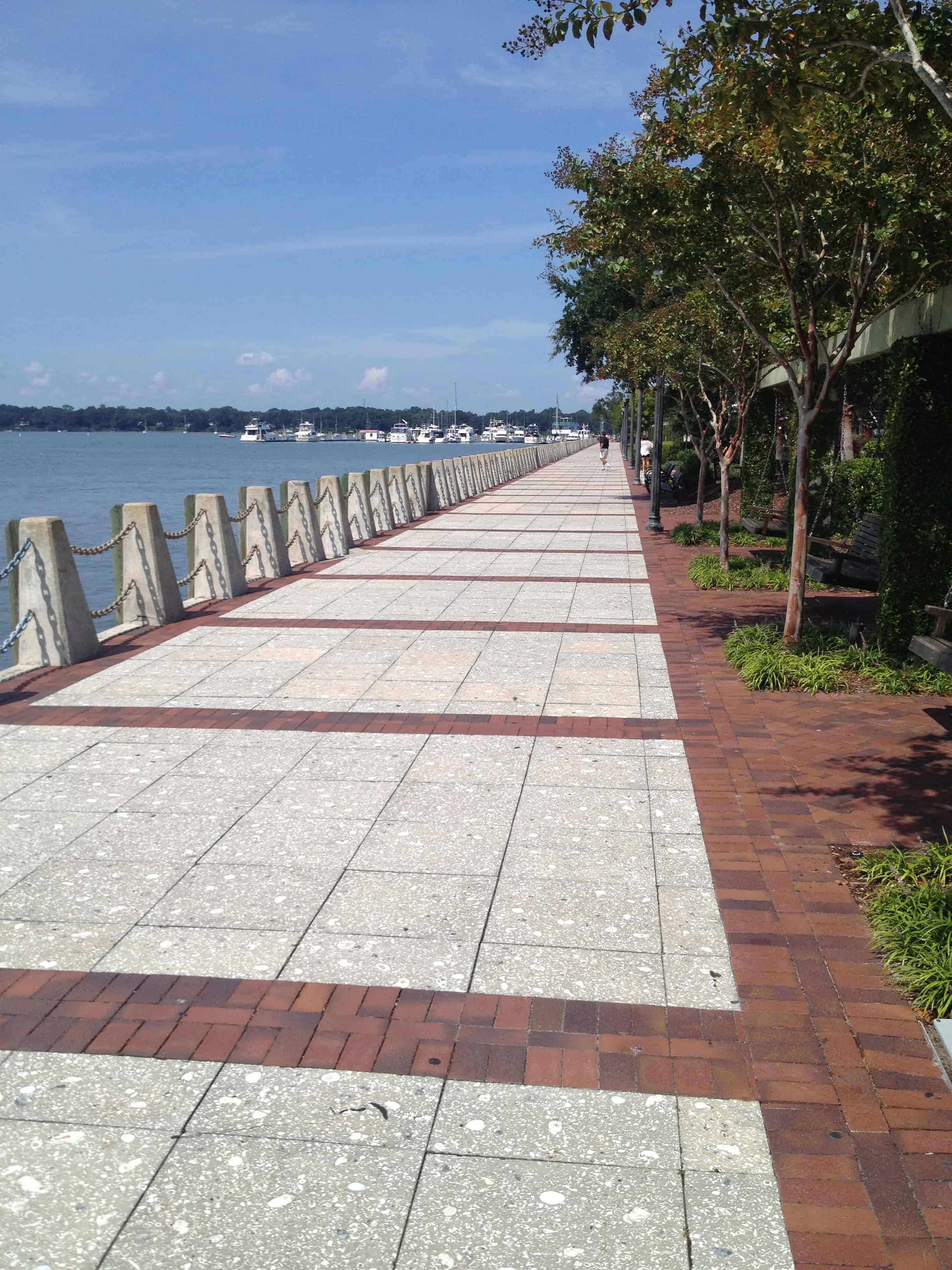 On the interior of the water-lined stroll is a more park type area. There is a very up to date playground, a picnic area, lots of grass where kids were playing soccer, and an amphitheater. Along the back side of the park are several restaurants with great outdoor dining porches with views of the water.
After strolling through the park, we decided to hit Bay Street for a little window (and real!) shopping. Unfortunately, since it was a holiday, a lot of the shops were closed, but we were still able to find some cute shops. We started out in the market were we found a shop with a lot of handcrafted goods.
After wandering through the market, we headed down through more antique shops and had a blast envisioning what people would do with certain items.
We ended up at Plums Restaurant and went nom on some great southern food. I had a really good crab cake po' boy and Morgan had a turkey wrap filled with sprouts and cucumbers. Both of our plates were piled high with deliciously soft, yet crunchy, sweet potato fries.
After lunch, we felt we had covered what we wanted of downtown Beaufort, so we hopped back in the car and drove over the bridge to Hunting Island State Park. The park had a small $5 entry fee per person for access to the beaches, lighthouse and walking trails. One word of advice- stop at the visitor's center near the entrance or you will drive around the entire park without knowing where anything is. When we eventually worked our way back to the visitor's center, we were welcomed by a pretty scary lady:
We chose our first stop to be the iconic lighthouse that looks out over the entire area.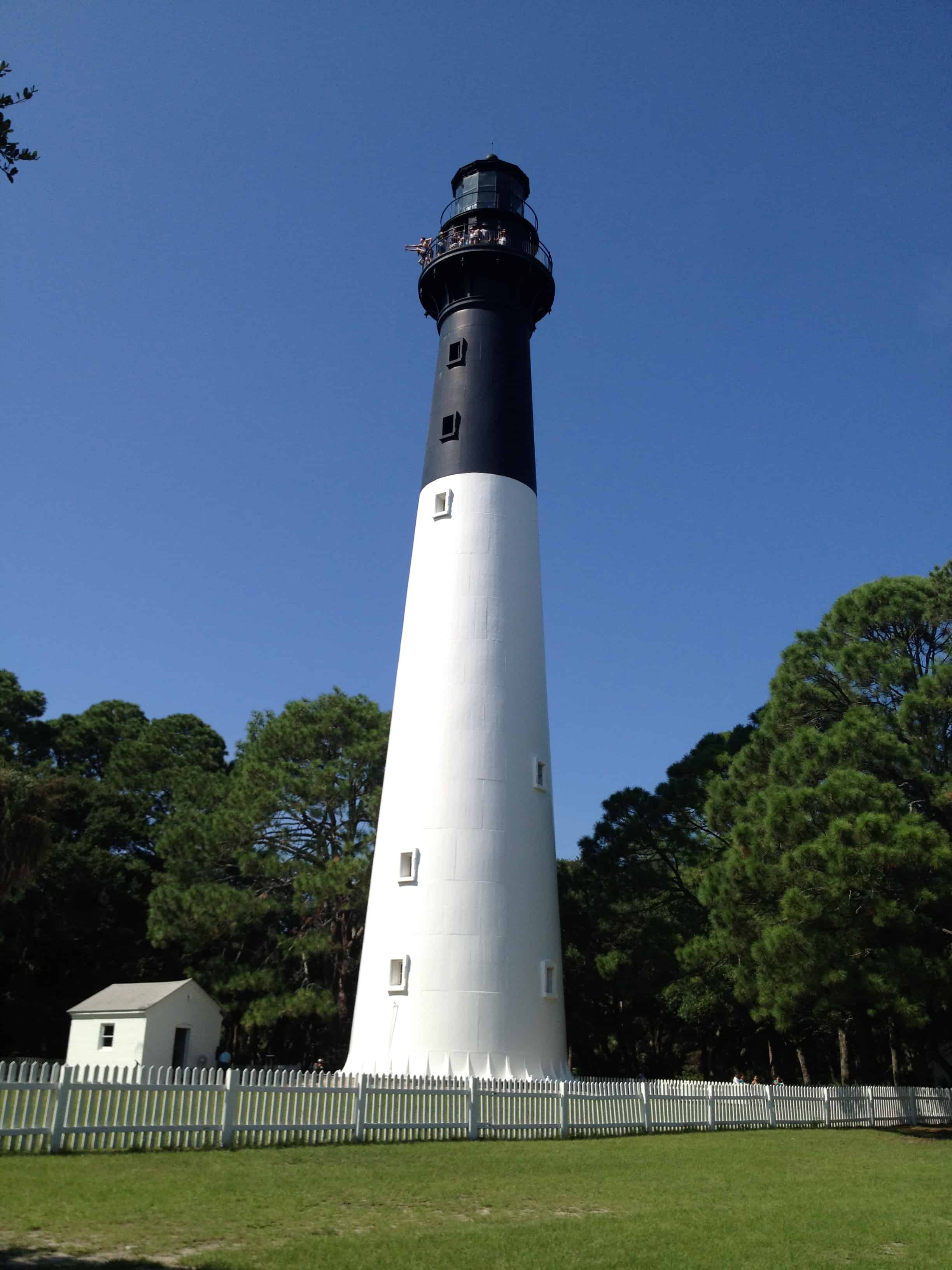 After a short ride to a different part of the park, we ended up at one of the nature trails for a nice shaded stroll. Unfortunately, we realized fairly quickly that we really should have had bug spray for walking in the woods during the summer. The view on the lagoon trail was very pretty, but we had to turn back after about 15 minutes from nerves of West Nile Virus.
We changed and headed to South Beach and took yet another stroll down the very open beach (I wonder how many miles we covered that day!). We found the beach to be inhabited by a lot of families. This looked like a very family-friendly beach with a nice atmosphere for kids and dogs.
After the beach we decided to head back to Charleston after a long, but really fun, day. It was great to get out of town for a day and experience a quaint little town we had never been to today. Beaufort had the old southern charm that sometimes gets lost living in the bustle of our lives in Charleston. We also got to find a great family-friendly campground that would be a good weekend trip with the parents. Morgan and I both had a great time exploring and can't wait for our next easy day trip! What did you do for Labor Day?

Beaufort on Dwellable