One of my favorite parts of Christmas is presents. Don't get me wrong, I love getting presents. But, I really love giving gifts, maybe even more! There is something about finding that perfect gift that gives me the ultimate rush.
Here's a few gift guides for the lady in your life…. enjoy! I just about went crazy creating these, because I now want everything here!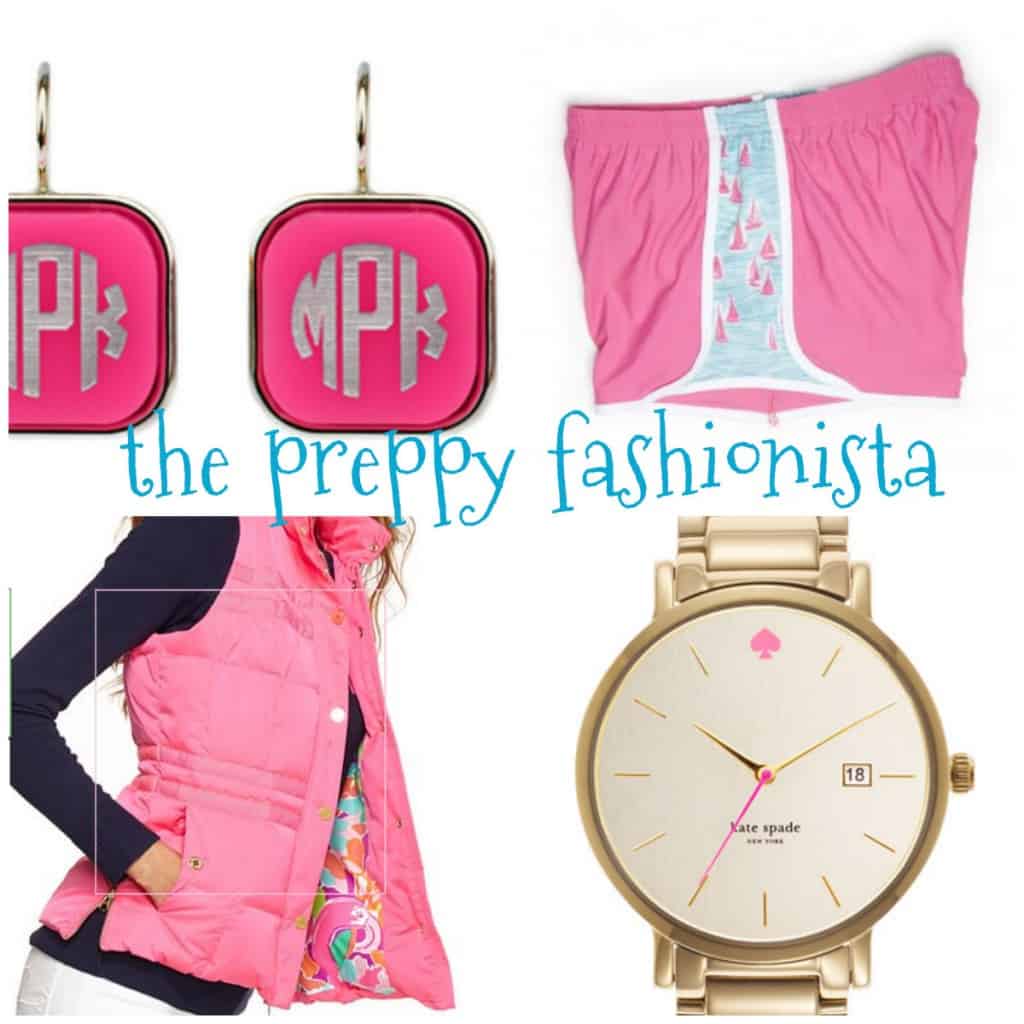 Monogrammed Earrings | Sailboat Running Shorts
Puffer Vest | Pink & Gold Watch
I'm a sucker for anything monogrammed, and these earrings take the cake. In fact, I'll take basically anything in the Moon and Lola store!
I just about live in running shorts year round, and these are definitely the cutest I've ever seen. Take it from "I was too lazy to put on real pants" to "Oh yeah, I'm sassy" in 2.5 flat.
In Charleston, it doesn't always get cold enough for a coat. A vest keeps your core warm without over heating you. Plus, the lining on this Lilly version is to die for!
I love how this watch keeps it classy and professional with just a splash of pink. It totally works for the office and for fun.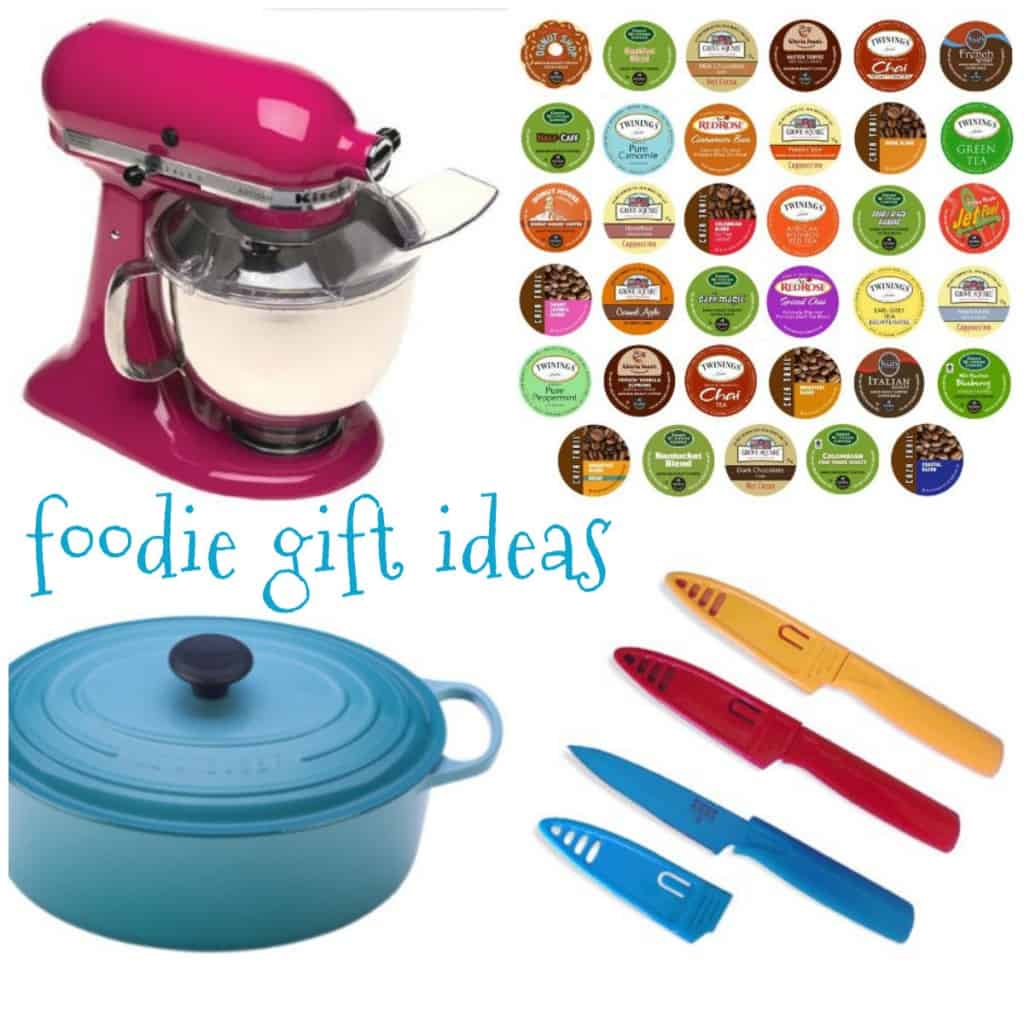 If you're a baker, you'll eventually probably want to invest in a high quality mixer. Don't wait for your wedding registry – get it now while you get total say over the color! I recommend cranberry or watermelon.
If you know someone drinks coffee and has a keurig, you can't go wrong with K-Cups for Christmas. Variety packs are the safest bet unless you know exactly what they like.
Le Creuset cast ironware is available in a wide variety of colors and is perfect for stews and soups. Include some recipes to really get a foodie excited!
Nothing makes cooking easier and more fun than having a super sharp knife. Contrary to popular belief, they don't have to be expensive. Sean and I use these knives and swear by them!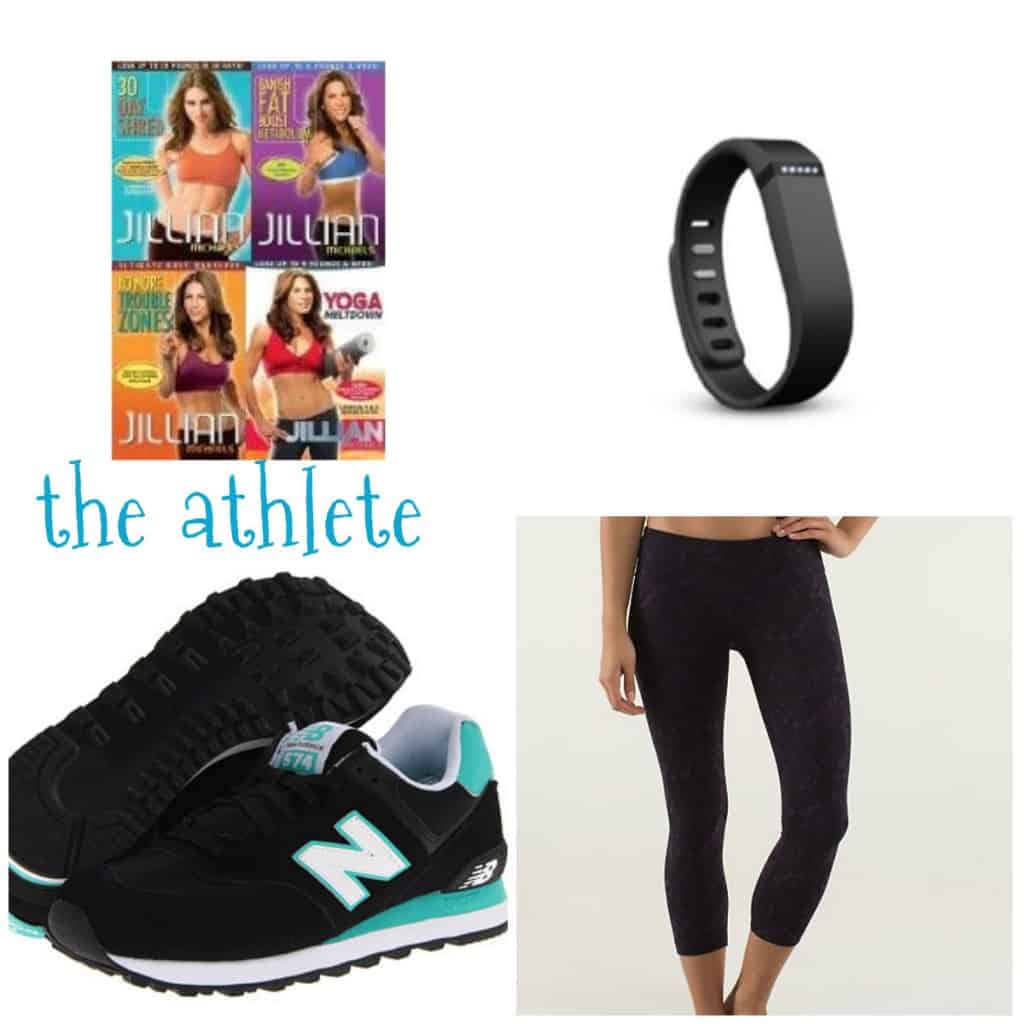 Jillian Michaels DVDs | Fit Bit
Jillian I will live and die by Jillian Michaels exercise DVDs. I have done a lot of at home work outs and these kick your butt like no other – and are less than 30 minutes long! (Here's a helpful hint – don't give these to someone unless they've specifically said they want to start exercising – it could send the wrong message!)
I think that the Fit Bit is so cool. It tracks your steps and sleep and wirelessly transmits them to a tracking app! What a cool gift for someone looking to up their exercise regime.
Fitness lovers often wear through tennis shoes quickly. Cute and sassy pairs are always well loved.
Sean lovingly calls these "Jennifer Lawrence Pants" because of how much he enjoyed her butt in similar pants in Silver Lining Playbook. They're perfect for running, yoga, barre, or any kind of fitness, and are flattering on almost any body type!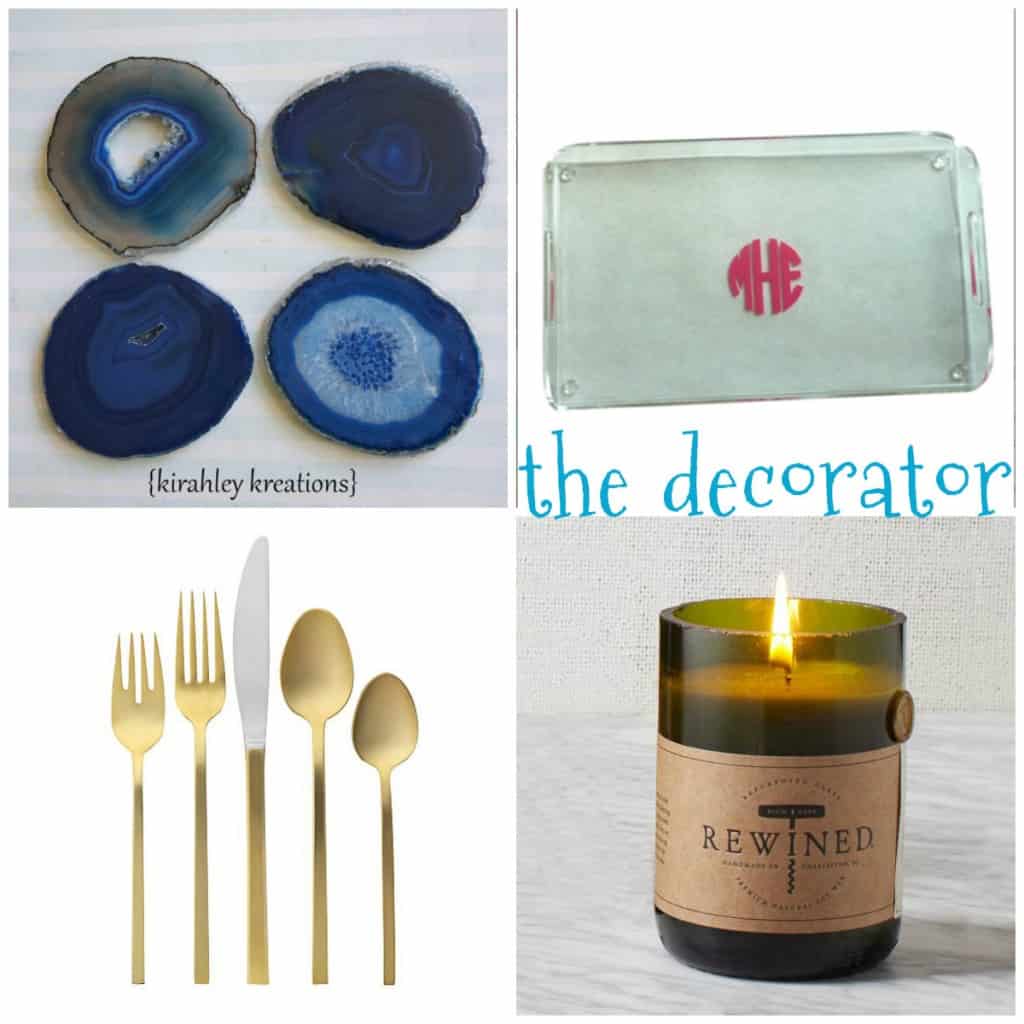 Coasters | Monogrammed TrayGold Flatware | Wine Candle
You can never have too many coasters. This agate set gives the perfect pop of color and intrigue to any coffee table!
Monograms rock and you know that a clear acrylic tray will match any style of décor!
Everyone has silverware, but what about goldware? This makes my heart flutter, and it is sure to get squeals from the glam girl in your life.
Ladies love wine and ladies love candles. These Rewined candles are wine scented and made (in Charleston!) from recycled wine bottles. You can't beat that.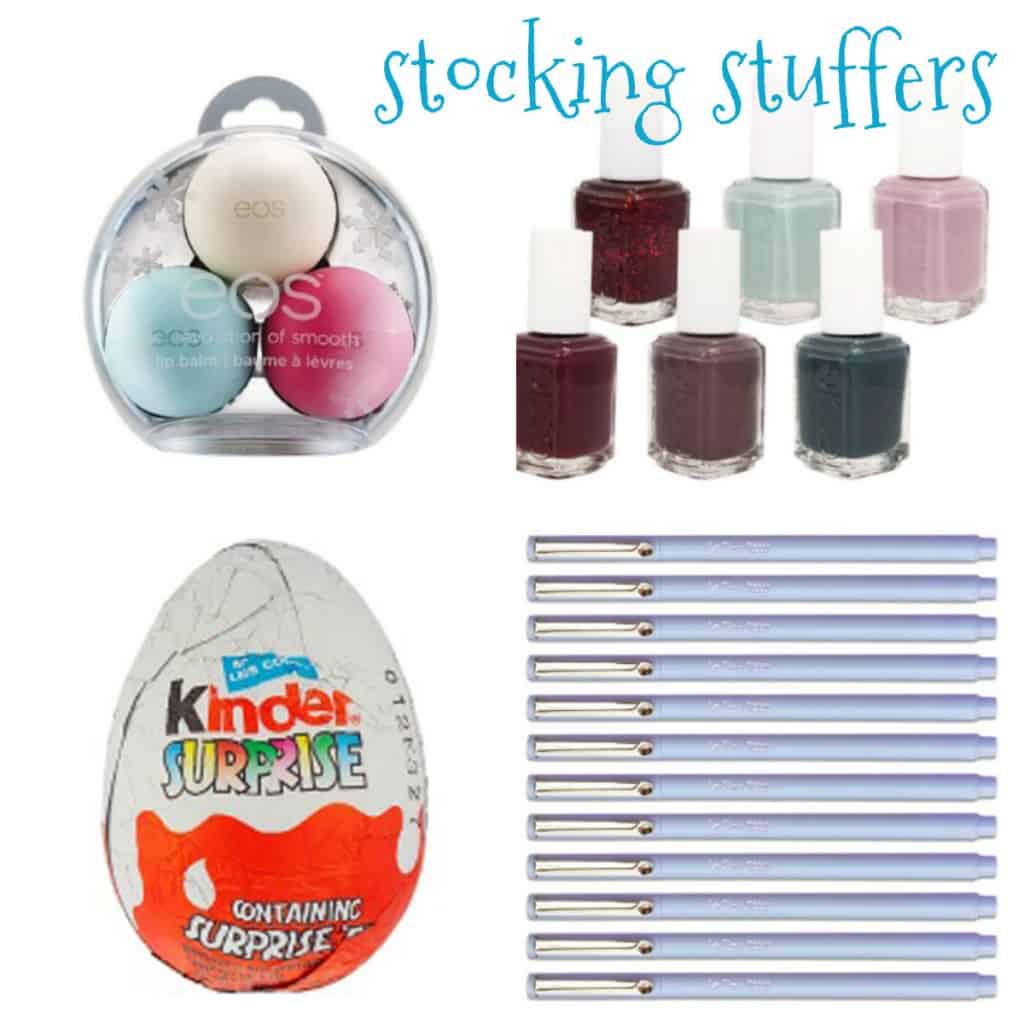 A girl can never have enough chap stick and EOS eggs are hands down the best. Check out their new winter flavor – Vanilla Bean!
A girl can also never have enough nail polish. Live life on the edge a little bit, and go for a set of winter colors!
These chocolate candies remind me of my study abroad in France. And I love them! Apparently they are illegal in the US though (never would have thought of that!)
Every girl needs pens, and these are simply the cutest. What girl doesn't need a little color in her life?!
*Some of these links are affiliate links. To find out more about what that means, click here. We weren't paid to feature any of these products – I just love them all!*