I really think that there are 3 easy things to do to make a home feel more lived in – paint the walls, hang curtains, and hang art. We shared #1 here, here, here, here, and here. and #2 here. We just recently got around to #3.
Most of the art that we hung we already have, we have just been hoarding around for a while deciding what to do with it.
Let's start in the living room:
I knew that I wanted really big wall art to hang over the couch. I've been obsessed with Lord Bodner's Octopus Triptych, but I'm unwilling to fork out that much dough. I thought about doing a DIY but then I spotted a great groupon deal with Gallery Direct for a triptych of the photo of your choice. Done. I chose a picture from our cruise last spring- this picture is from Cozumel. It came out a little larger than I envisioned, but we are going with it for now.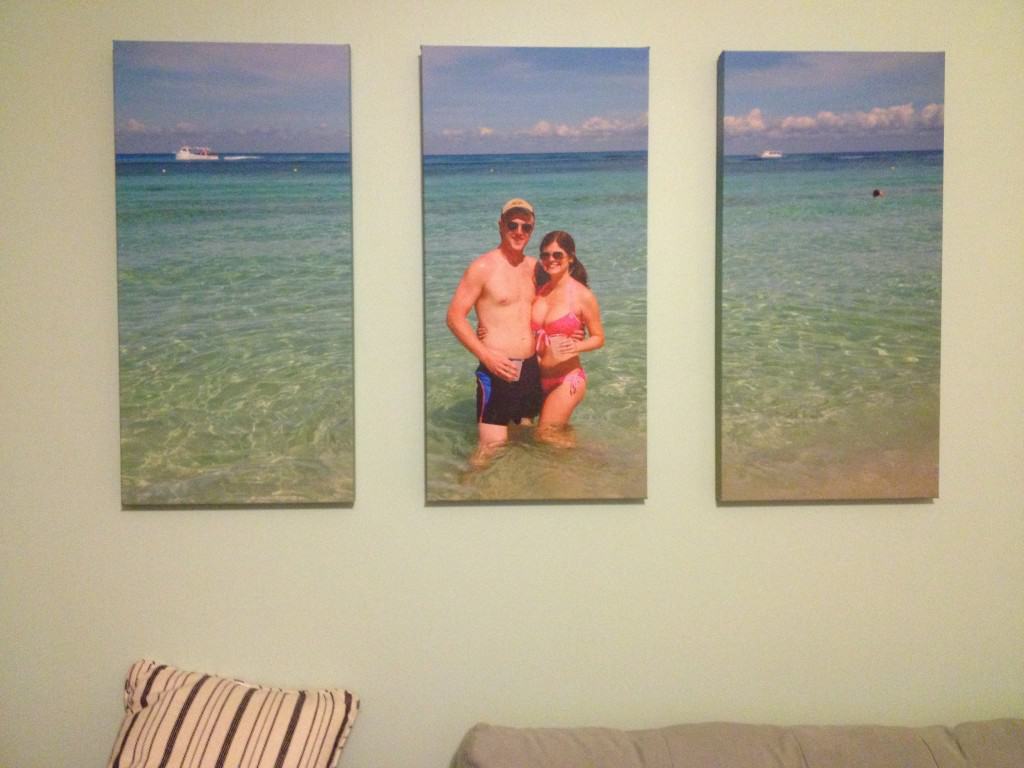 We also got my framed picture of the Cistern yard hung. This picture is very special to me, as it is so quintessentially Charleston. It is the section of old campus that made me fall in love with Charleston and move here, as well as where I graduated. The picture itself was a graduation gift from my mom. Sean hung it in the living room, over what will eventually be the corner section of our future L shaped couch. Underneath it, he hung a cool navy blue wave-y shelf that he got at the Whale of a Sale in Delaware while visiting his aunt. He shopped at the end of the last day and got anything he could fit into a garbage bag (this shelf included) for $5! On the shelf, we are displaying our glass memory jars from several vacations we have taken. This whole corner just makes me grin from ear to ear now!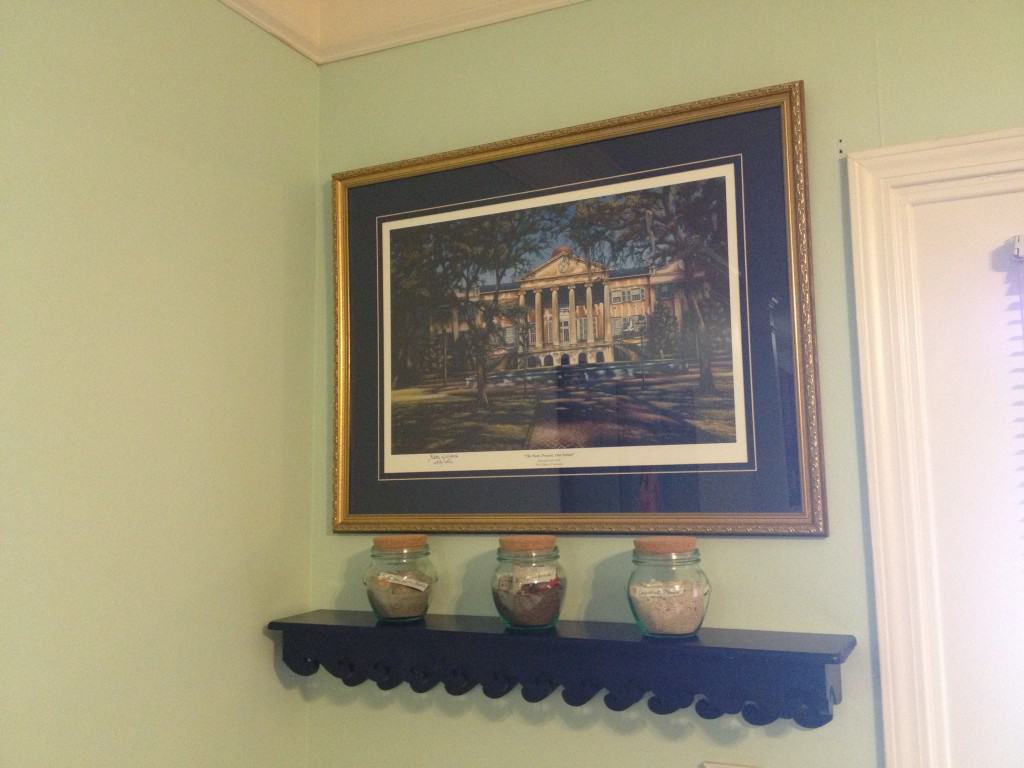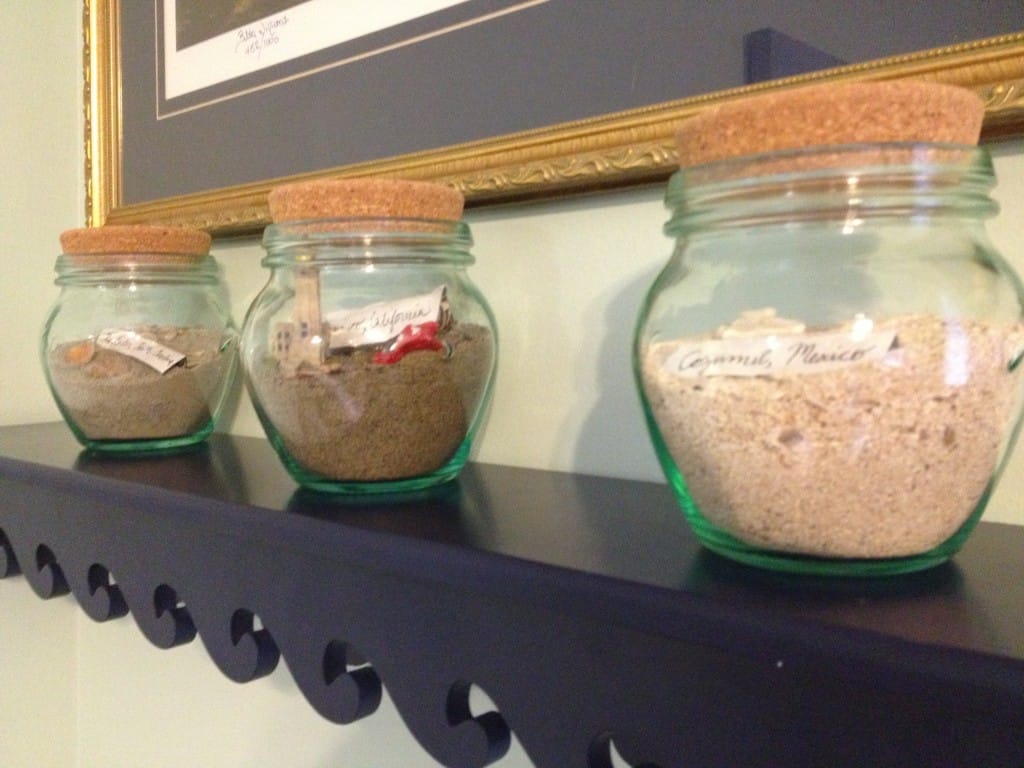 In the dining room, on the wall next to our heart art gallery, we hung this awesome picture of a sail boat. It's almost three feet wide and I just think it's beyond awesome. Sean got it at the Pet Helpers thrift store over a year ago.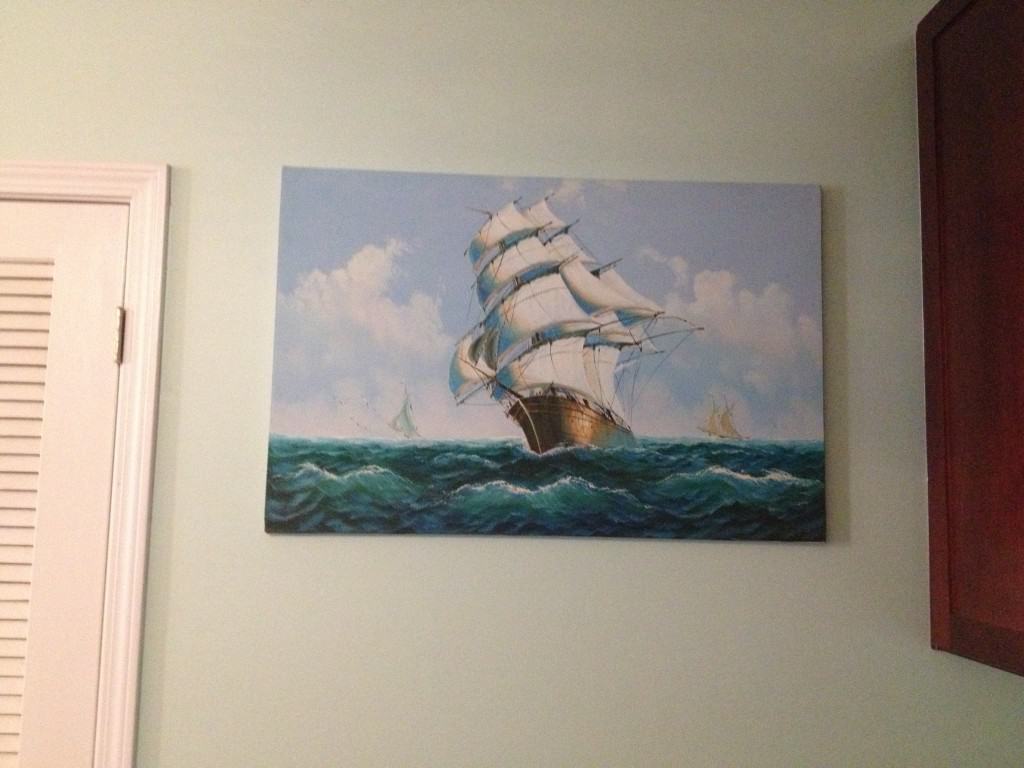 In the entryway, we also hung the map heart art that I made for Sean for Christmas right over his magnetic words with friends board. Our entry way is really coming together!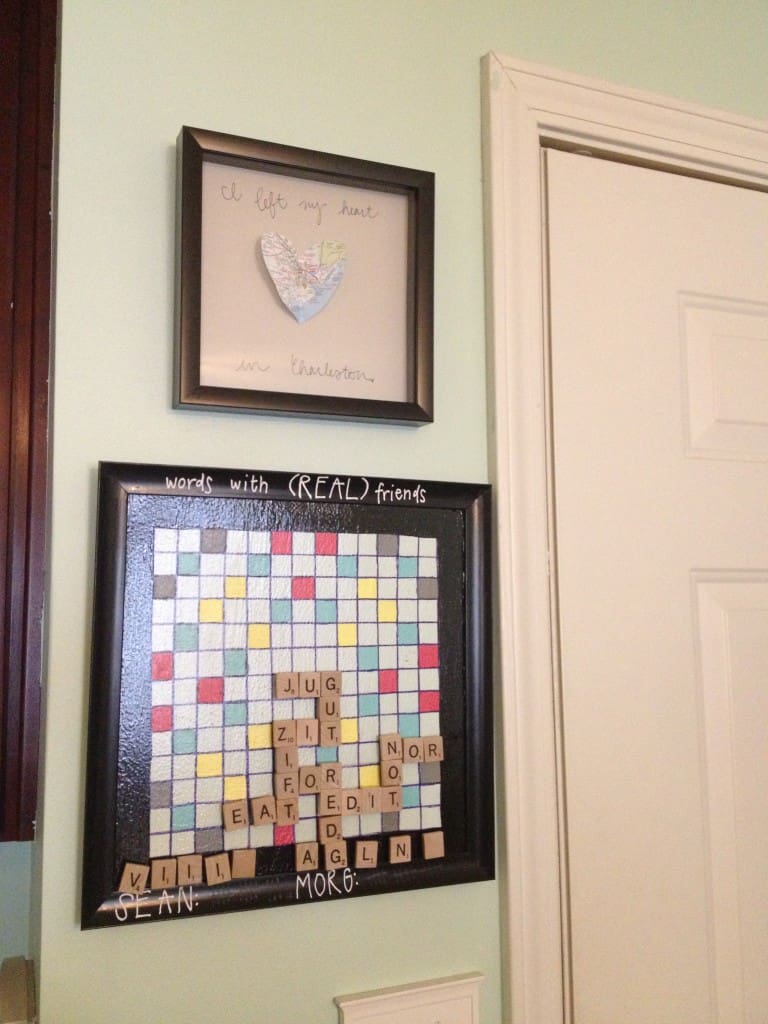 In the guest room, we finally got around to hanging the paintings of the bridge that Sean & I did at a pARTy & paint class. I am really diggin them splitting the window & thing they'll look great once we get some matching side tables and lamps in here. (Like Sean's cameo below? He wanted to make an appearance.)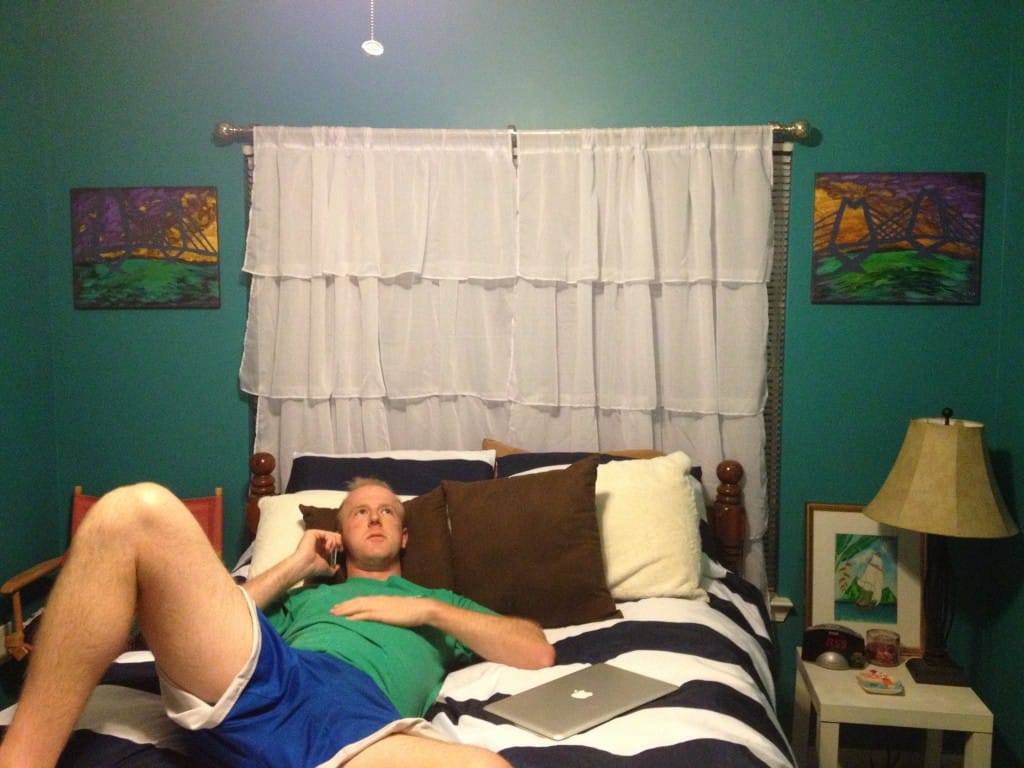 In the guest bathroom, we hung two blue hued pieces. Next to the mirror, we hung this cool geometric print of the Panthers Stadium that I grabbed off of fab.com.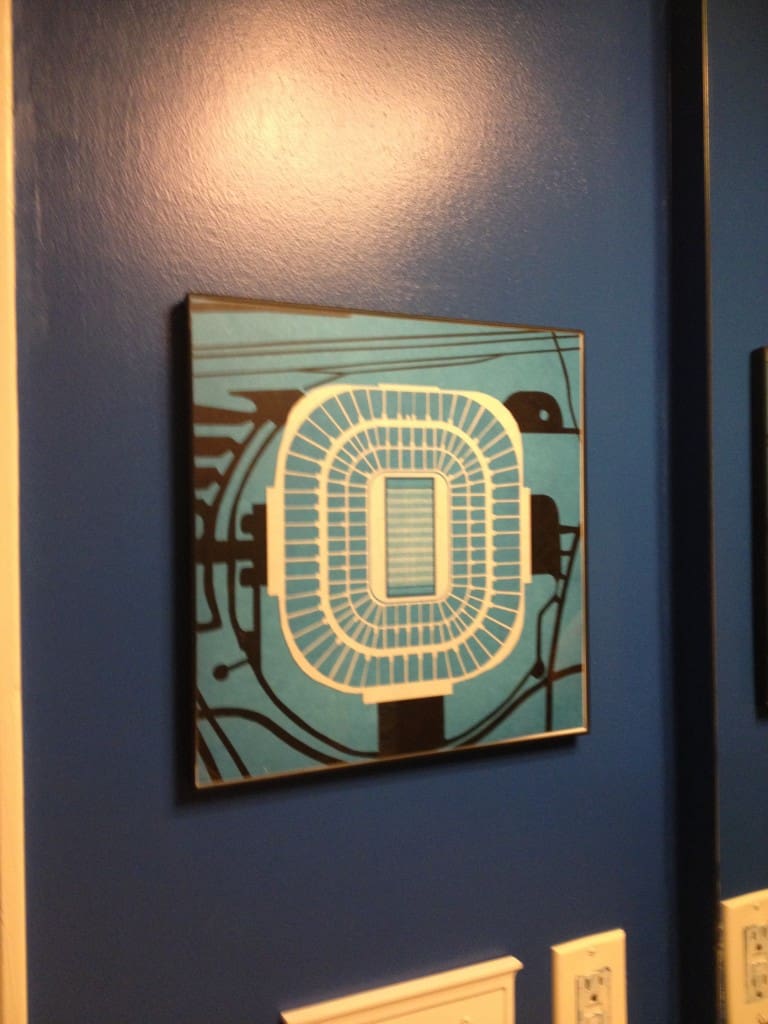 Above the toilet, we hung my melting crayon art. Sean says it kind of looks like the walls are melting on them- and I can't help but agree!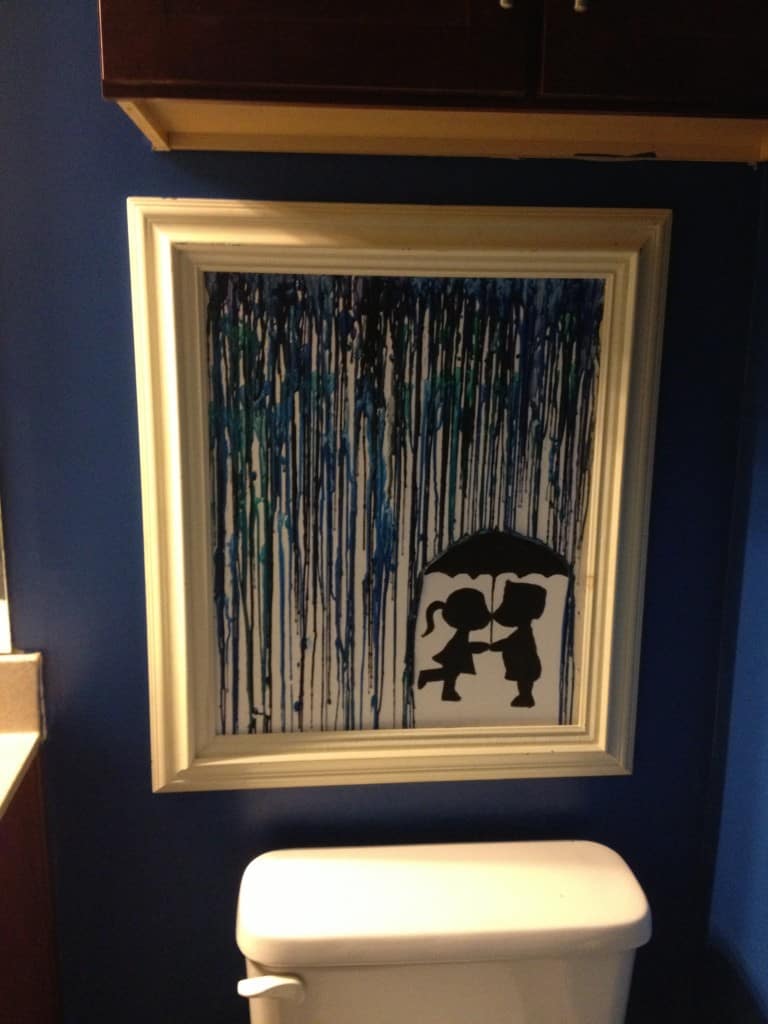 Finally, in the hallway by the laundry room, we hung three paintings of Cesar. I'm not really loving it- but they're a sweet conversation piece for now.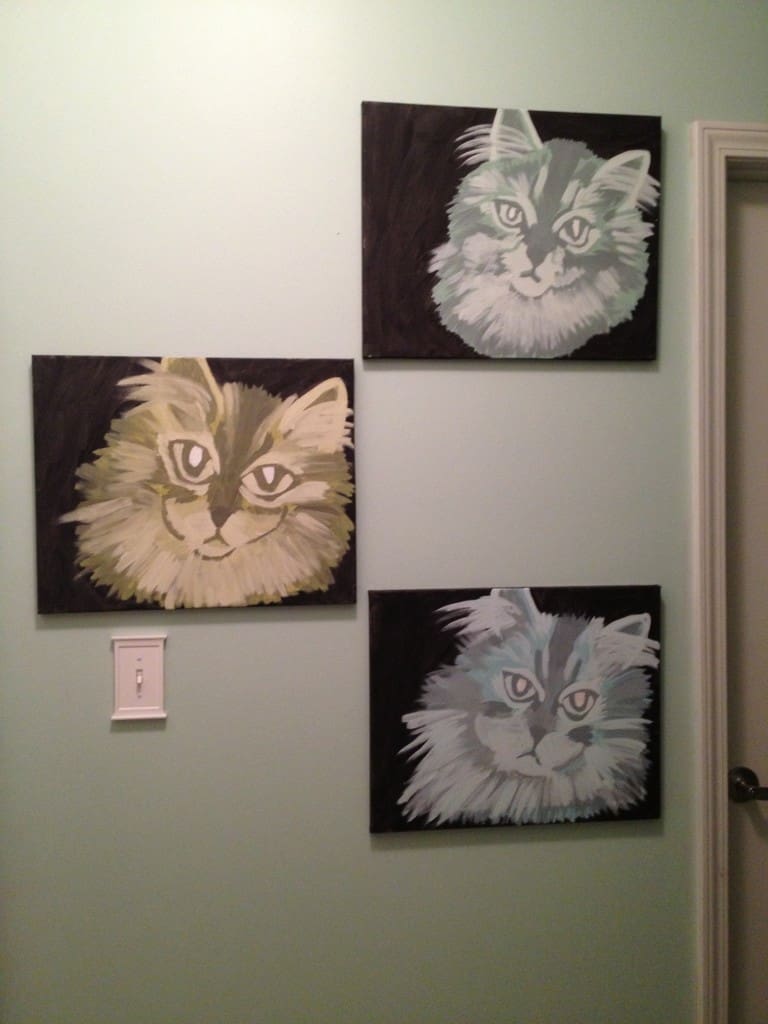 There's plenty more to come- I want a proper gallery wall in the bedroom & some kitchen art for sure. but now it's looking like its time for an updated condo tour! Check in soon!
What have you hung lately?