Hey guys! We are trying out a new post series – Friday Five! As a bonus point each Friday afternoon, we will share our five favorite things that week. I know that I am often cruising the web on Friday afternoons and thought that this might be fun!
So, let's get it!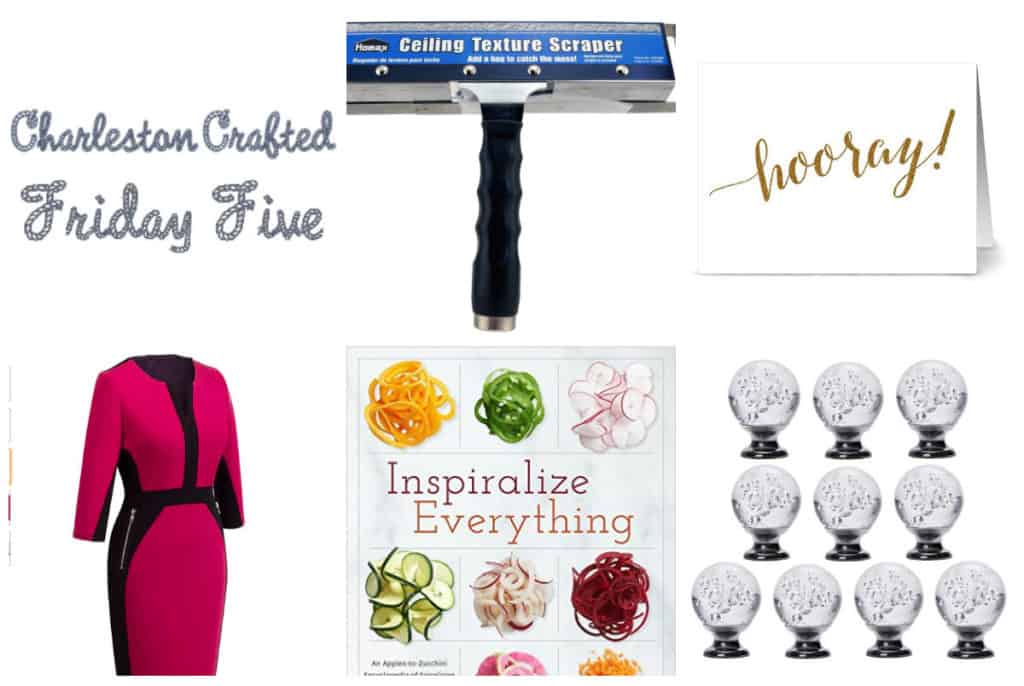 This ceiling scraper really got us through our popcorn ceiling removal last weekend. Don't get me wrong, it was still messy, but the built in bag caught about 75% of the mess. Hallelujah!
Our fall wedding season kicks off this weekend and I decided to invest in cards in bulk. These glittery Hooray! cards are less than 50 cents each and perfect for any sort of celebration.
I received this "weather girl" dress this week and holy cow is it flattering. I suggest that you size up (I did per reviews on Amazon) but it is $22 well spent. I'll let you know how it holds up to wash wear, though I typically air dry all of my dresses.
I've previously professed my love of the spiraling blogger Inspiralized. Well, this week she released her newest book – Inspiralize Everything! We will probably write a full review later, but I am obsessed with it's organization by ingredient instead of the typical by course or meal type. She can do no wrong in my books!
I'm trying to wait to really reveal our bathroom until it's done, but I can't contain my excitement for these seeded glass knobs. At $12 for 10, it's a hella good deal and they add the perfect amount of lightness and brightness wherever you put them. I may have gone back and ordered another box…
See ya on Monday!