Happy Friday y'all. Today I am giving a shout out to my five favorite skincare products, all of which I order (and several of them auto-order) via Amazon! Bonus: they are all under $20!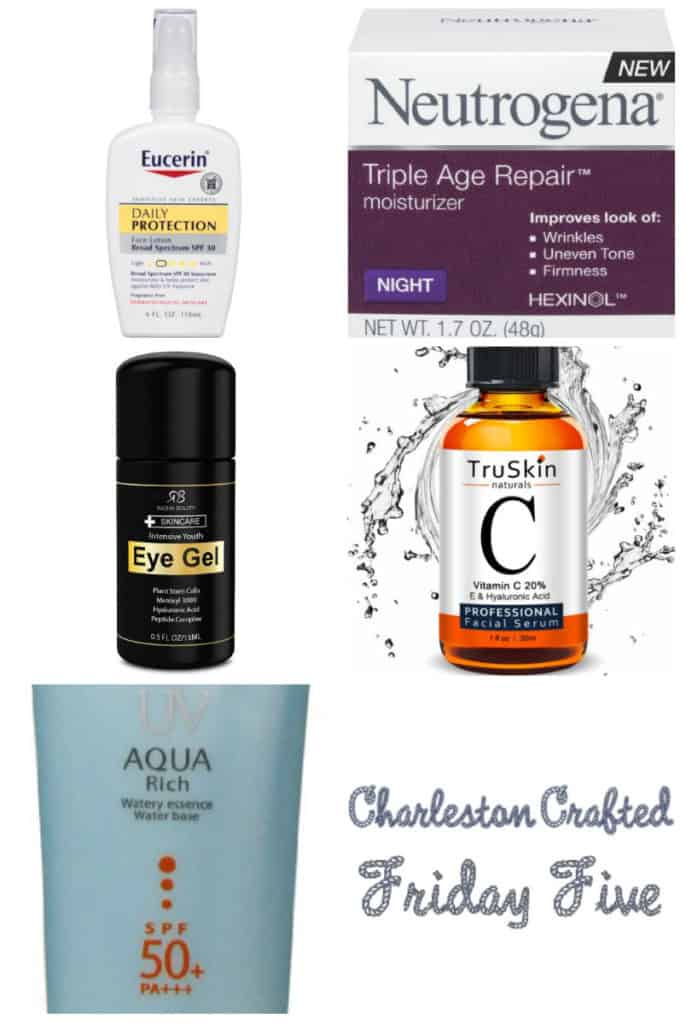 Day Cream – I have been addicted to lotion for a long time. I love spending a long time after taking a shower rubbing it all over me. I have always loved Eucerin because it is so thick and moisture-filled. Of course I love their day cream, too, and put it on every time I wash my face or take a shower.
Night Cream – I live a thick and velvety night cream. It makes my lotion-loving heart pitter patter. This one is fluffy and smooth and doesn't cost an arm and a leg. Winning!
Eye Gel – I have used a lot of under eye circle products and never seen any results. I was convinced by Amazon reviews to try this Eye Gel and it seriously works. I use it every morning and evening and I swear that my circles went 95% away. Pretty great!
Vitamin C Serum – I didn't really get the hype about vitamin C serum until my mom gave me a bottle. It has made my skin clearer and brighter and I am almost addicted to the feel of it! My skin just drinks it up. I apply it morning and night first thing after washing my face.
Sunscreen – When I know that I will be out in the sun, I use this sunscreen. It's Asian and I initially thought that it was really liquidy and runny but I quickly realized that that makes it rub in and absorb with no greasy feeling.
Have a great weekend!
This post contains affiliate links, meaning that if you click through and make a purchase, we receive a small percentage of the sale. thanks for supporting the brands that make Charleston Crafted possible!