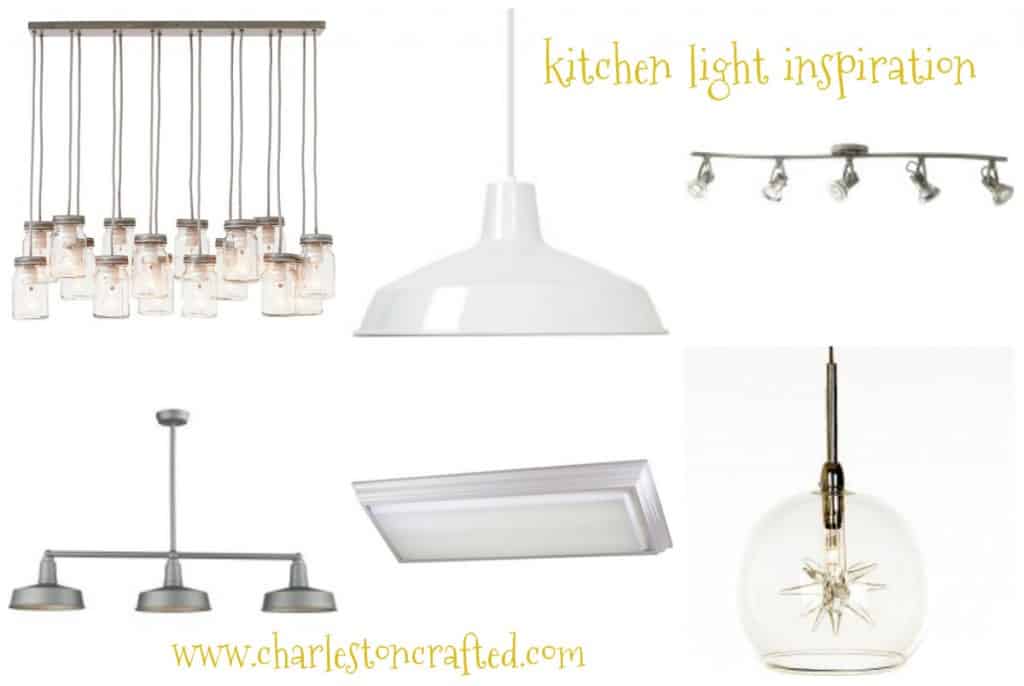 1. I am O-B-S-E-S-S-E-D with this mason jar chandelier from Pottery Barn. I love the rustic, southern feel of the jars, but they still feel very bright and classy. For $399, I'm thinking that we could DIY our own version.
2. I also dig the idea of a couple of  farmhouse style pendants in a neat row. I think white would be very clean and, with the right bulbs, they could be very bright.
3. My original plan for the kitchen has always been to install track lighting. I love the idea of having little lamps pointing at the sink, stove, and fridge. I am, once again, afraid that they wouldn't let off enough light by themselves.
4. This light is a really cool combination of the farmhouse pendants and a larger chandelier. The steel finish would also match the appliances and knobs in my kitchen. I like the look of it, and mad does it look bright!
5. This flush fluorescent isn't exactly my dream light, but it sure does look easy to DIY. It inspires me to add a little trim around my current light & just pretty it up a little bit. This looks like the cheapest of all of my options, and it would surely be bright, but it might not be my favorite.
6. I love the look of globe style pendants and especially love these starburst ones. I think that the clearness of the glass really makes them feel like they don't take up much visual space. I'm afraid, however, that it might take about five to get as bright as I'd like. Ain't nothin wrong with that (except that they're $90 a pop!)
 Just putting this together has made me so excited to makeover my light! Which is your favorite? How do you light up your kitchen?