I love making lunches for the week on Sundays. Meal planning makes the weekday mornings much more stress free!
This is one of my go-to lunches. I make it about every-other week, alternating with salads on the off weeks.
What you need:
Chicken tenderloins – 3 per day
Frozen green peas – 1/2 cup per day
Sweet potato – 1/2 medium per day
Cooking spray
Onion powder, garlic salt, pepper, paprika
What you do:
Line 2 pans with foil. Preheat the oven to 350.
Peel the sweet potato and dice into 1 inch sized chunks.
Spray each tin foil with cooking spray. Top one sheet with chicken and the other with potato chunks.
Spray the food with cooking spray. Sprinkle with seasoning.
Bake the chicken until cooked thoroughly – about 10-12 minutes. The potatoes take 10-15 minutes. Shake or stir them halfway thru.  I like to cut the chicken into bite sized pieces once it's cooked.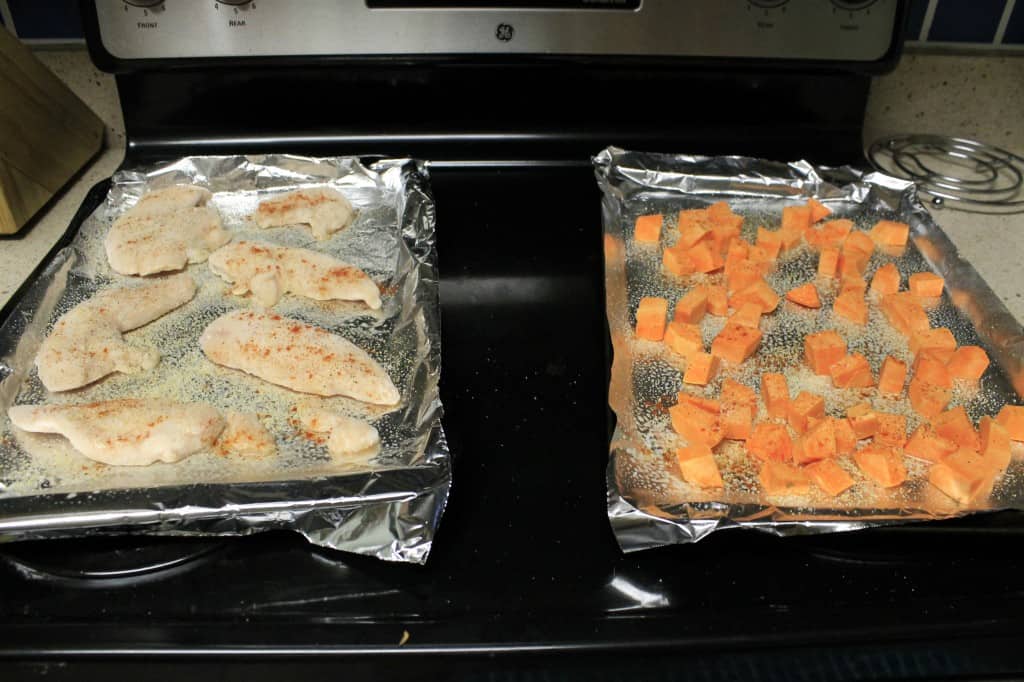 I usually make 4 lunches at a time. I get single serving tupperwares, put the peas in the bottom of each one. Top with sweet potatoes and chicken.
Microwave for one minute when you're ready to eat!
These are very filling and really good. Plus, they are healthy. Win, win. What's your go to meal planning lunch?