Christmas Assistance Programs List, 2020. These programs offer help and free Christmas gifts for low income families. All these charities work to provide Christmas support for struggling families and individuals.
Christmas is an exciting time of year – but it is also extremely stressful.
Cooking, cleaning, buying gifts, seeing family, entertaining, or the pressure to attend tons of events can put a strain on anyone. When your budget is already tight, the thought of Christmas financial pressures can be overwhelming.
We all have good years and bad years. There are many organizations that are available to help families that need extra help around Christmas.
If you find yourself having a good or bountiful year, these organizations are a great place to reach out and offer to donate your time or money.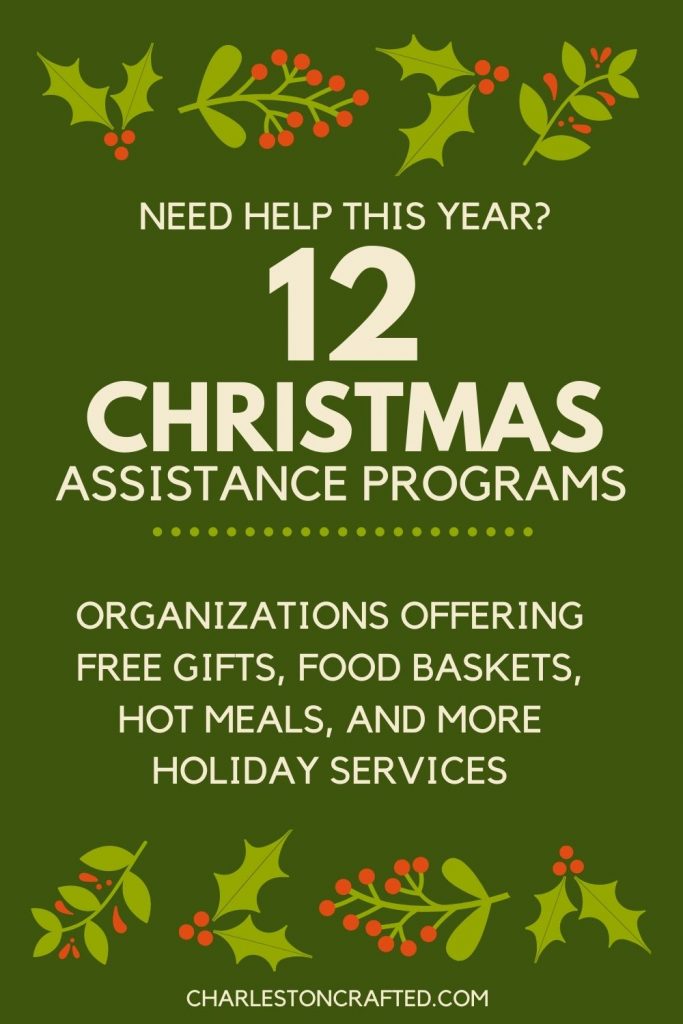 Christmas Assistance Programs List
The Salvation Army
The core services offered by the Salvation Army include:
Angel Tree Program: In this program, the Salvation Army provides Christmas gifts for less privileged children in the form of clothes and toys.
Grocery and Food Assistance: Meals delivered to struggling families not only during the holidays but all year.
Bill-Pay Assistance: The Salvation Army helps families pay for heat and electric so they can afford to enjoy the holidays.
Holiday Events: Hosted Christmas events including gift parties for children and visits to children's' hospitals.
Your local food bank
It's always easiest to look locally for help. Your local food bank is a great place to start when looking for help with holiday meals. They often have one big event each season where they pass out turkeys and sides for the holidays.
Your local food bank will also have a food pantry that they can help connect you with. Many allow you to shop or pickup boxes weekly.
This is important because food scarcity doesn't just apply to the holiday meal – when kids are out of school and more people are home than ever, that's when local communities need help with food access the most.
Toys for Tots
Toys for Tots is a huge program run by the Marines that helps to donate toys to kids in need each Christmas.
They make it very easy to apply to receive toys for your kids – apply here!
If you want to donate, they collect new and unwrapped toys. Use this link to find your local donation spot.
The Prison Fellowship Program
The Prison Fellowship Program works directly with kids who have an incarcerated Christmas. These circumstances can make the holidays unfathomably difficult for these children.
They run many year long programs, but have a special Angel Tree program during the holiday season.
United Way
United Way is another huge organization with smaller, local chapters around the world. Click here to find your local branch.
The United Way is a fantastic place to go for referrals. They will be able to give you a list of all Holiday Assistance programs in your areas, how to apply, and how to qualify.
Save yourself time from Googling around and contact your local United Way chapter directly.
Operation Christmas Child
Operation Christmas Child is a branch of Samaritan's Purse. They work to provide a shoebox full of gifts to children in need for Christmas morning.
This is a great organization to work with if you have a group – such as a scout troop or school class – that wants to box up donations for kids in need this Christmas holiday season.
USPS Operation Santa
The USPS has an amazing Christmas Gift Assistance program called Operation Santa – read all about it here.
Basically, kids in need can write letters to Santa. They are scanned by the USPS and put online for those who wish to donate to shop from. Then, USPS takes care of delivering the gifts to those kids.
This is another fantastic way to connect those in need with those who want to give!
Christmas Spirit Foundation
The Christmas Spirit Foundation has a few holiday events that mostly are for helping the troops and their families.
Trees for Troops is a branch of their organization that works to provide free Christmas trees to military families around the globe.
The trees are actually donated mostly by tree farmers and sent via FedEx around the world. Pretty cool!
Make a Wish Foundation
Make a Wish Foundation is famous for granting wishes for kids with terminal illnesses. However, they also provide wishes for children who are disabled or chronically ill. If this applies to someone you know, refer them here.
Local Religious Organizations
Many local religious organizations offer extra services during the holiday season, and you do not need to be a member to benefit from them.
Ask locally for groups that might be hosting dinners, breakfasts, or Angel Tree type adopt a family gift offerings. Some even give out Christmas trees! Ask around in advance to compile a complete list of Christmas programs near you.
The Lion's Club
Lion's Clubs are locally run organizations that each have slightly different programs. However, most of them have holiday-centric programs that provide either food or gifts or both for those in need.
Use their location finder to search your zip code to find the club nearest you and see what programs they have available – many provide Christmas dinner or Christmas presents to those who they can.
Santa's Little Helpers
This is actually a Reddit board – access it here – but it is a place for people to connect those in need with those looking to help each holiday season.
If you are in need, you can apply to receive help, and if you are looking to donate, they make that easy and secure, too!
Looking for more local resources this holiday season? Here is a great list broken down state-by-state!
Need help with Thanksgiving? Here is a list of Thanksgiving assistance programs.
Did I forget any other organizations that offer Christmas Assistance Programs?
Facebook | Instagram | Pinterest | Twitter | YouTube