We love trying new restaurants in Charleston, and Restaurant Week is a great time for us to do that, since local restaurants offer 3 for $20, $30, or $40 dinner options. Restaurant Week comes but twice a year and we usually use it as an opportunity to score deals at our favorite spots (we hit Basil and Low Country Bistro pretty much every time). However, we also like to use it to try restaurants that are new to town or new to us.
Magnolia's definitely isn't new – it's been in Charleston for over 25 years. We have been to one of their sister restaurants, Blossom, a few times, but have never been to Magnolia's together. I have been there once without Sean – with my family on the day of my college graduation.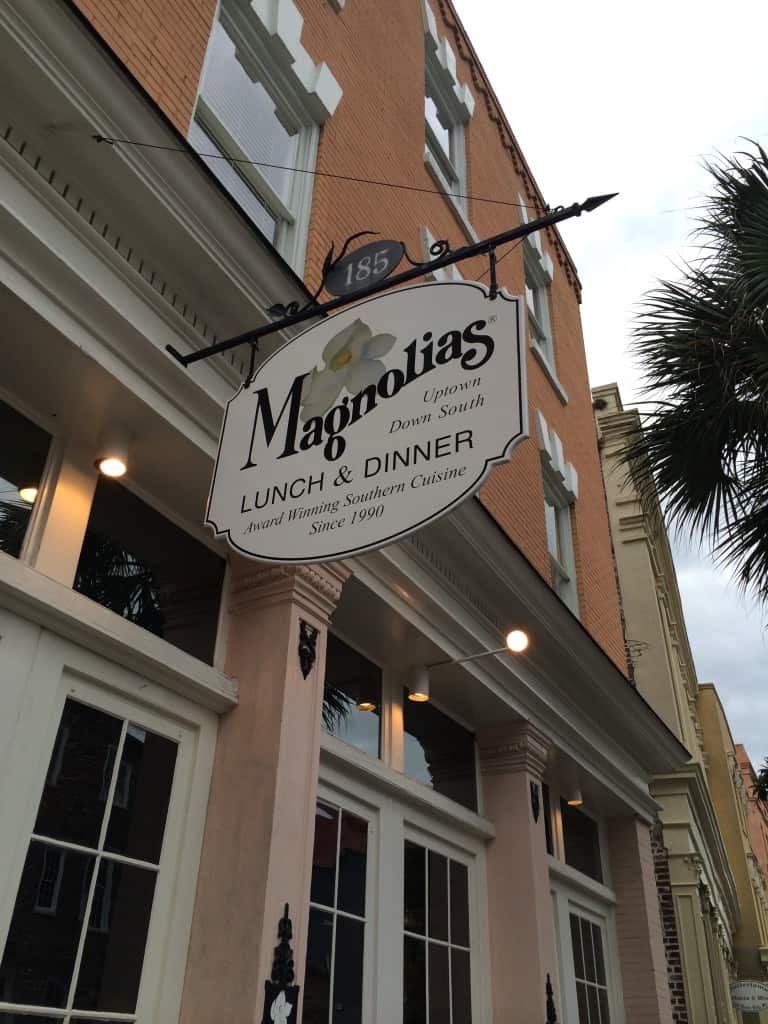 Magnolia's is located on East Bay Street very close to the city market. It offers upscale southern style food. If you are interested in eating there, we suggest that you book a reservation, as they are often booked up in advance.
For Restaurant Week, Magnolia's offered 3 courses for $30. Since most of the entrees are $25+ each, we decided to do two restaurant week packages. (Sometimes, we will get one Restaurant Week deal and just add a second entree so we don't have too much food, but in this case it was more cost effective to do two Restaurant Week specials.)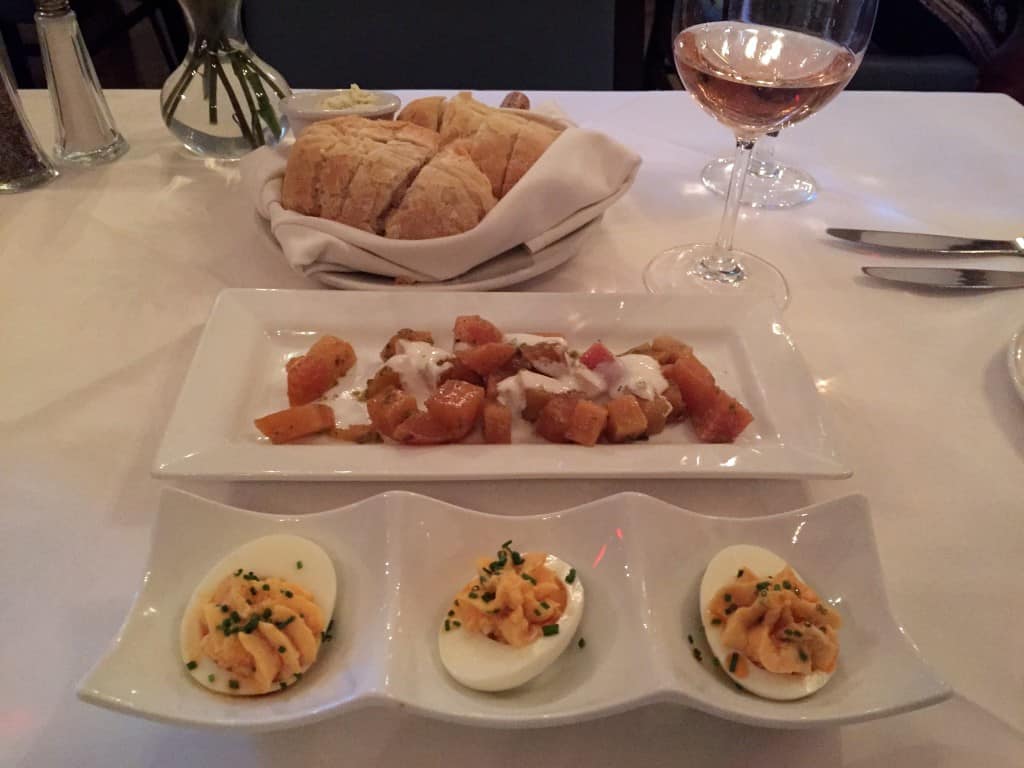 For appetizers, we chose the pimento cheese deviled eggs and the roasted beets with goat cheese. The deviled eggs were great – the pimento cheese was really creamy and added great flavor to the eggs. However, an odd number of eggs meant that we had to cut one in half. First world problems, indeed. The beets were earthy and paired really nicely with the lemon and goat cheese cream sauce. We chose to enjoy the beets and sauce with the hot and fresh sourdough bread – which is made locally at Normandy Farms Bakery (on Broad street). It was a great pairing. Oh, and of course, a bottle of rose. Because I have a very kind husband who puts my wine preferences over his own 🙂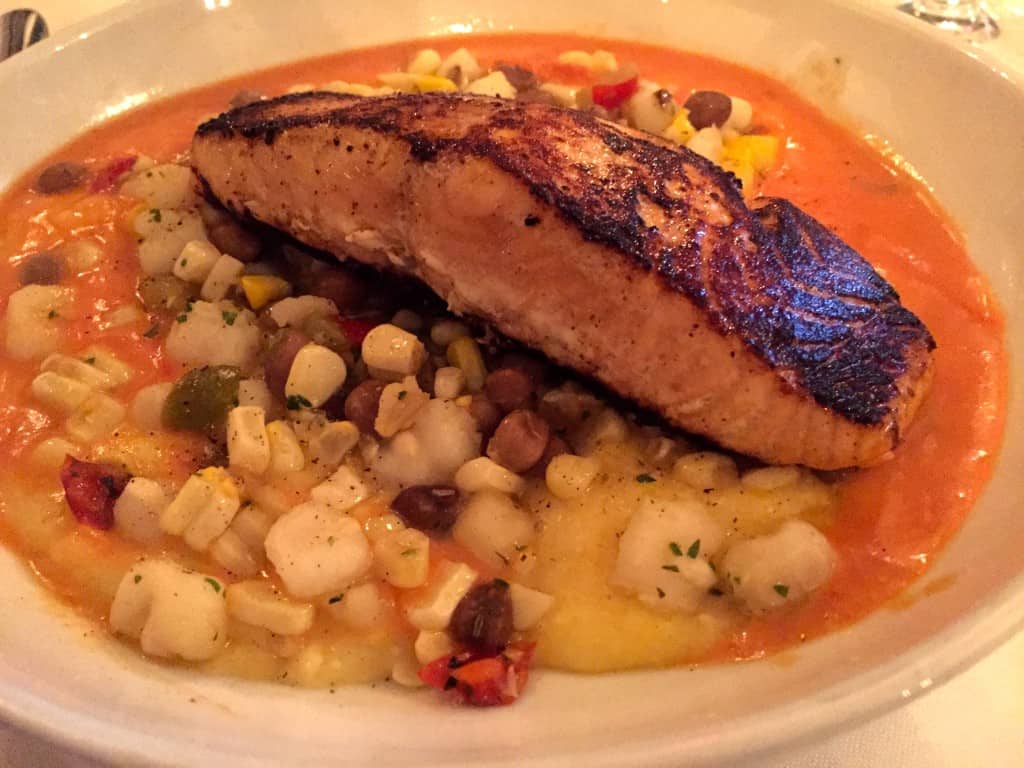 For his entree, Sean ordered the bourbon glazed salmon. It was served over grits with a sundries tomato sauce. The salmon was very flaky and the grits were creamy and not that chunky but were accented with sweet corn and savory beans. The sauce had the perfect amount of sweet spiciness and, to quote Sean, "it was freakin' delicious". I quite enjoyed the few bites he gave me.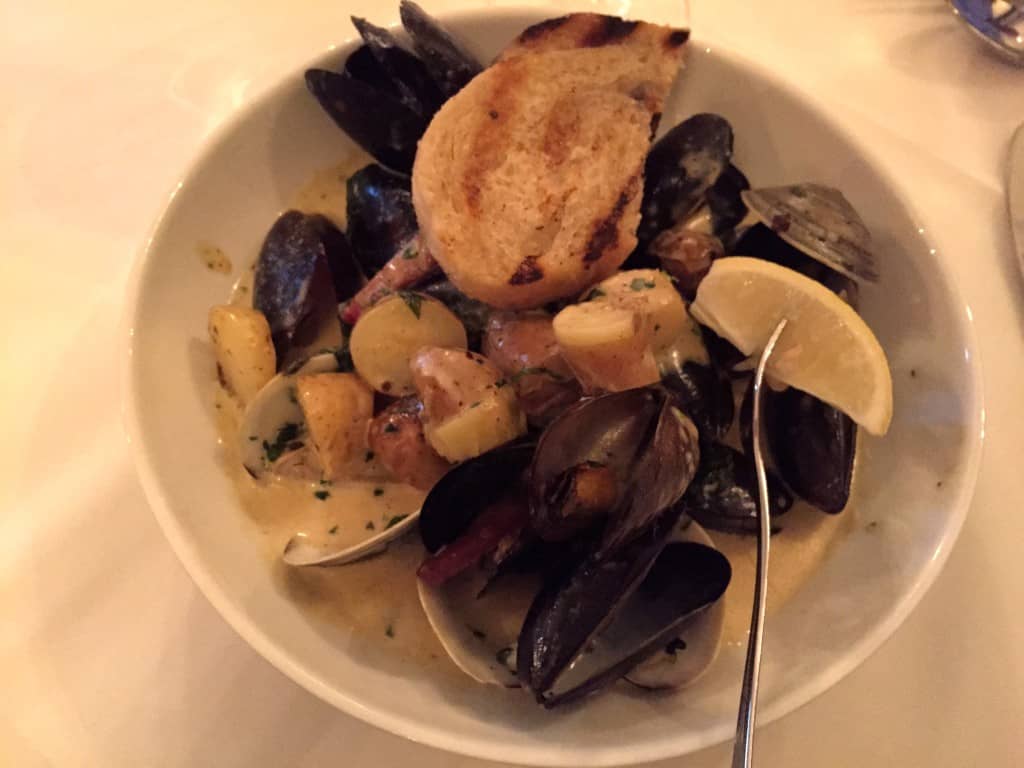 I ordered the steamed mussels and clams. I love shellfish, but I often don't order it in restaurants because I hate having to work for my food in public and feel like I make a little bit of a mess with all of the shells. I am so glad that I didn't care and ordered it anyways. The shellfish were perfectly cooked, but the real star of the dish was the creamy, slightly spicy broth. There was also cooked spinach, tiny little potatoes, and sweet corn in the sauce. We sopped it all up with the included crusty bead and aforementioned sourdough.
Our fish dishes were deliciously flavorful and didn't leave us feeling overly full. We laughed about how, a year ago, we would have definitely ordered the pecan chicken and the pork tenderloin, which would have certainly been delicious, but left us feeling overly full. The fish was perfect for leaving room for dessert.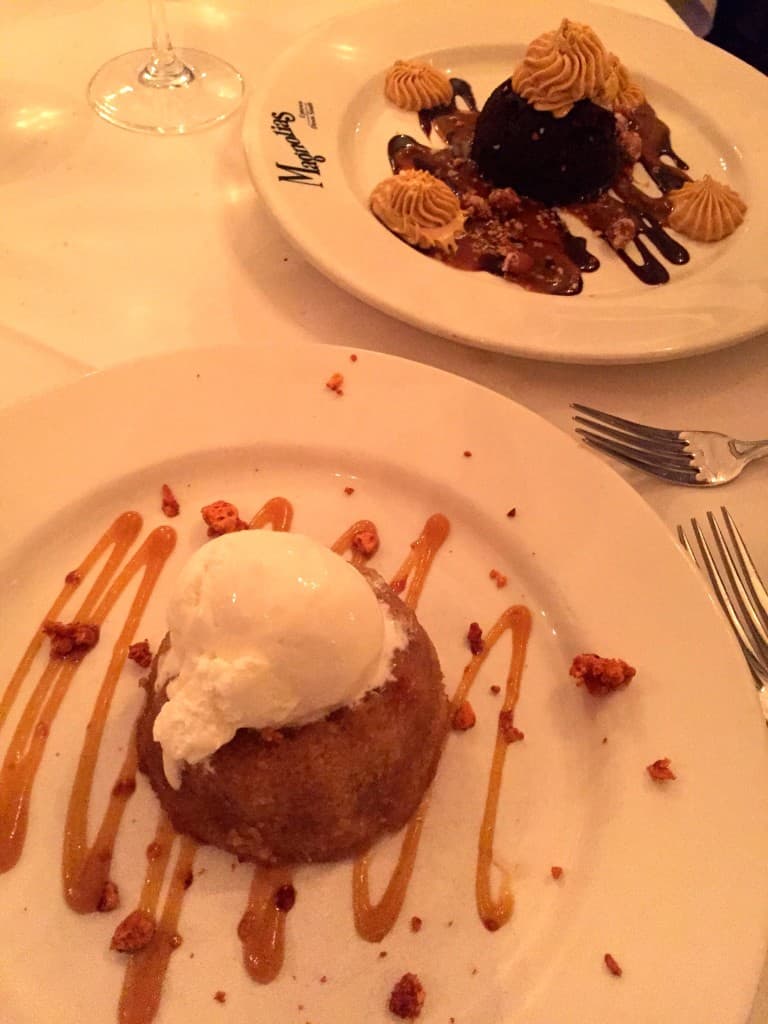 Speaking of dessert, they were, as you can imagine, phenomenal. We split both of the options – the first being citrus sweet tea cake. We weren't as pumped for this one, just based off the description, but it really was delectable. The lemon flavor was strong, but you could also really taste the flavor of the sweet tea. It was also topped with ice cream, which was the perfect combination. The second dessert was a snickers cake, and it was just as good as you would imagine. It took a lot of will power not to lick the warm chocolate sauce off the plate.
We really had an amazing meal at Magnolia's. There is a reason that this local restaurant is so popular – the food is great, the atmosphere is great, and the service is excellent. After our meal, we walked across the street to the waterfront park and witnessed this beautiful sunset over the fountain – pretty spectacular!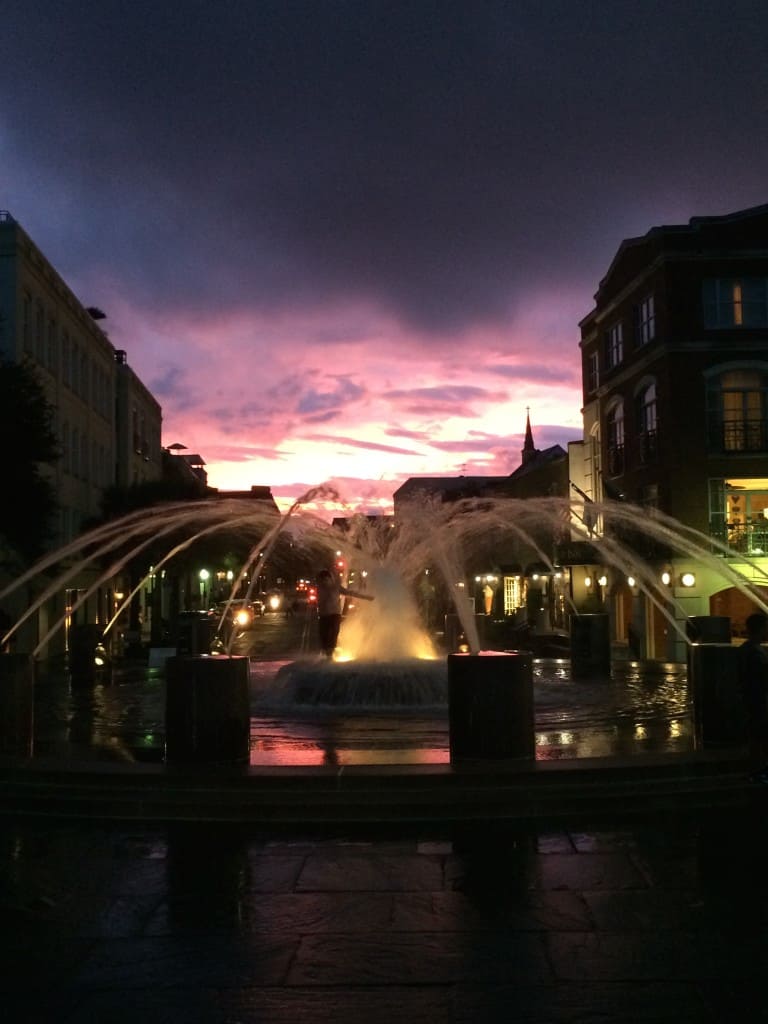 Where did you go for restaurant week?