As a welcome back present from Morgan for my 10 week stint in Maryland, this weekend we went to Charleston Cooks! downtown and took part in a pasta making class. We've done the knife skills class there before, where we learned how to properly cut an onion and dice a cucumber, and had a great time.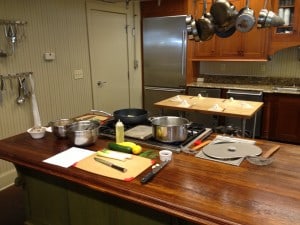 This class was awesome and very hands-on. For anyone interested in learning how to make pasta, look into one of these classes. When we got there, everything was set up for us. Our teacher explained how the class was going to work and then we all went to a station where flour was in piles with an egg on it. There were different kinds of flours and Morgan and I both ended up whole wheat flour, which we quickly learned was the hardest to knead.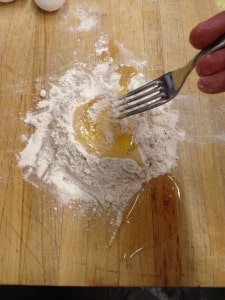 When everyone had rolled their flour into dough balls, we broke into different groups and some people worked on making the sauces for our meals and some people worked on making the actual pasta. We started at the pasta making station and learned how to run the dough ball through the pasta maker. We ran each ball through the maker on nine different thickness settings.
Pasta Making Class – Charleston Cooks (Video of us making pasta!)
Then, the different pasta doughs were turned into different types of pasta. We made a butternut squash filled ravioli, farfalle and fettucini. Since we were so busy making pasta, unfortunately I didn't have a ton of time to take pictures. The ravioli was fun because we would dollop a bit of the butternut squash mixture onto the dough and then fold it over. Then we cut out the edges with a pastry cutter and pinched them together. The farfalle was super "cute" as Morgan said. We split the pasta with the pastry cutter then cut each half into little rectangles. Then, you literally pinch the middle of the pasta and voila.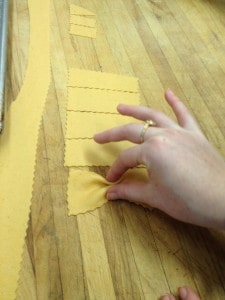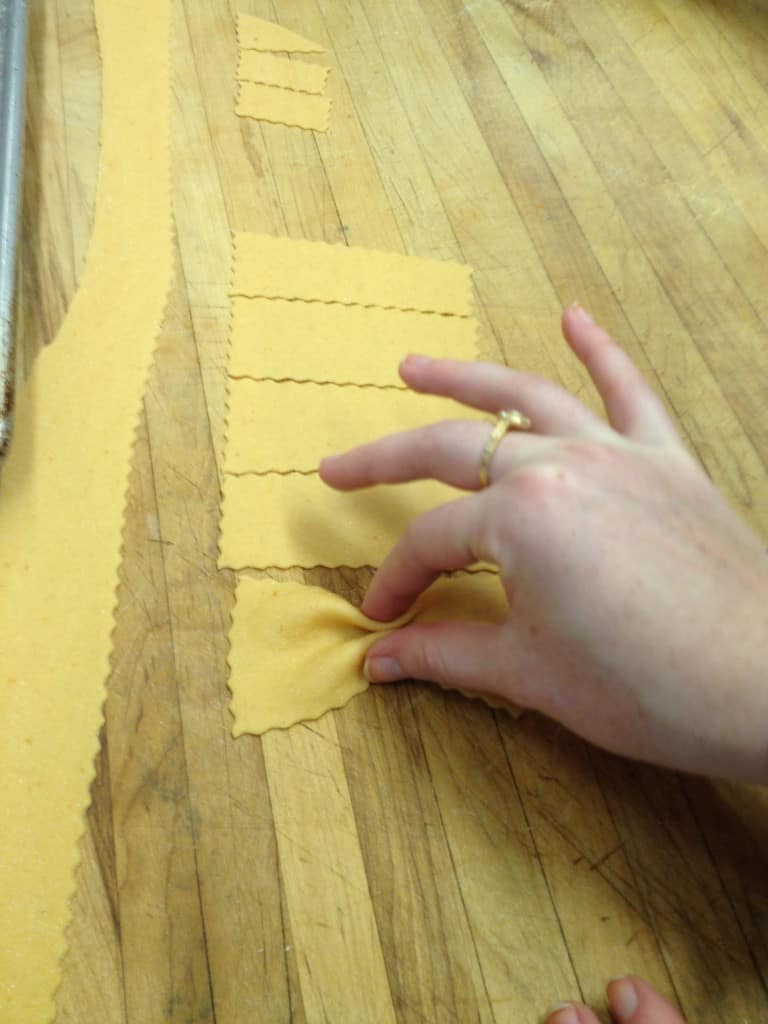 The most interesting thing I learned about cooking your own pasta is that homemade pasta only needs to cook in boiling water for about 30 seconds to a minute or it will get overdone. Drastic difference from the 10-12 minutes that store-bought pasta takes.
We also made a variety of sauces that were great but didn't overpower the taste of the pasta. The combos ended up being:
Whole wheat pasta with grilled chicken and spring vegetables

Tomato farfalle with wilted spinach, gorgonzola and walnuts
Butternut squash agnolotti with sage brown butter shrimp
Pasta berry napoleons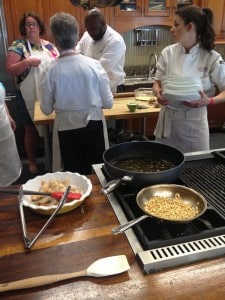 The ravioli (agnolotti) was outstanding, but I think I have to say that the tomato farfalle with the melted gorgonzola/spinach/walnut sauce was my favorite. The ravioli got the number one spot from Morgan though.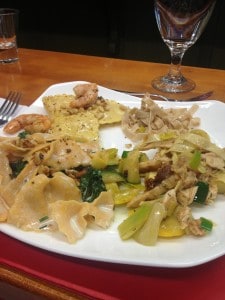 Overall, the class was extremely fun and worthwhile. It's our second class at Charleston Cooks! and I can't wait to do another one. They are a little expensive, so it needs to be a special occasion of some sort, but getting to make foods and test out skills and then getting to eat the food is so much fun.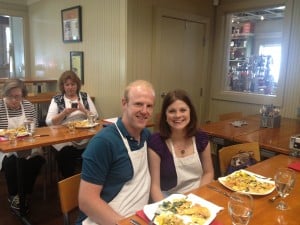 Have you ever been to Charleston Cooks?