It's the classic tale of a woman who grew up in a small town, moved to the big city, and feels like the outsider when she comes back home. But, usually that doesn't entail coming back home to report on a gruesome murder…
Camille Preaker is a reporter for a dinky newspaper in Chicago that is trying to gain credibility by uncovering a big story before the big papers do it. So when a second young girl is murdered in Preaker's small home town with no leads on a suspect, the editor sends her back home to unravel the mystery.
Preaker hasn't been home in years and hardly ever speaks to her mother. Mostly, that's because her mother is nuts. She remarried when Preaker was young and the group never formed a bond in the cold household. Preaker has a 13 year old half sister who plays the perfect angel for her mother when she is at home, but then sneaks out of the house to do drugs and party.
There is also a detective from Kansas City assigned to the case since the local law enforcement has turned up nothing. Inevitably, he and Preaker work closely together and maybe get a little too close. As the clues start to come in, she expects him to share information with her, but he won't jeopardize the investigation by giving details to a reporter. Eventually, the clues start to point in a direction that causes a lot of problems for Preaker, and she has to decide who to turn to….
I thought this was an interesting book from the beginning. Terror in a small town always puts people on the edge of their seats and always limits the options as to who you think committed the crime. There is always a twist, but this one took a big twist. You learn a lot about Preaker and where she has come from and the reasons why she has left that town in her past. Eventually, you realize that she should have never come back.
Morgan's thoughts:
After Sean finished Sharp Objects, he recommended that I borrow his Nook and read it myself. I think the combination of a female protagonist and a murder-mystery theme really said "Morgan" to him.
I am an (old school) CSI obsessee. I own the first five seasons on DVD, read many of the books, and for a while totally intended on going into Forensics. So, mystery novels really do get me excited. And I really did enjoy this story. It was an interesting murder concept, unlike any other I had read before.
Though the murder is the underlying story, the book really isn't about death or the killings. We get very little direct information about the deceased – this story is definitely about the investigator, rather than the victim. Also, the whodunnit really wasn't solved until the very last beat. No time for justice for the victims, mostly just a swift resolution for the protagonist.
My biggest problem with this book, I suppose, would be the likeability of the main character. I didn't like her, so I didn't really care if she succeeded in solving the crime or not. I also didn't really like or feel sorry for the murder suspects – and especially not the person who ended up doing it in the end.
The most interesting dynamic to me was definitely that between the protagonist and her deceased sister. She was really haunted by her, and that relationship brought out the most sympathetic situations for me. It was a very strong and intriguing backstory.
I would recommend this book, especially if you can get it from the library or borrow it from a friend. It is an easy & quick read, and you really will power through it trying to piece together exactly what happened.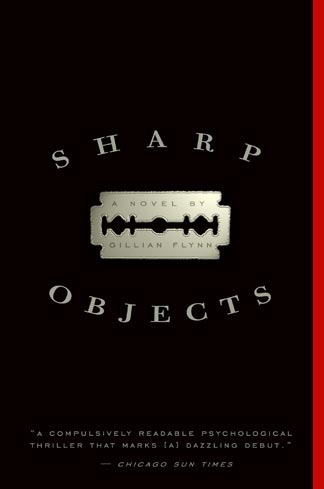 Ever read "Sharp Objects"? What did you think?