I recently read a book that I didn't realize was a girly book until I got it. The book is called "Landline" by Rainbow Rowell. I remember reading about it when it won Best Fiction 2014 in the annual Goodreads awards. It sounded interesting so I added it to my "to read" list and am just now getting around to it. We recently joined the library and I searched for it and found it was there, so I picked it up along with a couple others. It wasn't until I saw the book's pink, striped cover that I realized it was a girly book.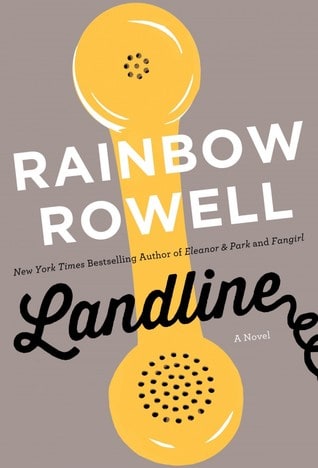 Landline is about a woman named Georgie McCool. She's a writer for a comedy TV show who spends a lot of time at work with her best friend. They have been writing together for various shows since college and finally got the opportunity to pitch their own show to a big producer. Problem is that the pitch is scheduled for December 27th, and Georgie has plane tickets to fly to Omaha with her husband (Neal) and kids for Christmas. Georgie and her husband have been a little off lately and to sum it up, he was not happy when Georgie told him she wouldn't be able to go on their trip. Neal decides he's taking the kids anyways and Georgie stays behind to work on the show, but she can't stop thinking about how she left things with Neal. She starts going to her mom's house after work each night because it's closer to her office than her own home. One night she calls Neal in Omaha from an old landline phone that was in her childhood bedroom. Neal's dad answers the phone on the other end and says he'll give it to Neal. Problem is, Neal's dad has been dead for years…
What happens from there is a mystery while Georgie tries to figure out what is going on, if she is going crazy, and how she can fix her relationship with her husband. Landline is a pretty quick read (I read it on two hour long airplane flights and one night in bed) and has an interesting story. I rated it a 3 out of 5 because I was very disappointed that the author didn't wrap up one major plot point of the book. Like, she literally didn't address it at all. It built up up up and then when the main plot point was settled, the book ended. It's like she forgot the other one. But I would definitely recommend it for a quick, light read!