I know we've been sharing a lot of book reviews lately. This blog really mirrors our lives and between rediscovering the library, several of my TV shows ending, and wanting a mental escape from house hunting, I've really been hitting the books hard.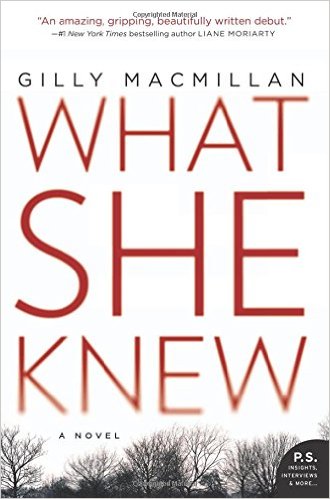 And, y'all, this is a good one. Easter was a really rainy day in Charleston, and I managed to read this entire book (over 400 pages!) in one sitting.

In Gilly Macmillan's What She Knew, Rachel is a recently divorced mother taking her dog and son on a walk through the woods when her son asks if he can run ahead around the corner to the swings. She reluctantly agrees and then catches up to find him missing. It leads to a police investigation, and her life is never the same. She is thrust in the spotlight and humiliated and confused as observers label her as a guilty mother.
Without giving the story away, you will think ten different people did it. You will question Rachel's honesty and her trust of those around her. You will feel the fear of a parent losing their child and a police officer trying to do what's right. You will wonder what really makes a happy ending.
This book is so so good you just need to add it to your good reads list, library queue, or Amazon cart right now. You will not regret it!
Be sure to follow me and Sean on GoodReads to see what we're reading!