At the beginning of the year, I said, "I'm going to get into podcasts." It's one of the "resolutions" that I've actually kept, even though I didn't make it one of my resolutions. Sigh. I've been listening to a lot of different ones and thought I'd share what I think are some of the best podcasts for guys. This doesn't mean that ladies can't listen to them or wouldn't like them, it's just what I think are the best podcasts for guys. We have done a lot of book reviews, so why not review some podcasts.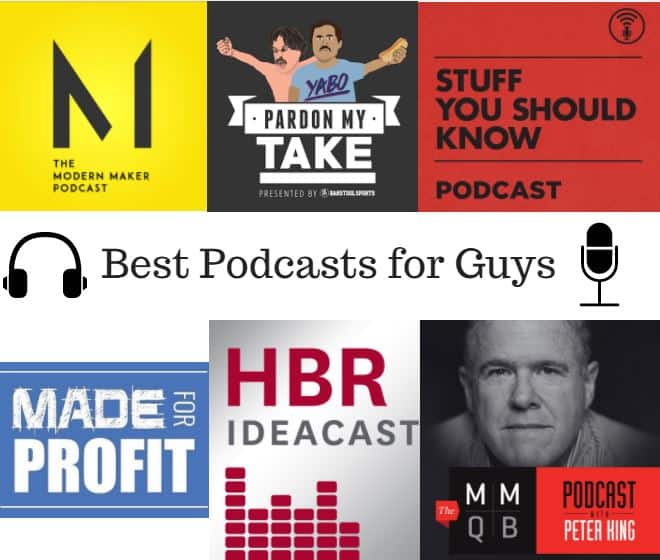 Making
The Modern Maker Podcast– this is one of my top two favorite podcasts of all the ones I listen to. Chris Salomone from Four Eyes Furniture, Ben Uyeda from HomeMade Modern and Mike Montgomery from Modern Builds all talk about their lives making things. They all are most famous on YouTube, although I found all of them through this podcast. They talk about making furniture and DIY projects with various materials as well as aspects of video making and having a small business, so the podcast is very helpful for us and trying to grow our blog.
Made for Profit– this podcast from Brad Rodriguez at Fix This Build That is a new one for me and I haven't listen to too many episodes, but I met Brad at the Haven Conference when we were in the same mentor group. He teams up with John Malecki to talk about their businesses, and have talked about topics such as goal setting, time management and social media analytics. I like how they talk about what they are working on and also give homework at the end to help you engage.
Sports
Pardon My Take– probably my favorite podcast, Big Cat and PFT sit around talking about sports in the hilarious way that I feel like I talk about sports with my old college roommates. They aren't reporters and they love to make fun of what's going on in the world of sports today. This is the podcast I always listen to as soon as possible. Plus they bring in an actual famous sports person to interview on every episode and ask them lots of off the wall questions about their lives. If you like sports, it's a must.
The Monday Morning Quarterback– Peter King offers really insightful interviews with smart people about the topics facing the NFL and gives you a deeper look at how people analyze the game. I started listening actually after the NFL season was over last year, so I'm excited to hear what the discussion following each week of games is.
Thought Provoking
HBR IdeaCast– This podcast from the Harvard Business Review takes an look at fascinating topics that Harvard professors are researching had brings in the professors to talk about what their studies have found out about different aspects affecting the world of business. I love that these are 30 minute shows as well.
Stuff You Should Know- Since listening to this podcast, I've learned about the Beagle Brigade, where ketchup comes from, seed banks, Scooby Doo, maps, whale strandings and much more. They choose a random topic each week and deep dive into what it is. I feel like I've learned a lot of great trivia facts.
What do you think are the best podcasts for guys?