Ready for another example of how Pinterest & wedding planning can make the average girl go crazy? Enter: bathroom baskets. I never knew that this was a thing. I've never seen them at a wedding (or at least, never noticed/remembered them. What does that say!?) But once I spotted them on Pinterest, I just knew we had to have them.
Sean immediately put his foot down and said, no, that's a waste of money. So what did I do? Wait until he went on his bachelor party and skip on over to Walmart to pick up my goodies. Such good communication skills, y'all.
Luckily, he wasn't too mad. Rolled his eyes, mostly.
Here's what I got on my first Walmart trip: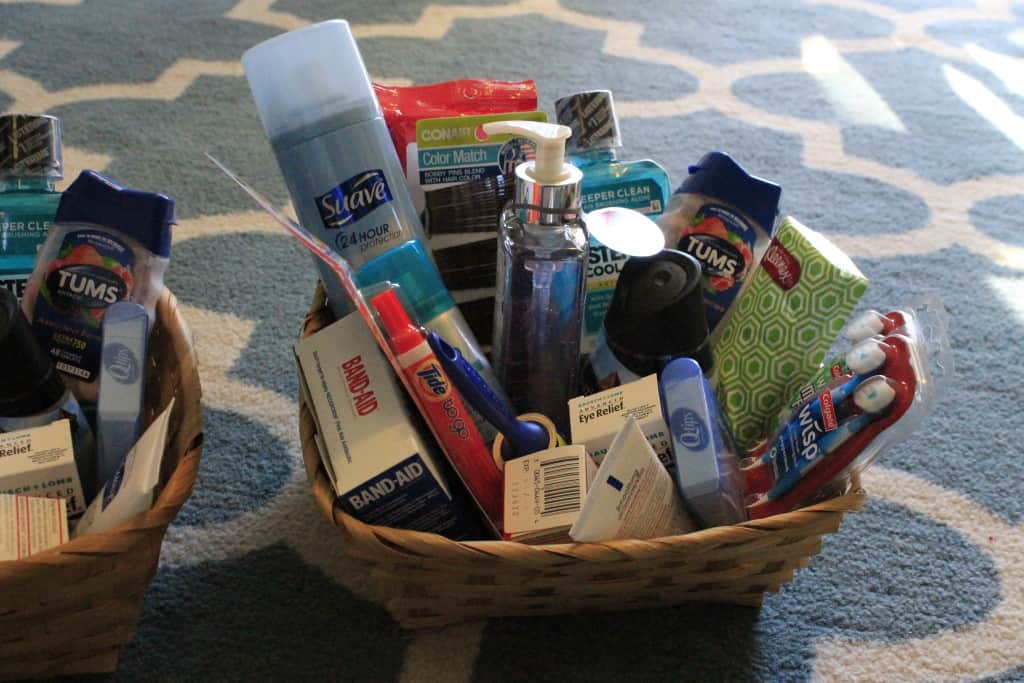 Wisp one use tooth brushes
Tissues
Band aids
Tide to go pen
Spray deodorant
Hair spray (ladies only)
Wet wipes
Mouth wash
Tums
Air freshener
Q Tips
Tylenol
Eye Drops
Lint Roller
Mini Lotion
Then, one of my bridesmaids came over. Now, I love her, but she is absolutely the wrong person to call if you want someone to talk you out of a purchase. We are alike in that way. So, she didn't tell me to return everything and forget the whole idea. She loved the idea and said that guests would appreciate it! However, she did give my baskets a good once over and said I should return (with her reasons in parenthesis):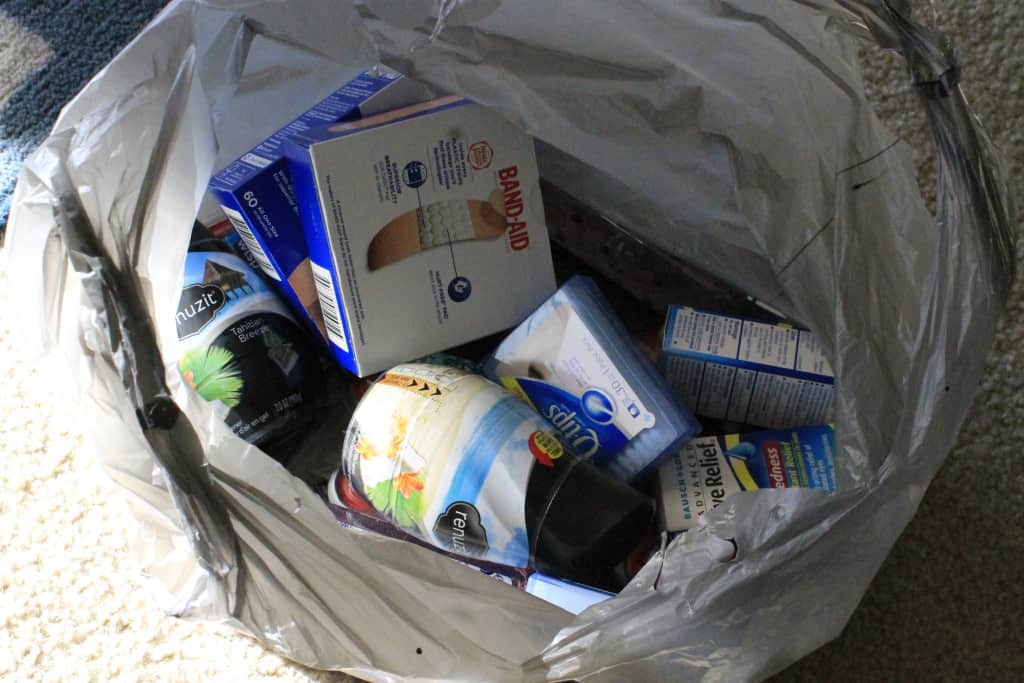 Wisps (just have mouthwash)
Band aids (too big of a box)
Air Freshener (unnecessary)
Q Tips (no one will be cleaning their ears at the wedding)
Eye Drops (get ones that work with contacts)
Fancy hand soap (the venue has soap)
And told me to pick up:
Smaller boxes of band aids (no one will need 48 band aids)
Travel sized contact solution (can double as eye drops)
Breath mints (easy to grab & go)
Small box of tampons (for ladies only, obviously)
Small cups (to go with the mouthwash)
I also added a mini sewing kit and dental floss to each kit. These were unused and unopened but in my travel sized toiletry hoard drawers in the guest bathroom.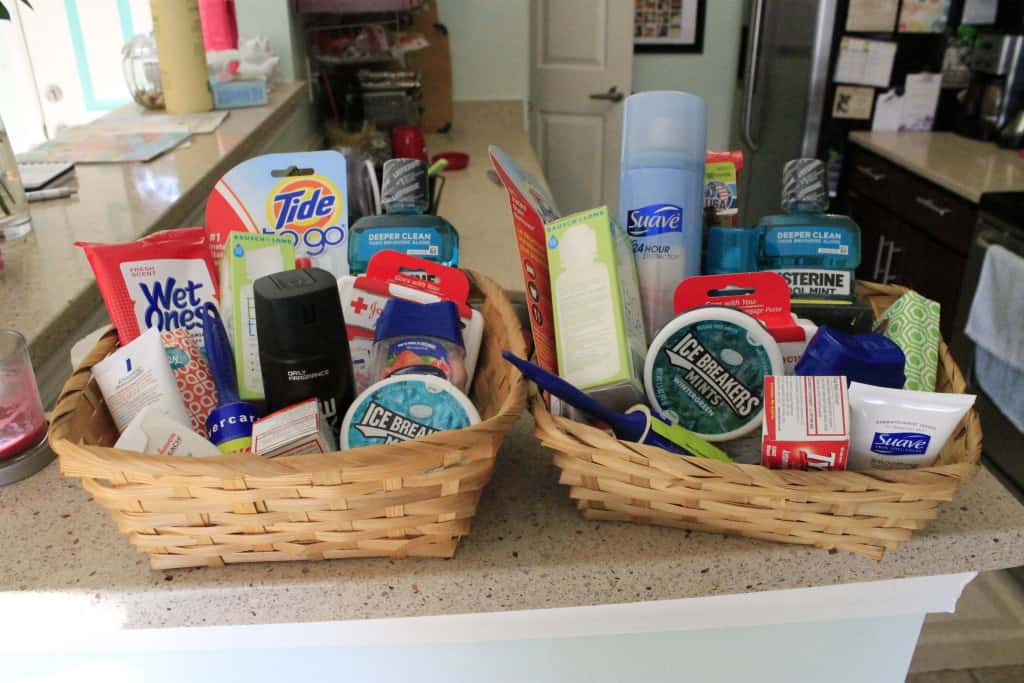 Once Sean got home and OKed them, I took all of the containers out of their boxes. I feel like people are less likely to use the things if they are still wrapped or sealed. I also decorated the baskets a bit with a strip of ribbon!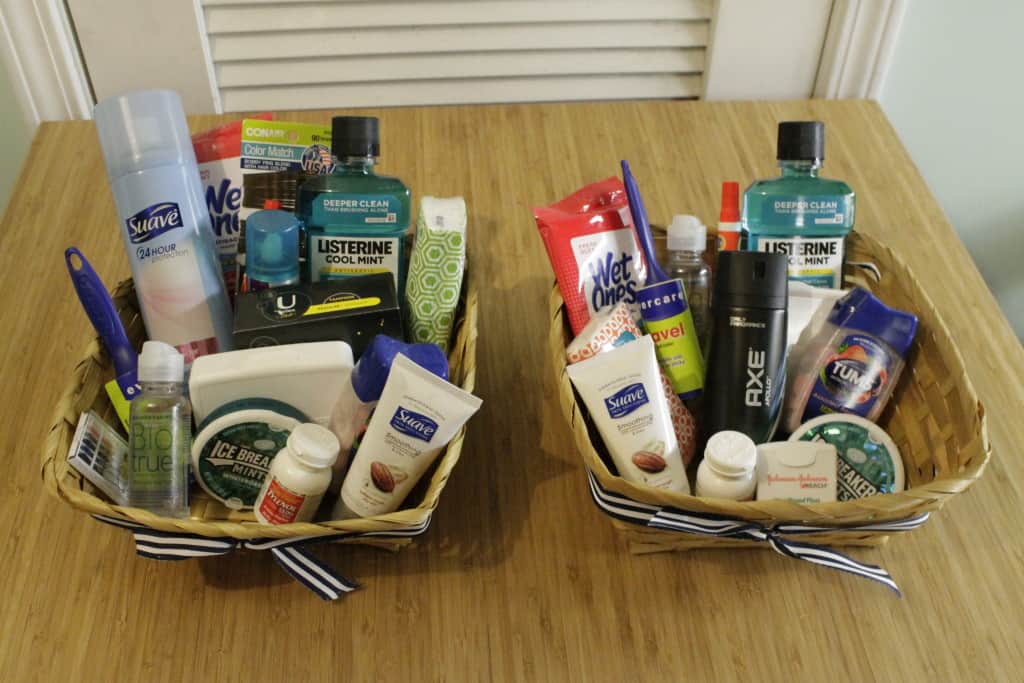 These are a little touch but I hope that our guests enjoy them and will feel like they have everything that they need!
What do you think about bathroom baskets?