As a part of the "Date Day" that Sean & I had on Saturday, we spent the afternoon at a wine class (Click here to read Sean's take on the cooking class that we did in the morning). Sean actually surprised me with the class for Valentines day, but since he has been out of the state for work, we ended up at the April class.
The class was held at Total Wine in West Ashley from 3 to 5pm. This particular class was titled Salute Italia and involved sampling and discussing eight italian wines.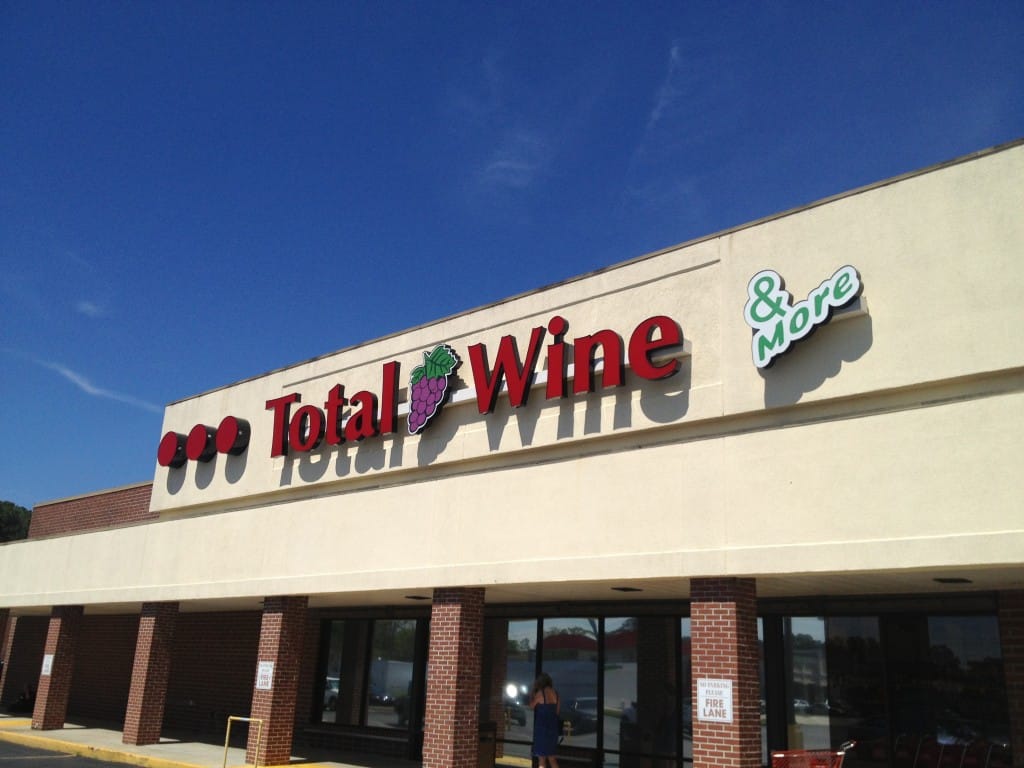 For a little background, neither Sean nor I are very into wine. We enjoy drinking it, but don't consider ourselves very well versed. When we go to nice restaurants, we usually bumble around before just randomly picking something that the waiter reccomends.
So, the hope was that the wine class would be fun as well as informative & might teach us something about how to order.
Oaky? Fruity? Hints of mineral? To me it all just tastes like wine.
I tend to favor the white wines, the less wine-y they taste, the better. Though I do love a good glass of champagne. Sean is more open to reds, but that's about as far as he knows.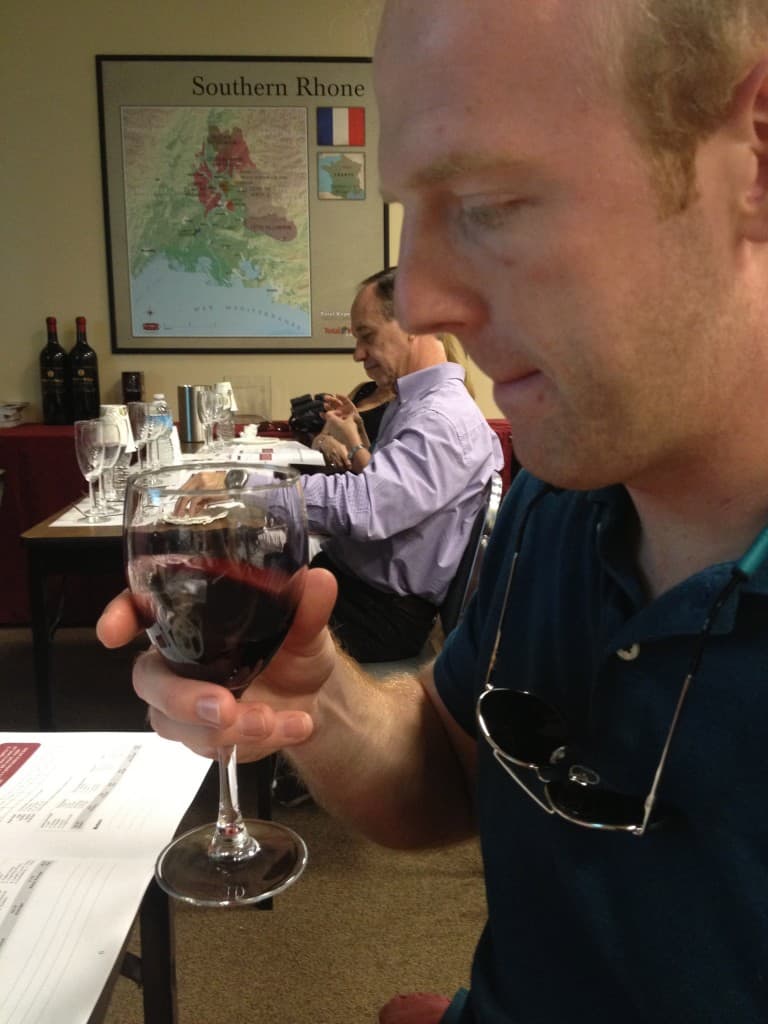 So, I was pretty excited when we started out with a champagne, which was very delicious. We followed that up with 2 white wines- the first a bit more flovorful than the second- and then had 5 reds. The red wines ranged from fairly light to I-wanted-to-spit-them-out strong. Sean claimed to like the one that made me feel ill- I'm still not sure if he really did or if he was just embarassed by my gagging.
Here's the 8 wines we sampled:
Armani Prosecco DOC

Tesoro della Regina Pinot Grigio
Gattacecchi Vernaccia Gimignano
Saladini Pilastri Montetinello
Trecciano I Campacci Toscana
Mauro Sebaste Barolo Prapo
Vasco Sassetti Brunello di Montalicino
Montresor Amarone Crosara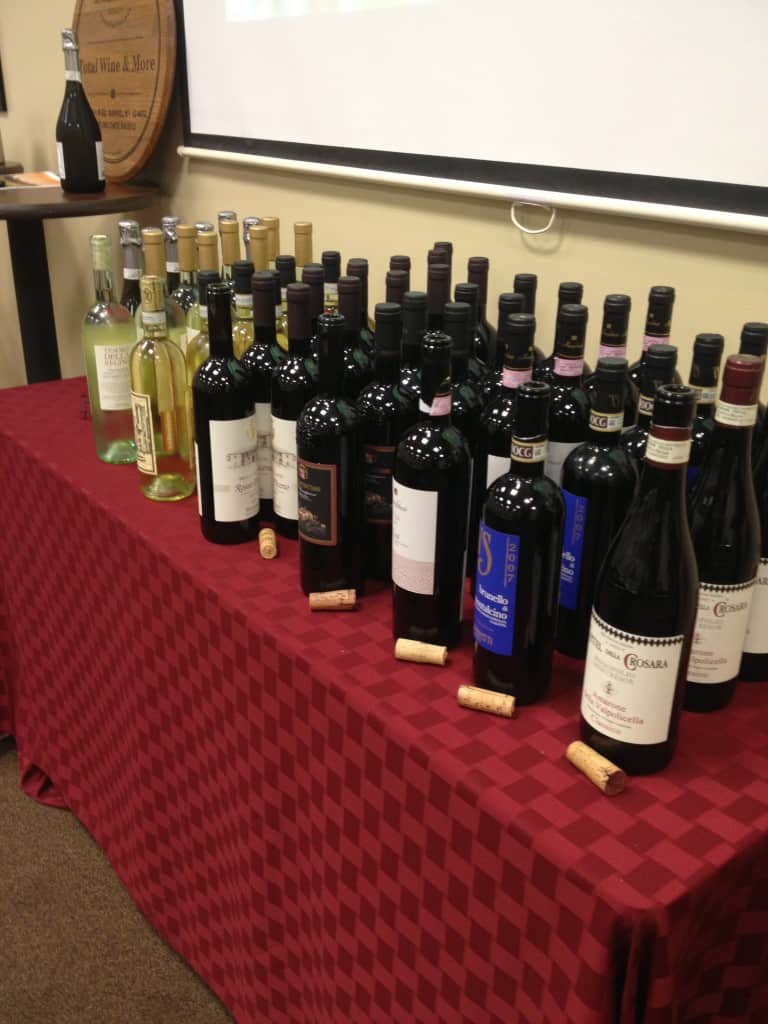 So yeah, the list was a bit overwhelming. I could try to give a recap of each, but I really didn't take the time to fill out the score sheet. I wrote down a few comments like yum! and ick! but that's about it.
We were provided with a guidebook with a page on each wine. It gave a blurb on the history of the vineyard as well as some of the characteristics of the wine.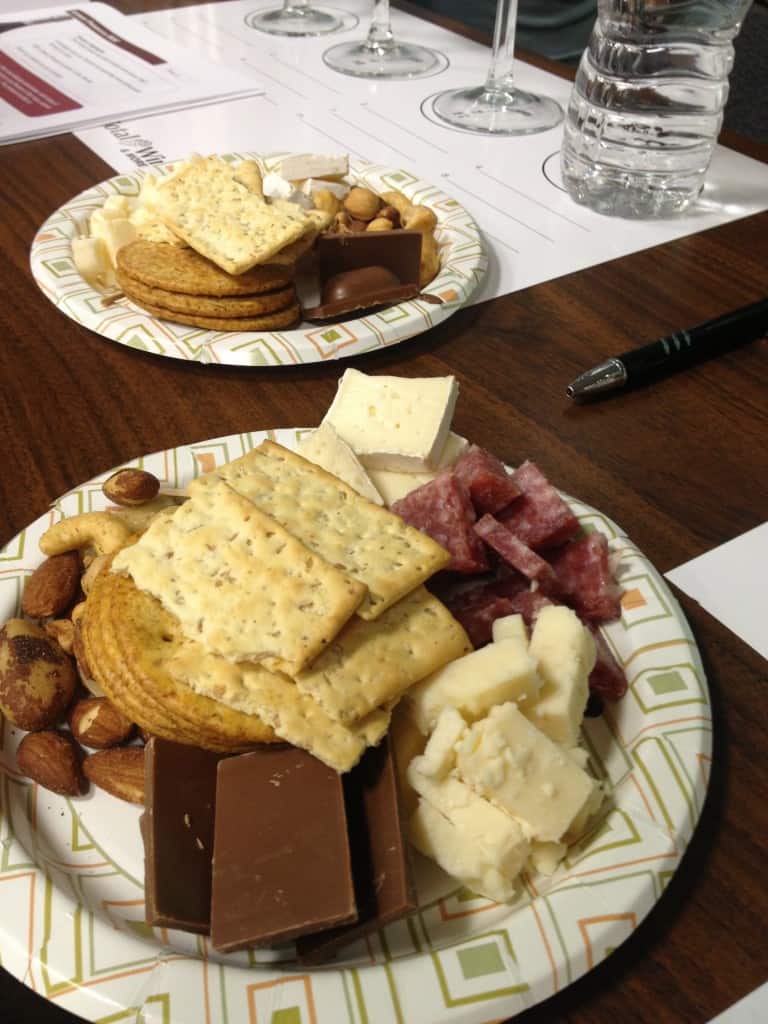 In addition to the wine, we had a really good sampling of cheese, crackers, nuts, and chocolates to accompany the wines. We were not, however, given any direction as to which food went with which wine. So, I ended up having cheese and crackers with each of them. Pinkies out, people, this is fancy stuff 😉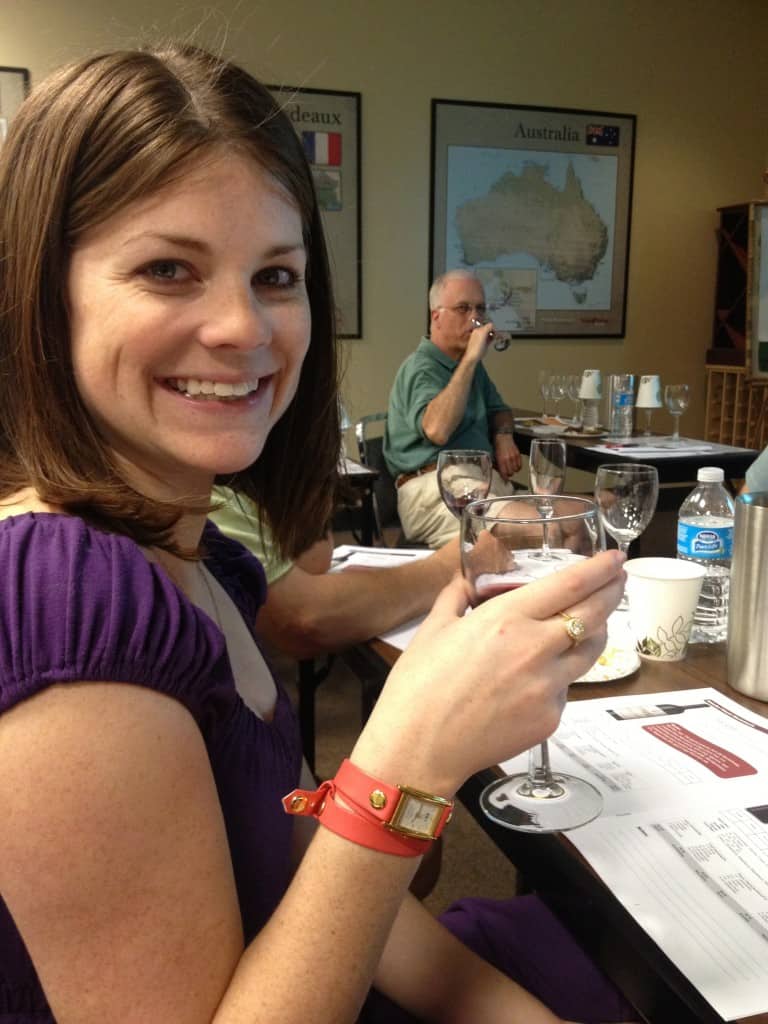 The class was fun, and I really enjoyed it, however it really did not accomplish our goal. We hoped to learn some things to make it easier for us to choose a wine at a restaurant- or at least have characteristics to describe to a waiter. Though we did have a great instructor, we learned more about the history of the wines and the regions than we did the specific wines. I was hoping that it would be, here is a glass of wine, swirl it, sniff it, taste it. You should taste oak. You should taste strawberry. You should tast acid.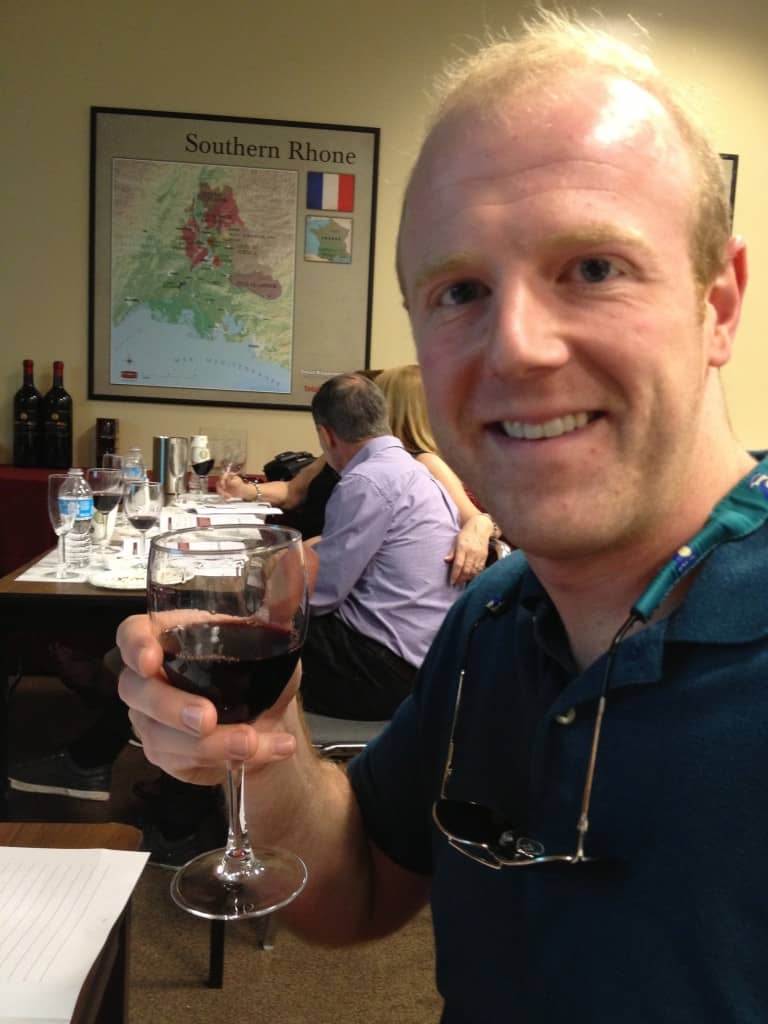 A big problem for us was that most of the attendees appeared to be regulars, and really regular old wine snobs. Much of their discussion was over our (or at least my) head. And some of the attendees were downright rude – going on and on about their trips to Rome and Hungary and making it very difficult for the instructor to get a word in edgewise.
All in all, I had a good time at the class. I love trying new things and pushing myself out of my comfort zone, culinary-wise. I'd like to take another wine class, but I would be unlikely to do it at Total Wine – unless they were to have a Wine for Beginners session, perhaps.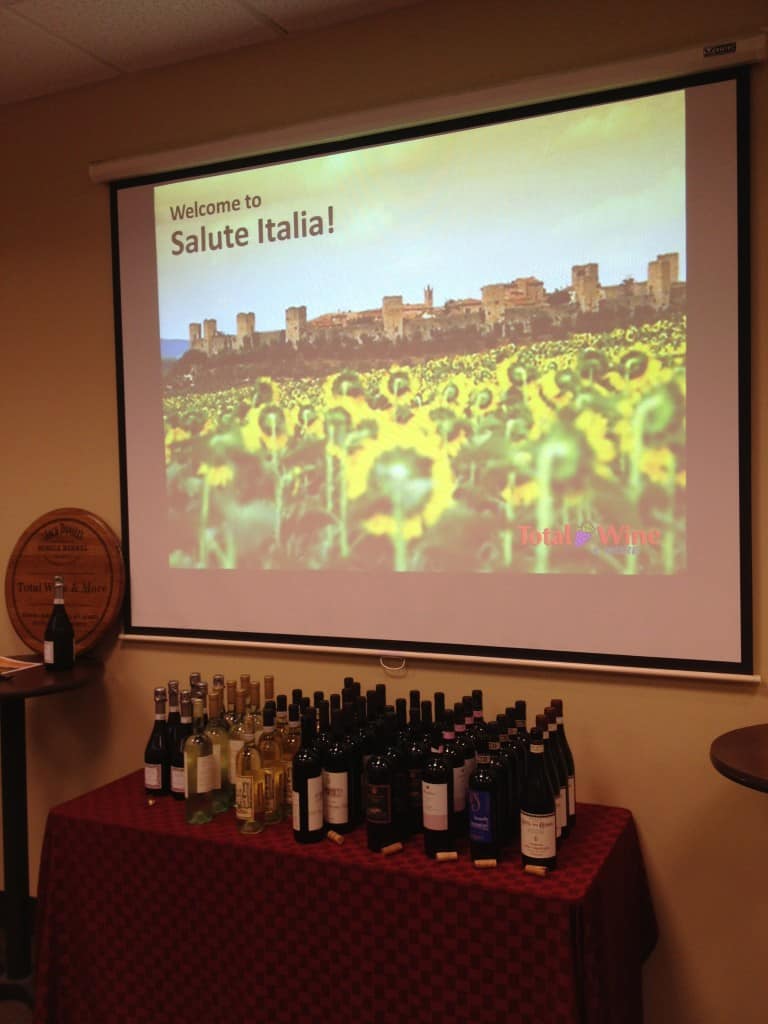 Have you had any culinary dates outside of a restaurant lately?