I thought I would pop in on this lovely Friday afternoon to fill y'all in on a change going on in our household. (Those of you who follow me on instagram and twitter can probably already see where this is going.)
For those of you who do not know, Cesar, our fluffy grey Persian with an attitude (and a bladder problem) is no longer with us. No, he's not dead. He's returned to North Carolina to live with my parents.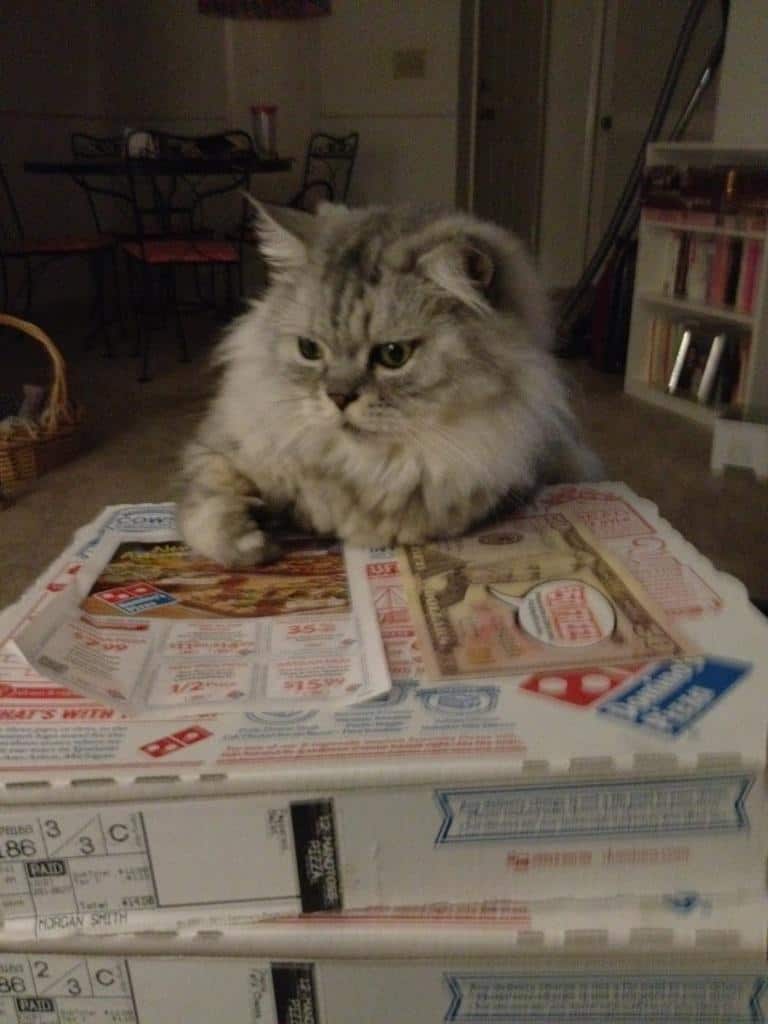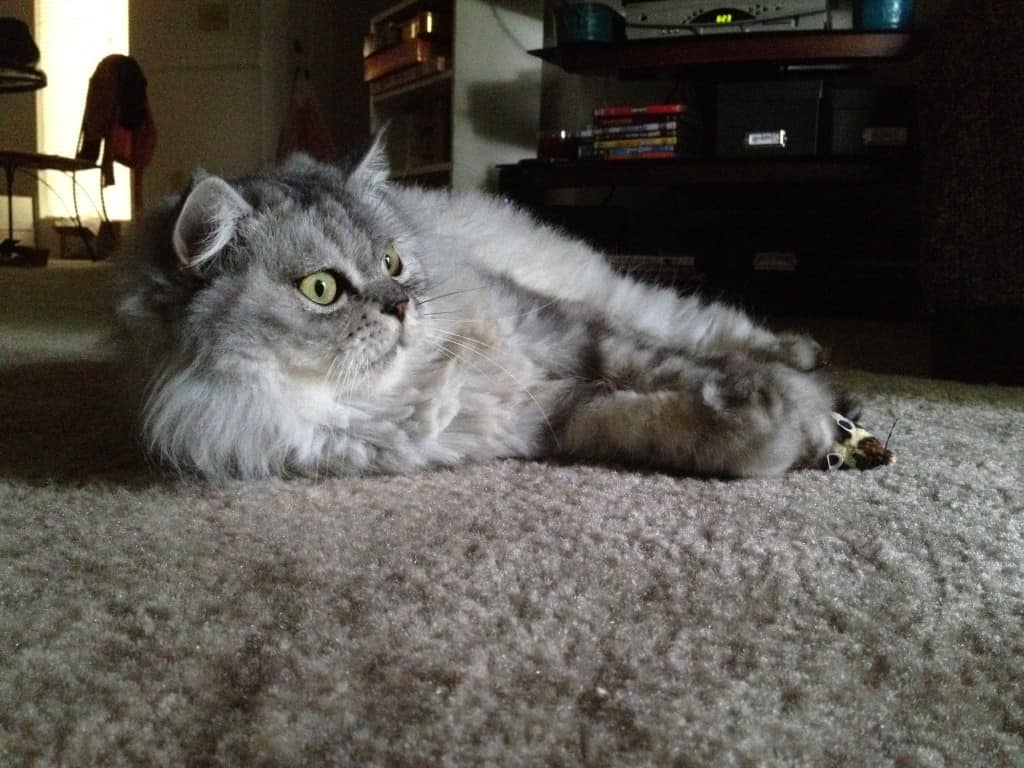 Cesar and Cici have been living together since Sean spent 3 months in Maryland last winter. To say that their relationship was tumultuous would be an understatement. Cici constantly wants to play and wrestle and snuggle and Cesar just wants to sit in the sunshine and be hand-fed tuna. Their living together led to Cesar developing severe anxiety, a major urination problem (taking out my couch with him), and lead to his vet putting him on kitty Prozac. On top of this, the whole situation was causing a lot of stress for both Sean & I. We hated having to lock them up separately, but it was the best solution. We hated coming home to our furniture & belongings peed on. We hated spending mega bucks on cat pills, anxiety reducing air fresheners, and soothing cat treats.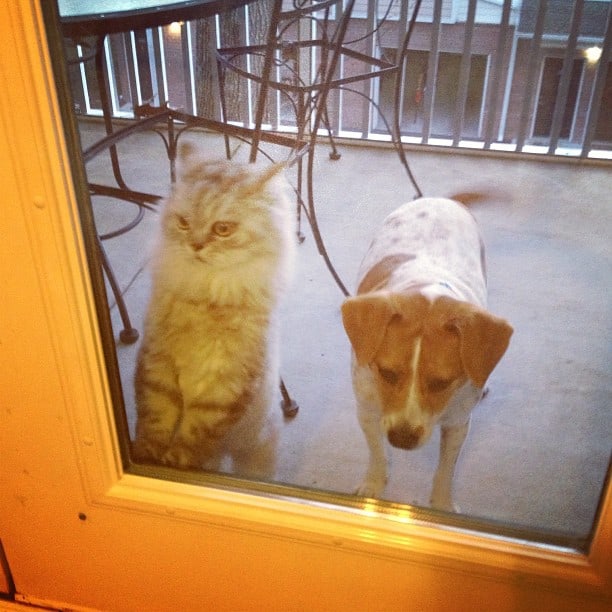 This summer, we went on vacation and Cesar stayed with my parents in North Carolina. All of the sudden, he started acting normal. He used his litter box. He didn't hide or cower all day. He returned to his normal self. (It's worth noting that Cesar was originally my parent's cat. He lived with them for 4 years until he was harassing their elderly cat, at which point I took him away. The other cat has since passed away.)
So, we decided that it would be best for Cesar to stay with my parents. I was sad. Cesar was my little sweetie & really got me thru my CPA exams and kept me a lot of company before I met Sean (& after). He was Sean's "little buddy." Cici really liked playing with him, when he allowed it. It was really hard to go home to NC and see him and have to leave him there. But I have to remind myself that he is so, so much happier there.
However, we have found ourselves with a fluffy, grey cat shaped hole in our hearts. I have been nagging Sean all summer about getting another kitty. He said fine, let's just get a kitten that we can raise around Cici to ensure that we don't have this problem again.
And then fate happened. A lady that I work with frequently fosters kittens. She got a litter of little grey babies. There had been 3 originally (they were found outside). One died before they were found, and one died in foster care. Only one survived. She was spunky, sassy, and has no fear. I played with her several times. I picked her up in my arms and she rubbed her face on mine and I was in love.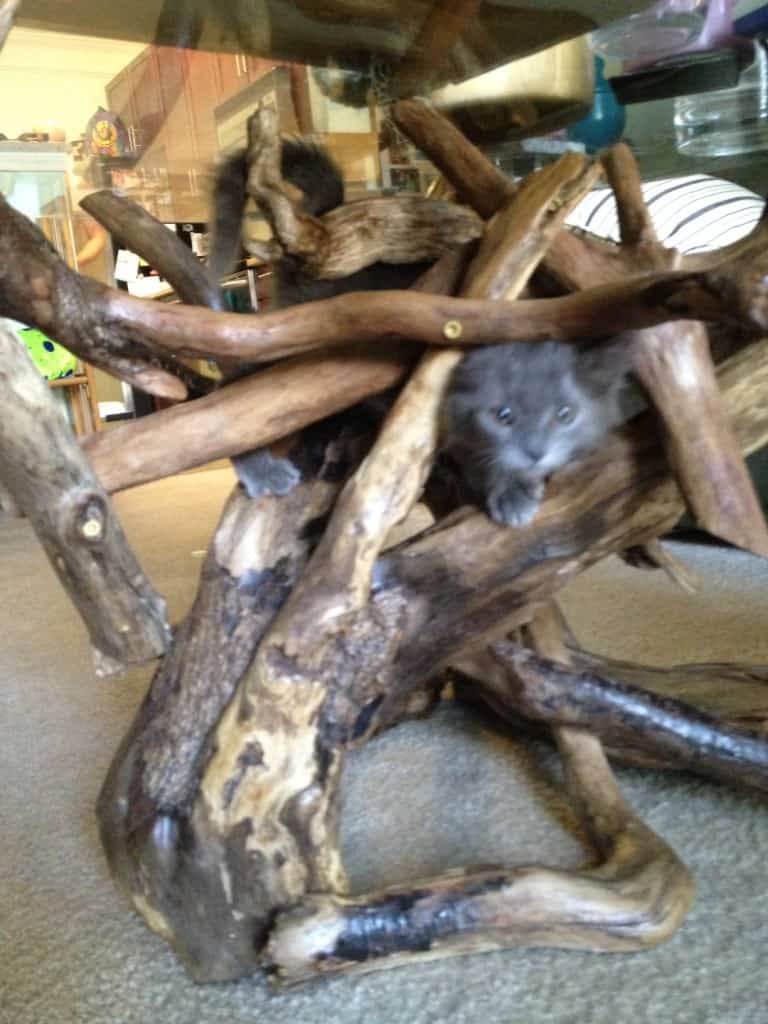 Her foster mom was going out of town for a weekend, and she was almost big enough to be fixed, but not quite. So, we had the lucky opportunity to "kitten sit" for the weekend and see how she and Cici would get along. I was nervous about how Sean would like her, too. When he came home, he walked over to me holding her, and picked her up. She immediately started purring really hard. He was in love, too.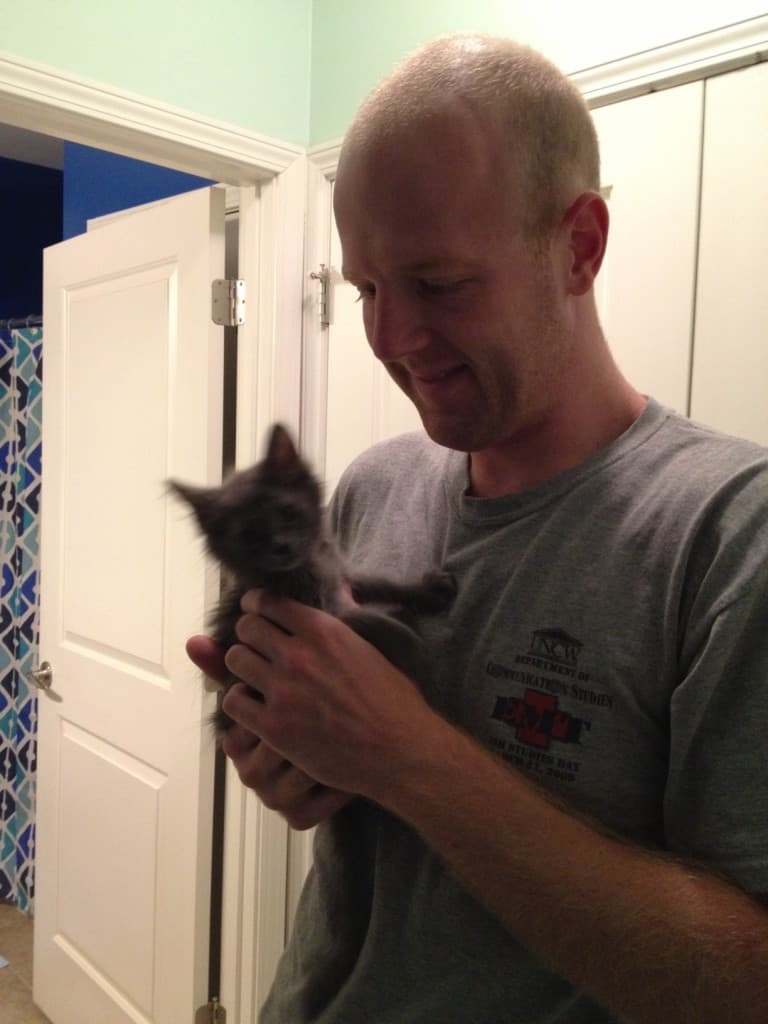 We kept the animals separated with a baby gate. After about 30 minutes of getting used to her surroundings, the kitten climbed the gate! She pounced at Cici & we instantly knew that she had no fear and was the perfect fit for our family.
So, without further ado, may I introduce Yogi Boo Boo Bear Grylls Smith McBride. AKA Bear. She is an adventurous, silly, fluffy little thing and we love her more and more every day.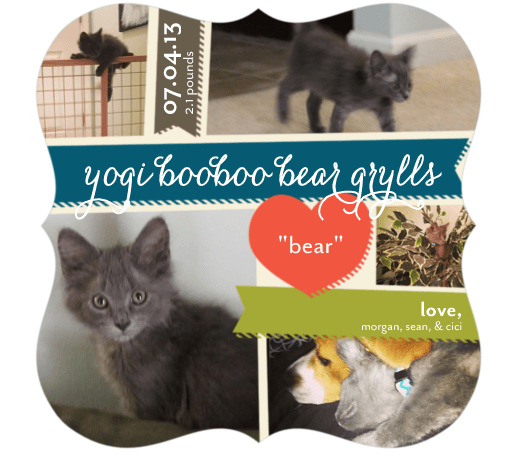 We also LOVE how snuggly she and Cici are. When they are both sleepy, they huddle together for warmth!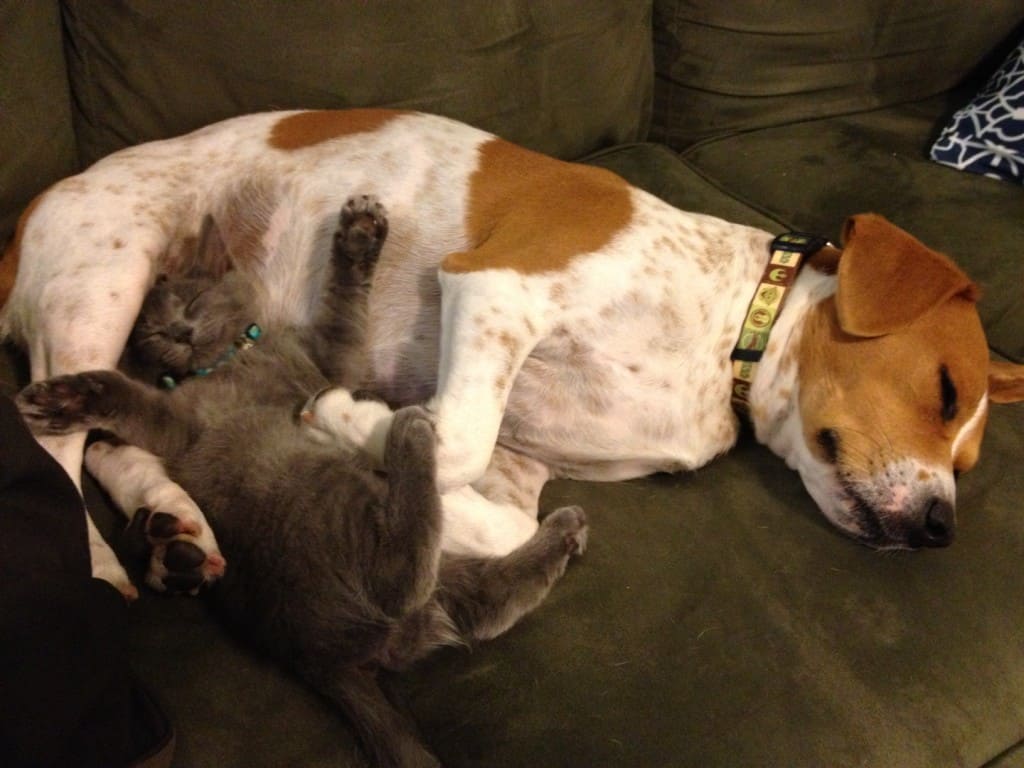 When they are playful, it's cute too. We still keep them separate when we are not home, but Cici has been very gentle with her – it's like she understands that she's a baby (and not a squirrel, or a squeak toy).
Welcome to the family, Bear!