Hey guys! We are back today with a super fun video sharing our latest grocery haul and a little bit of details about how we meal plan.
For all the details, check out this fun video:
If you aren't in the video watching mood, here is what you missed. Every Sunday we meal plan and then go grocery shopping together. By working together, there are no surprises! We use this magnetic note pad to plan our week. We start by ripping off last week's page and using the back of it to write our list. If during the week we run out of a staple, we simple flip over this top page and write it on the list in advance so we don't forget it.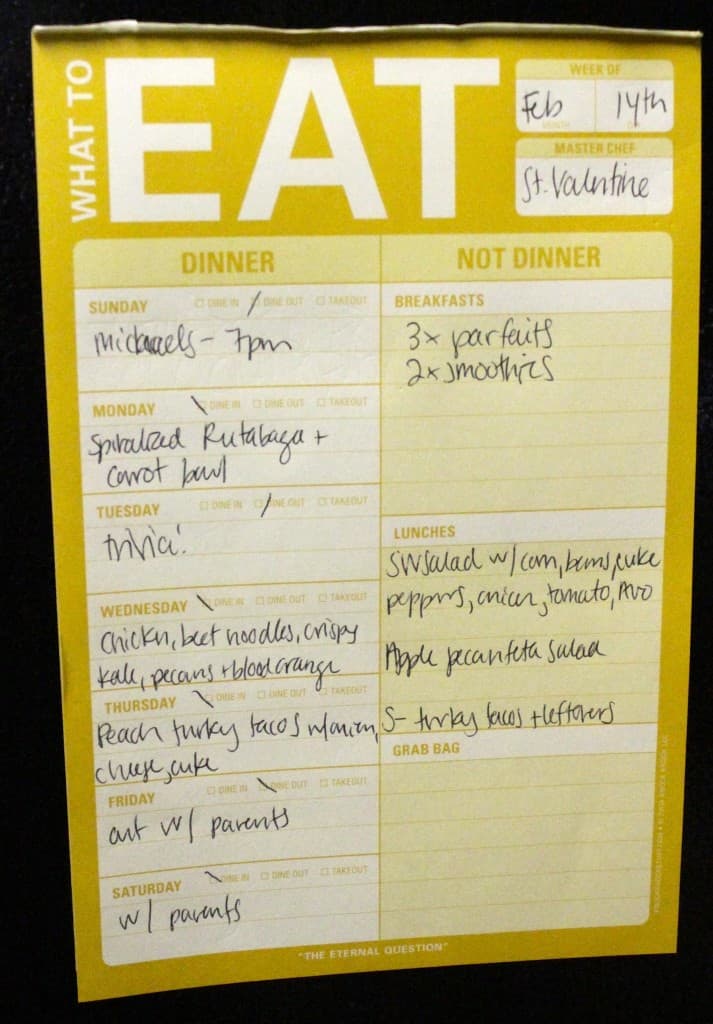 To make our weekly meal plan, we start by marking any days that we know will be out for dinner. For example, this week we planned to go to trivia on Tuesday night and out for Valentine's Day on Sunday, so we didn't need to plan meals for that day.
Then, we schedule our dinners. What we do varies depending on our mood but we like to have big salads (usually twice in a week to use up a container of greens), grilled meat with veggies and sweet potatoes, vegetarian quinoa "toss ups" and we love tacos on Thursdays.
We have 3 different breakfast options that we usually rotate during the week (avocado toast, smoothies, and parfaits) and then for lunch Sean likes turkey wraps or sandwiches along with sides of leftovers or a simple salad. We pick up extra fruit for snacking, beer and wine for the evenings, and sometimes some baking ingredients if we are running low.
Check out the video to see what we actually got this week and the dinners that we are planning. Of course, this list is supplemented by things we had on hand, including from our monthly Costco haul.
Have a great week!