Ever since we got engaged, we haven't been going out to real nice dinners. We were saving for paying for the wedding and now we're saving for a house. But last weekend was the anniversary of when we first met, so we decided to use that as a good opportunity to knock another restaurant off of our 101 in 1001 list! We've been wanting to go the The Ordinary Charleston and so did one of our couple friends, so we all decided to pay the restaurant a visit.
If you want more casual oysters in Charleston, check out Bowen's Island!
The Ordinary Charleston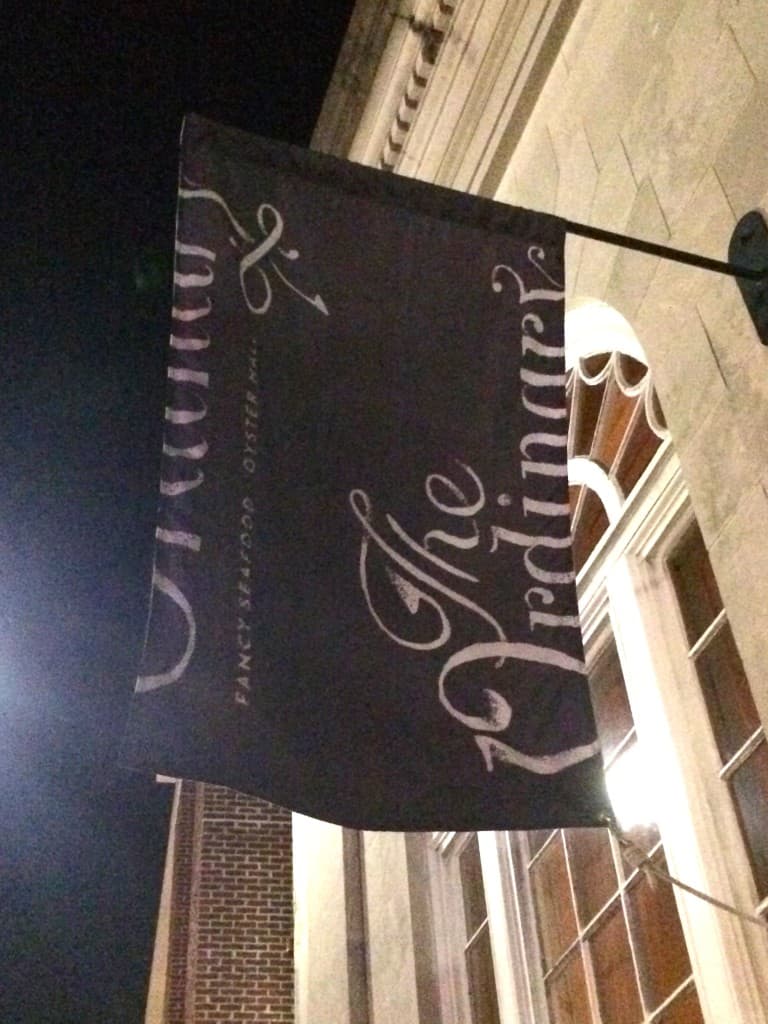 The Ordinary is a two-story restaurant that was repurposed from a bank. The inside is beautifully simple and elegant and gives a wonderful vibe.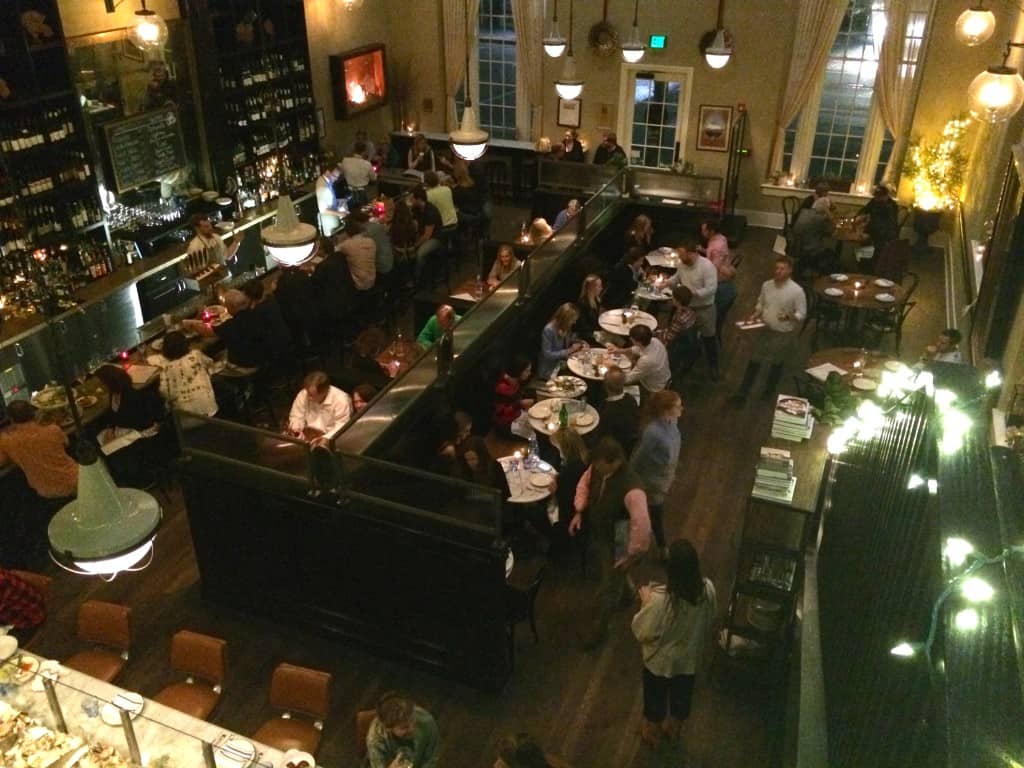 The Ordinary is a seafood restaurant that has a lot of oyster options, both cooked and raw. They also have lots of raw and cooked seafood options. They have a couple of "large dishes" on the menu, as well as a main dish as their daily special, but most of their food is small dishes, opening the door to do a tapas style meal. We decided to get a bunch of dishes and get to taste them all! Then, it was up to our really good waiter to figure out a good order to bring it all in.
We started out with ceviche, comprised of flounder, avocado, cilantro and watermelon radish. It was served with plantain chips and was incredibly fresh and delicious.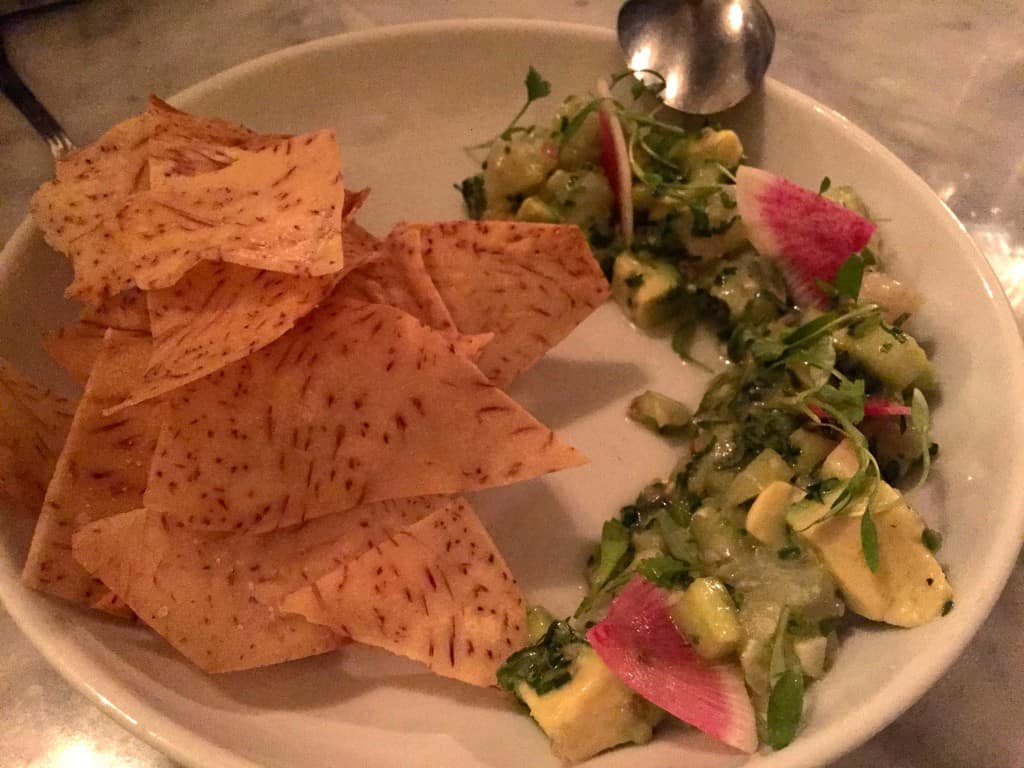 Next up came oyster sliders for Morgan and me and a couple of local raw oysters and clams for our friends. The oyster sliders had cilantro, lettuce mix and a spicy remoulade to go with the fried oyster. It was all sandwiched in the middle of a baked Hawaiian roll. It was divine and had lots of great flavors on a crispy slider.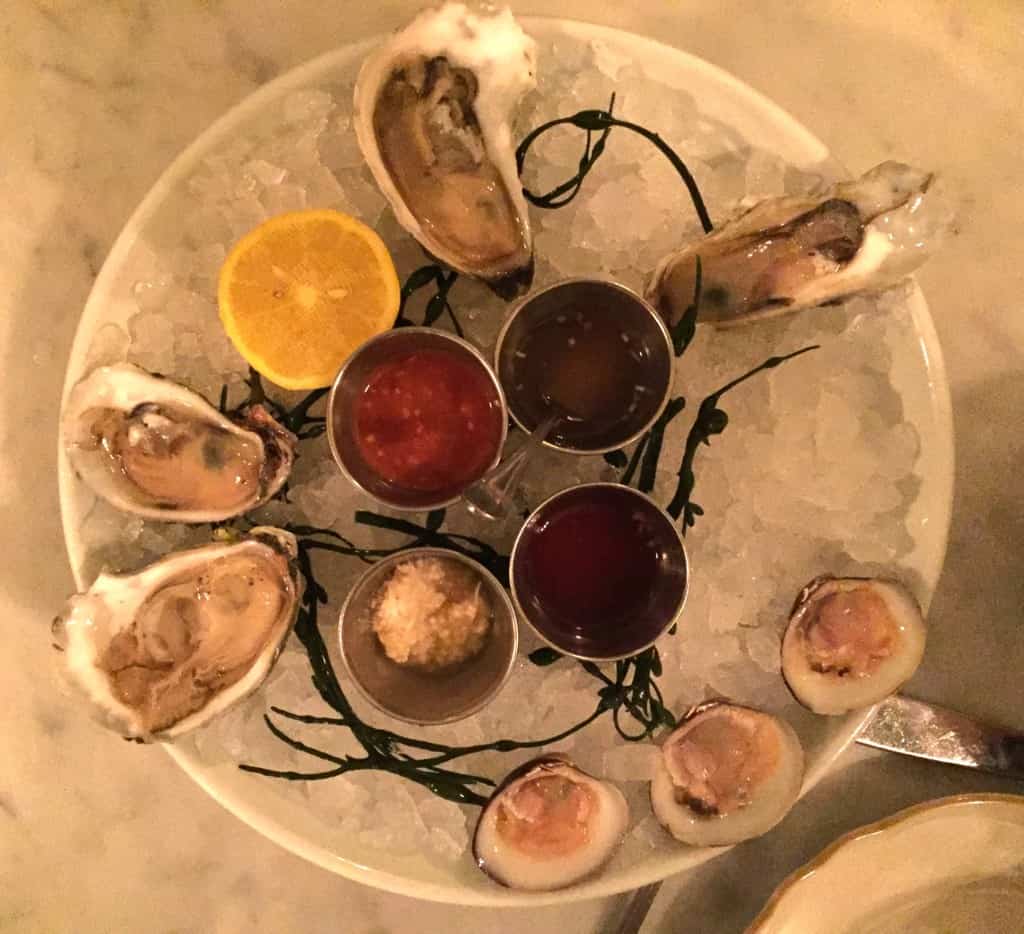 Next up was the jumbo lump blue crab toast. It had chunky crab, basil, shallots and heirloom tomatoes on a crispy piece of toast cut into quarters. I loved how much crab was on this spread. They did not skimp on it at all. The basil made it great.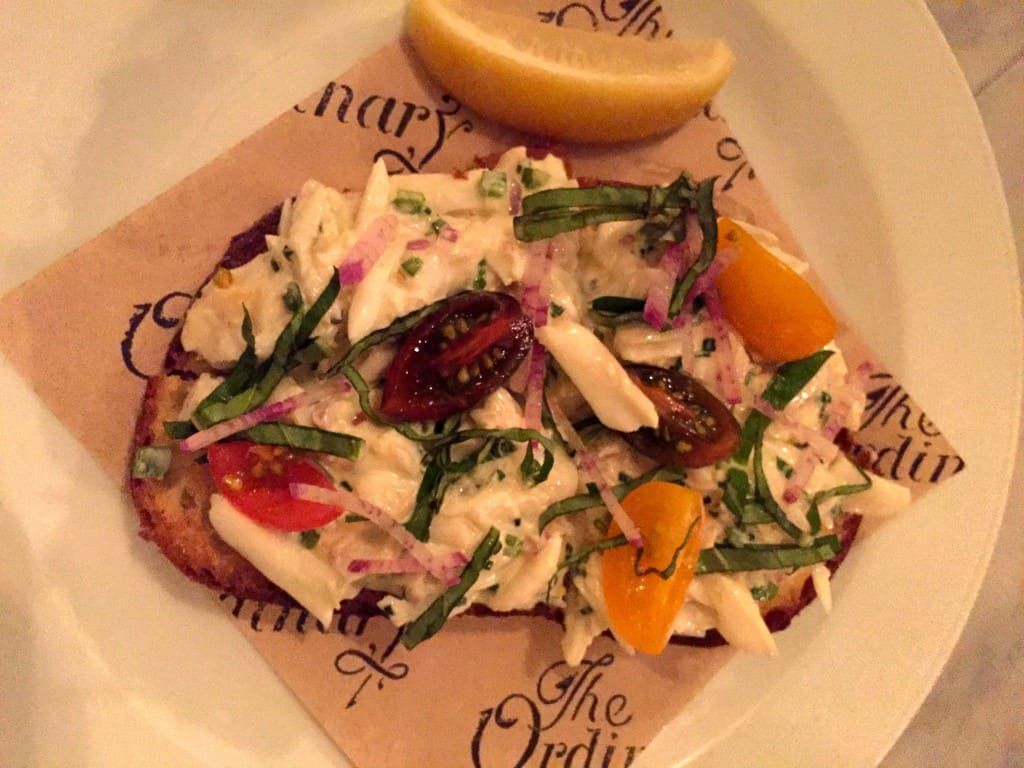 The squid ink shrimp and grits came next. We love shrimp and grits, and with the grits being made with squid ink, we had to give it a try. The grits were an eerie black color, but I couldn't say that they had any unique taste to them. With four big shrimps, this was a worthy dish for us to all share. Really creamy and buttery.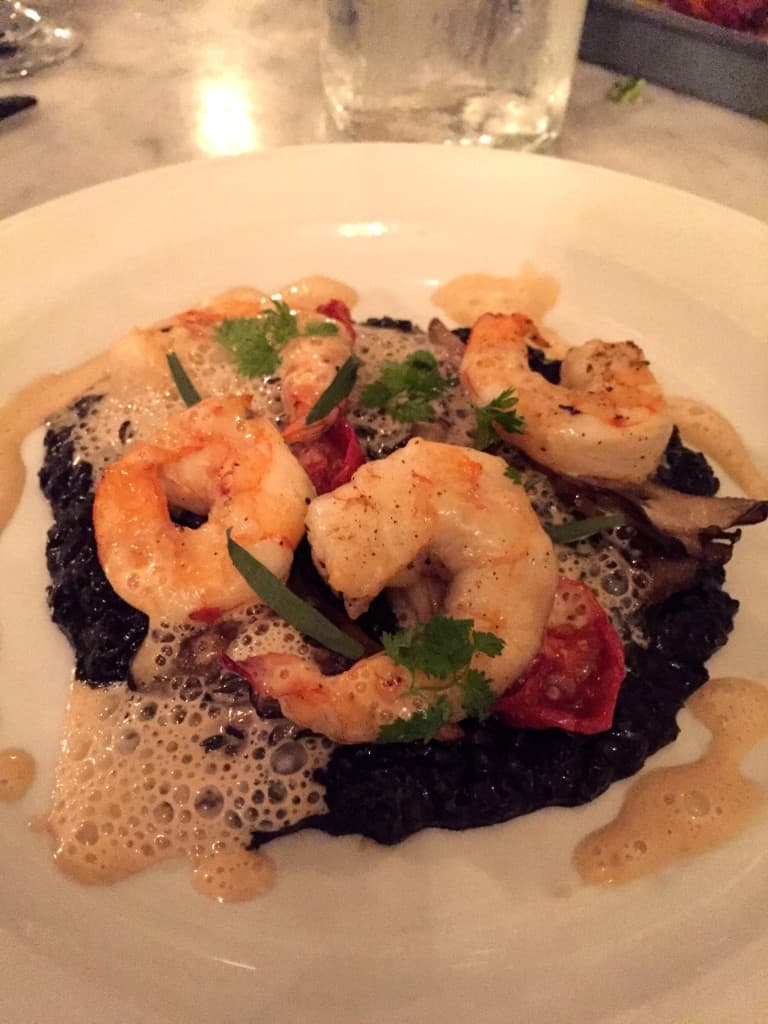 Six baked oysters were dealt next. They slipped right out of the shell and were basically filled with spinach and artichoke dip. The oysters were crispy and smooth at the same time. They were great.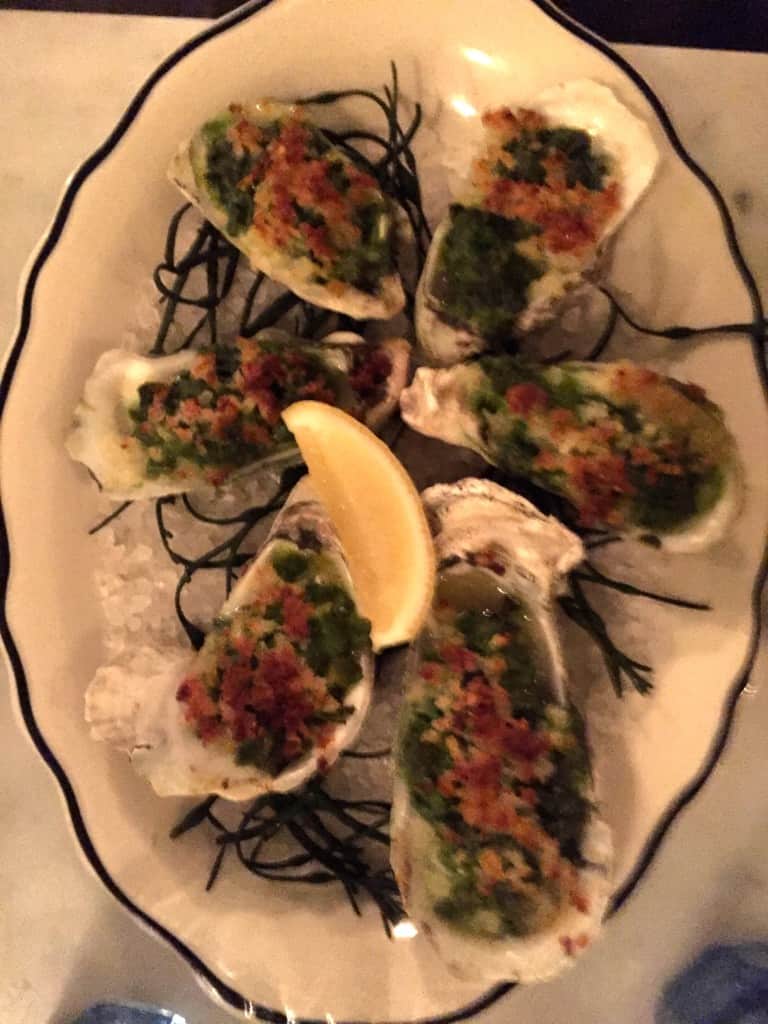 The only thing we got that wasn't a small tapas was the daily special- baked stuffed lobster. It was a stuffed lobster tail with scallops, shrimp, bread crumbs and happiness. We scooped it out and everyone got pieces of everything. While it wasn't a tapas, we served it like it was and it was creamy and delicious. Great last dish of the night.
This was a fantastic meal and so much fun to go out to with friends and share dishes with. It was a great conversation. As much as we love going out to eat with just the two of us, it's fun to go out with friends too. We would definitely recommend The Ordinary as a good date spot for a special occasion and try a bunch of dishes!